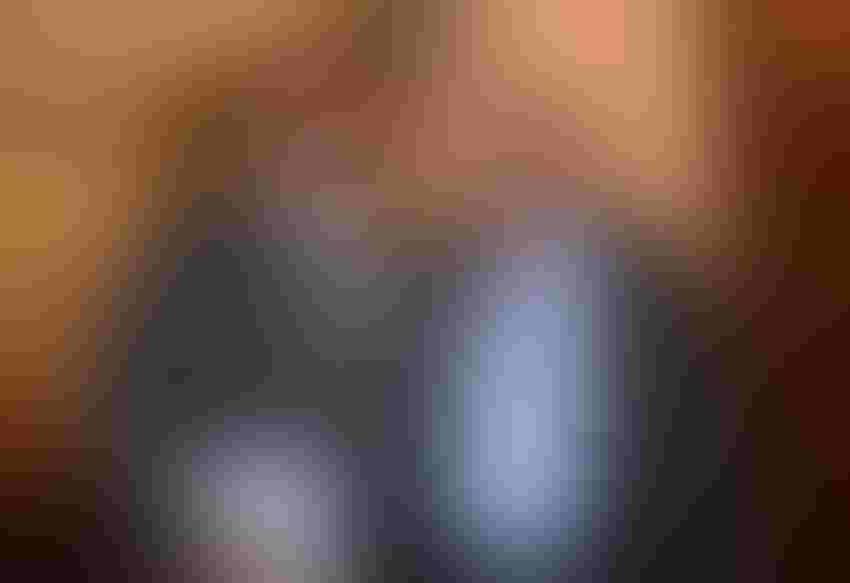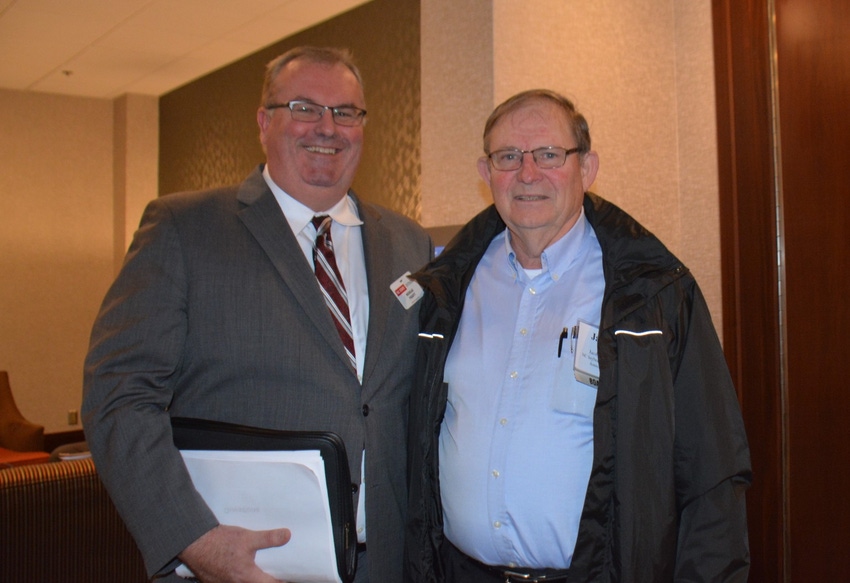 Shown in a Jan. 9 file photo taken at the North Carolina Commodities Conference at the Sheraton Imperial Hotel in Durham are left, Nick Piggott, North Carolina State University Extension economist and North Carolina soybean farmer Jacob Parker.
John Hart
Most farm commodity prices have taken double-digit percentage losses since the coronavirus crisis began.
That's a key point North Carolina State University Extension Economist Nick Piggott made in an April 15 Extension report, emphasizing that farming will likely be unprofitable in 2020. Still, Piggott emphasizes that the situation is fluid, with changes happening daily.
Moreover, the coronavirus catastrophe has changed the way America is now consuming food, and the significant spike in unemployment and loss of income will shift and change the demand for food, influencing the profitability of agriculture at the farm gate.
"Some Americans will spend less on food due to having less disposable income, and they will change their preferences to less expensive basic foodstuffs for at-home consumption," Piggott noted in his Extension report.
Prior to the coronavirus catastrophe, the U.S. general economy was strong. In 2019, GDP averaged 2.3%, unemployment was around 3.5%, and the S & P 500 was up 29% for the year. However, Piggott emphasizes the U.S. and N.C. agricultural economies were recovering from adverse weather, a trade war, diseases, and a significant slump in commodity prices.
"U.S. farm net cash income had declined as much as 30% from its highs in 2013 of $135 billion to $96 billion in 2016. Since 2016, the agricultural economy has been slowly inching forward, gaining strength, with the total U.S. farm net cash income forecasted to be $120 billion in 2019, up 25% from previous recent lows. The agricultural economy was on an upward trajectory pre-coronavirus," Piggott wrote.
Then the coronavirus entered into the United States in mid-January and the U.S. and North Carolina agriculture economies were jolted like other sectors of the economy.
"Central to this shock is the stay at home orders and social distancing, which means commercial entities and places of learning, which involve close personal interactions, have had to either cease operations, modify to a skeleton workforce, or transform to a virtual world. The demand for agricultural-based products from food service, restaurants, schools, and colleges has been devastated in a matter of weeks," Piggott writes.
The U.S. agricultural supply chain has never experienced an economic shock of this magnitude. In truth, it is just too early to measure impacts on the agricultural economy, and it is ongoing and fluid," he adds.
Piggott points to the commodity futures market as one gauge of the potential economic impacts of the coronavirus. Since the arrival of the coronavirus, a portfolio of key agricultural nearby futures have shown double-digits percentage losses for most commodities. Piggott says this is unprecedented and underscores his concern that farming will not be profitable in 2020 and further accentuating financial strains from the previous five years.
Meanwhile, Piggott emphasizes that it is important to remember that Americans spend more money on food away from home than they do on food at home.  In 2018, U.S. consumers spent $1,712 billion on food in total. The total spending can be broken out between $781 billion (46%) on food at home and $931 billion (54%) on food away from home.
Piggott points out that $784 billion or 80 percent of money spent on food away from home or 43 percent of total spending on all food is in restaurants, schools and colleges. Most of this has disappeared due to the stay at home orders. Piggott emphasizes this as a serious concern for U.S. agriculture with respect to the coronavirus.
"How resilient is the downstream agricultural supply chain for feeding America with the coronavirus in the mix to be able to stay online, and at the same time, transform into the different way Americans will meet  their nutritional needs if this pandemic stretches out?" Piggott asks.
In other words, how quickly can the $784 billion or 43% of the total food spend be transformed so that Americans can continue to meet their nutritional needs with consumption limited to at-home without foodservice operating?
"The logistical transformation of processing plants changing to produce sufficient quantities of single-serve or family-serves for the retail sector as compared to supplying the foodservice sector in bulk is at best an extreme challenge and, at worst, impossible given the current challenges," Piggott emphasizes.
Still, Piggott stresses it is important to remember that the need for this transformation hinges on the impact length of stay-at-home and social-distancing requirements on foodservice establishments, which remains unknown.
Piggott makes it clear that the significant spike in unemployment and loss of income will shift and change the demand for food. The CARES Act stimulus will help offset income shortfalls in the short run, but some Americans will demand less food because of less disposable income, and their preferences will change to less expensive basic foodstuffs for at-home preparation and consumption.
"This decrease in demand and shift in preferences, will also have significant implications for profitability for agriculture at the farm gate. The question is, how much?" Piggott queries.
About the Author(s)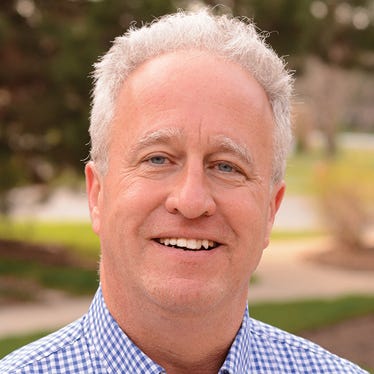 Associate Editor, Southeast Farm Press
John Hart is associate editor of Southeast Farm Press, responsible for coverage in the Carolinas and Virginia. He is based in Raleigh, N.C.
Prior to joining Southeast Farm Press, John was director of news services for the American Farm Bureau Federation in Washington, D.C. He also has experience as an energy journalist. For nine years, John was the owner, editor and publisher of The Rice World, a monthly publication serving the U.S. rice industry.  John also worked in public relations for the USA Rice Council in Houston, Texas and the Cotton Board in Memphis, Tenn. He also has experience as a farm and general assignments reporter for the Monroe, La. News-Star.
John is a native of Lake Charles, La. and is a  graduate of the LSU School of Journalism in Baton Rouge.  At LSU, he served on the staff of The Daily Reveille.
Subscribe to receive top agriculture news
Be informed daily with these free e-newsletters
You May Also Like
---