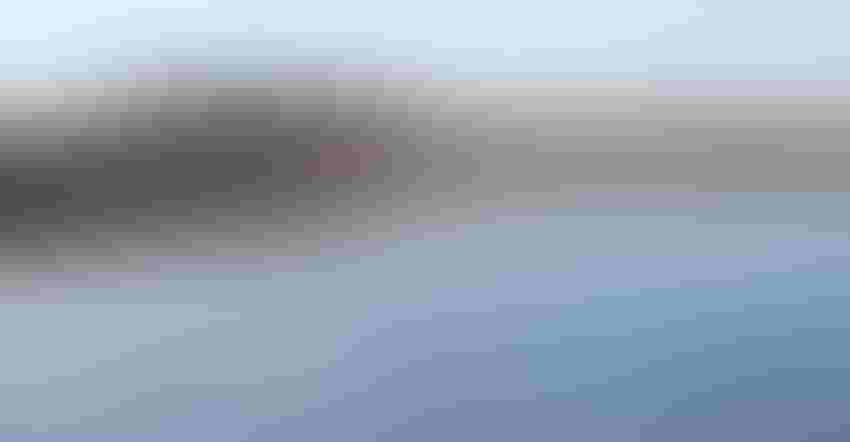 FLOODED FARMLAND: In Iowa, more than 100,000 acres of cropland were underwater from this spring's flooding at the end of March.
Fields remained wet across most of Iowa during the week ending March 31, according to the weekly Iowa Crop Progress & Condition Report from USDA's National Ag Statistics Service. This is the first weekly statewide crop and weather survey for this year's cropping season. The USDA crop updates are scheduled to be issued each Monday from April through November.
Statewide just three-tenths of a day was suitable for fieldwork this past week. Wet conditions prevented most field activities. However, there were reports of farmers hauling grain, spreading manure and planting oats.
 Topsoil moisture rated 0% very short, 0% short, 38% adequate and 62% surplus. Subsoil moisture levels rated 0% very short and short, 43% adequate, and 57% surplus. Those are statewide averages as of March 31.
Missouri River Valley flooding continues
Rain and snowmelt have caused flooding this spring, as the Missouri River along Iowa's western edge has risen and breached levees. Flooding of farmland along the Missouri River and its tributaries is most extensive in southwest Iowa — from Council Bluffs south into Missouri. Fields are strewn with everything from silt and sand to tires, fertilizer tanks and lumber, along with other materials and machinery that floated away from farmsteads. Floodwater has destroyed millions of dollars of grain stored in bins on farms.
For farmers, "the biggest concern right now is corn planting this spring," says Aaron Saeugling, an Iowa State University Extension field agronomist in southwest Iowa. "Some of these flooded fields may not be farmed this year."
The complete report is available at iowaagriculture.gov and nass.usda.gov/ia.
Crop report
In parts of Iowa where flooding isn't a problem, there were a few reports of oats being planted during the week ending March 31. However, for the first time since 2013, less than 0.5% of the expected Iowa oat crop was planted by the end of March statewide. A farmer in central Iowa, east of Ankeny, was applying anhydrous ammonia on April 1 — one of the first in Iowa to begin applying nitrogen this spring for the corn crop.
In parts of Iowa, pastures and hay have started to green up, says the weekly report. Temperature fluctuations have created some health issues for beef cows during calving season and mud continues to be an issue in cattle feedlots.
Weather summary
According to Justin Gilsan, IDALS state climatologist, Iowa's northern three-quarters were unseasonably dry during the last week of March. However, conditions were wetter than average across the state's southern quarter. Statewide temperatures were generally near to slightly above average.
The week began dry with high temperatures in the mid to upper 40s on Monday, March 25, reaching into the mid-50s on Tuesday; upper 50s were reported in southwest Iowa. Wednesday was the week's warmest day with highs ranging from the mid-60s in eastern Iowa to low 70s in the west; temperatures were boosted by southwesterly winds.
Showers moved into the southern quarter of Iowa ahead of a cold front on Thursday, becoming more widespread Friday into Saturday morning. The state's southern third observed rain totals above 0.50 inch, with totals ranging from one to nearly 3 inches along the eastern half of the Iowa-Missouri border.
Saturday night into Sunday had the coldest overnight lows of the week, generally in the low to mid-20s, 10 to 12 degrees below average. Sunday was sunny across Iowa with unseasonably cold highs in the low to mid-40s.
Little Sioux (Harrison County) observed the week's high of 73 degrees, on March 27, which was 19 degrees above average. Mapleton (Monona County) recorded a low of 15 degrees Sunday, which was 14 degrees below average. Keokuk Lock & Dam (Lee County in Iowa's southeast corner) reported the highest rainfall total of the week at 2.73 inches.
Soil temperatures at the 4-inch depth in Iowa last week averaged in the upper 30s in the north to low 40s in the south as of Sunday. Even with thawed topsoil, a layer of frozen soil persists at a depth of 12 inches across parts of northern Iowa.
About the Author(s)
Subscribe to receive top agriculture news
Be informed daily with these free e-newsletters
You May Also Like
---