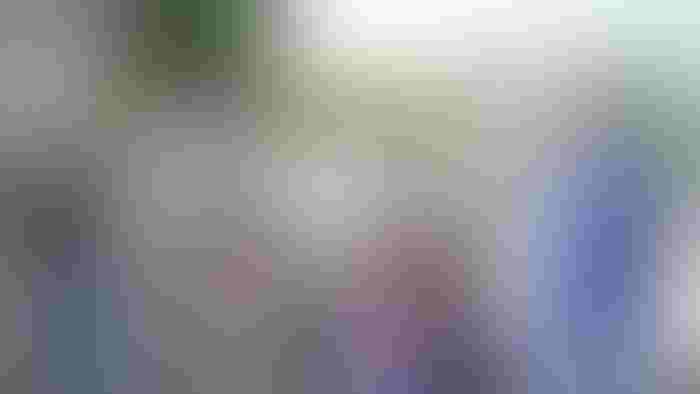 With a mechanical engineering degree from the Massachusetts Institute of Technology, Todd Dumond could have landed a posh job anywhere. Instead, he came back to the farm.
"I grew up here, and I loved it," says Dumond, the second-generation owner of Dumond Farms in Union Springs, N.Y.
Since he came back to the farm in 2003, Dumond has helped grow the farm's acres and its businesses, and it is now one of the largest grain farms in the Empire State with 6,000 acres and a bin capacity of 2.1 million bushels.
Dumond grows 3,000 acres of corn grain and silage, 2,000 acres of soybeans, and the remainder in wheat and alfalfa. He uses a three-year rotation of corn, soybeans and wheat.
Between crops, he plants anywhere from six to 10 species of cover crops, from clover and ryegrass to turnips and even sunn hemp. While no-till, he says, is a challenge on his soils, he is venturing into more minimum tillage to disturb as little of the soil as possible.
Nearly all his soils are mapped for precision fertilizer and seeding. He does split application of fertilizer. He also has invested in state-of-the-art equipment, such as his John Deere DB60 Max Emerge planter and an Amazone ZG-TS trailed spreader that can work a width up to 177 feet at 25 mph.
These technologies help him get the right amount of seed in the right place and apply fertilizer where it is needed at the right time.
Growing local soybeans
Dumond came back to the farm in 2003 to help his father, a dentist, who ran the farm as a hobby at the time. Dumond says he wanted to do more for the farm and the community.
Using his skills in mechanical engineering, he helped design and build an on-site soybean roasting facility made up of four roasters that handle about 200,000 bushels a year. The idea of the roasting facility was to create an affordable feed for local dairy farmers.
"It's about sustainability," Dumond says. "It's connecting efficiencies, high-quality feed to the dairies, value to the growers, and offering efficient, minimal transportation."
His goal is to be below market on feed costs, above market on soybean pricing, and to find efficiencies so the farm can make a profit.
He has since expanded this part of the business to make cornmeal.
The farm handles 3 million to 4 million bushels of soybeans per year from its own farm and other local farmers, and it has room to handle much more. To put that into perspective, New York state produced a little over 17.5 million bushels of soybeans last year.
But sustainability and efficiency are what make Dumond tick.
"Producing sustainable crops in an efficient manner is my goal," he told a group of visitors during a recent New York 4R event.
Expanding into oils
Three years ago, the farm opened a soybean extrusion plant to great fanfare. But Dumond says it has been a struggle keeping it financially solvent.
"It's an endless struggle," he says. "We've learned a lot about equipment and how to make it better. We learned a lot about interfacility logistics."
The $3.27 million soybean extrusion facility opened in 2020. The extrusion facility was the next step, he says, in building a local market for soybeans — one that he says has been undervalued for years as growers have had to export crop out of state and incur shipping costs while local dairy farmers, short on feed, have had to haul feed in, much of it coming from the Midwest.
The extruder, he says, was his chance to "fill a void." The process generates soybean meal for feed, soybean oil for cooking and an oil used for biodiesel.
The plant will process 4 million to 5 million bushels of soybeans this year, but it has the capacity to process double that amount. More than 4 million gallons of soybean oil will be produced this year, Dumond says.
Oil that goes to biodiesel gets refined and ready for market at NetZero Biofuels in Rock Tavern, N.Y. The plant has a 10-million-gallon annual capacity. But the biodiesel market, he says, is struggling.
"The financials are upside down," Dumond says. "The combination of strong feed stock values, dropping RIN [renewable identification numbers] values and an undervaluation of B100 have created what I hope to be a short-term crunch on the biodiesel manufacturing industry. We currently are operating well into the red trying to produce renewable energy."
Still, he says he is committed to doing well in this space and says that he can find efficiencies to clean up the process.
Room to grow
Between all its businesses — Dumond Ag, Dumond Grain and Mapleton Bulk — the farm serves about 500 growers in the region.
The biggest bin on the farm, constructed a year ago, is 870,000 bushels and is one of the tallest east of the Mississippi River.
Dumond says that he can construct three more of those bins and an all-new receiving facility. But the future, at least right now, is increasing processing capacity and storage of finished products.
"I think we want to be proud of what we do," he says. "We want to feel like we're strengthening New York; we want to feel like we can be of value. We want to connect people. We're very transparent with our pricing. We want to feel good about our contribution to society and agriculture, more specifically. I think it's what can we do as a team here, too, that can help the bigger team of agriculture and making it sustainable."
Subscribe to receive top agriculture news
Be informed daily with these free e-newsletters
You May Also Like
---