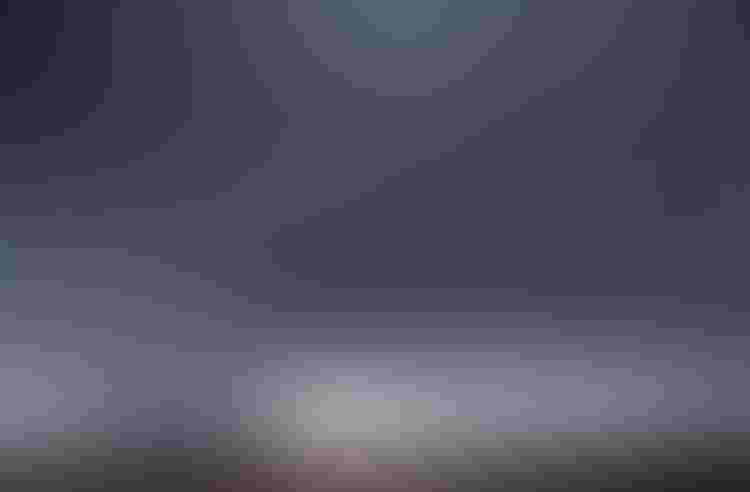 Weather-wise, 2015 has been a three part story for Arkansas.
"We had a very wet spring, a very dry summer and it's turned wet again late," says John Lewis, of the National Weather Service in Little Rock. "The summer saw a drought develop -- rather severe for central and southern Arkansas. With all the rains from the fall, that drought is largely over.
"Through November, if you add up all the numbers, we've had well above normal rainfall for much of the state. That's especially true for the west where Ft. Smith was about 20 inches above normal for rain. Little Rock was about 8 inches above the norm.
"If there was a problem area, you could look at West Memphis. But even there they were only 2 inches below normal rainfall."
A wet May
Lewis, who spoke at the recent Agricultural Council of Arkansas winter meeting, says that other than the drought, the biggest story of the year was the ample rainfall in May. "That was historic and not only was it wet here but was also in Texas and Oklahoma, where there was a major drought. May ended up being not only the all-time wettest May but also the all-time wettest month in Oklahoma and Texas."
According to the National Climatic Data Center, there was a similar story across much of the United States. "In 121 years of record-keeping, May was the wettest ever experienced across the country. That's a huge deal and happened even though it was very dry on the East Coast all the way from Connecticut to South Carolina."
Drought sets in
What about southern Arkansas and the drought?
"September, locally, was very dry. Three stations in the state – Little Rock, El Dorado and Pine Bluff – recorded a tenth of an inch of rain, or less. It might as well not have rained and the Little Rock and Pine Bluff stations, opened in the late 1800s, never recorded so little rainfall. So, it was well, well below rainfall in September."
Heading into October, it got even worse. "In mid-October, there were several afternoons when humidity dipped below 20 percent. That dried out the vegetation. Add in the heat and the vegetation was further stressed. For example, on Oct. 15, the temperatures were in the 80s and 90s. In Little Rock, we got up to 98 degrees -- the warmest day ever in October. By Oct. 21, 61 or 75 counties were under burn bans.
"If you take into account the 90 days from July 9 through October 6, it was a historic time. There are nine climate districts in Arkansas. The three in the south -- districts 7, 8 and 9 -- experienced a top-three driest period in that 90-day window."
Things weren't looking up if you were a farmer or rancher across much of the southern part of the state. "Ranchers sold some cattle because pastures were dried up and it was too expensive to bring in feed.
"There was a lot of concern from lawmaker offices and folks in the ag community wanting to know about the drought and its expected length. The data said it would be rather short-lived and that proved to be the case.
"It wasn't a case of somewhere like California, where they're in a fourth year of drought. It looks like California will see some improvement this winter with more precipitation but that won't wipe out four years of drought."
El Nino
While all this was going on, El Nino conditions were developing in the Pacific. "That means water temperatures along the equator were warming up.
"Looking at that, and considering what has happened with past El Ninos in Arkansas, it appeared the drought would be turned around. Going back into the early 1990s, six of the seven El Ninos we've had were wet or very wet in Arkansas. That's why we figured we'd get rains heading into November. That's exactly what happened with a big rainfall event on Nov. 16 and 17. Another followed later in the month."
The statewide average for the state in the month was 10.5 inches of rain, says Lewis. "That ended up being the wettest November on record beating the previous record by 1998's 1.5 inches."
Forecasts
What about a winter forecast?
"I went back and looked at the last seven El Nino's during the winter period. Five were mild and two were cold or very cold. By and large, though, El Nino's in the state are rather mild with precipitation at normal levels. Past data suggests Arkansas will receive a mild, perhaps wet, winter.
"It looks like we'll have rising temperatures going into Christmas. This pattern won't hold through the whole winter, though. Winter isn't over. We'll have periods of cold weather during January and February.
"When you average December through February, yes, we'll likely end up with above-average temperatures overall.
"We could very well end up with above-normal precipitation, as well. If I'm right about the moisture we'll get, all it takes is a shot, or two, of sub-freezing air to get pretty big storms. We could quickly receive a foot of snow. Winter isn't over."
Lewis says it appears there will be some weakening of the El Nino heading into the spring and summer. "Based on the last six El Ninos in Arkansas, they tend to be dry. Don't be surprised if we end up with above-normal precipitation at the end of winter and then dry out."
Subscribe to receive top agriculture news
Be informed daily with these free e-newsletters
You May Also Like
---