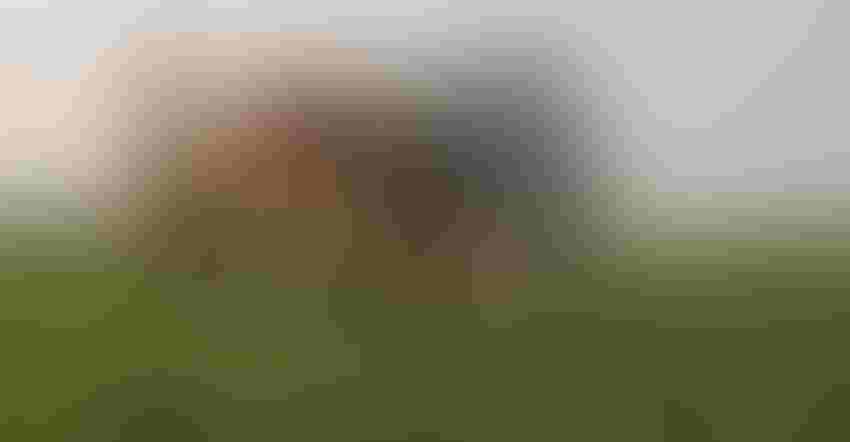 WATCH WIND SPEED: New dicamba-tolerant soybeans and spray restrictions for the new herbicides require applicators to take precautions and follow label directions to minimize drift problems. Wind speed is one of the biggest challenges.
By Meaghan Anderson
Avoiding or minimizing off-target injury with the new dicamba herbicide products will require thorough reading of labels, significant planning before the sprayer hits the field and a high level of awareness while spraying. Off-target injury can occur because of volatilization of the product off the field or plants following application, movement of spray droplets from the field at the time of application, or from dicamba residues remaining in the sprayer. 
Here are the top five mistakes that could lead to off-target injury with the new dicamba products — and any other herbicide.
1. Not reading the herbicide label before using the product
Herbicide labels are long, confusing and hard to understand. But they contain essential information to obtain effective weed control and prevent problems. The database at CDMS allows searches for labels, supplemental labels and material safety datasheets for products on the market. The new dicamba labels are important references due to the specific information that many other product labels have never included before now. Be sure to look at the Supplemental Label for use on Xtend soybeans. Information regarding approved spray nozzles and approved tankmixes is found on the products' websites, not the labels.
2. Not knowing what is growing on adjacent properties
The new herbicide labels have an entire section dedicated to restrictions when dicamba-sensitive crops or vegetation are near the treated field. The dicamba products vary slightly in their requirements for buffer zones and sensitive area precautions. Make sure to check the label for the specific product you plan to use. Applicators will need to scout fields and communicate with neighbors to know what is growing on all properties surrounding the field to be sprayed. Making the effort to identify nearby areas with sensitive plants, communicating with neighbors, and making sure the spray stays on the targeted field is imperative to keep good relationships with neighbors.
3. Not using the proper sprayer setup and cleanout procedures
A standard sprayer setup used for most chemical applications likely will not fit the new herbicide label guidelines. Specific nozzles, operating pressures and boom height requirements are a new frontier in herbicide labeling, and applicators need to take note. Always follow proper sprayer cleanout procedures to prevent contamination of later applications. Triple-rinsing with water is not enough to prevent injury to non-dicamba-tolerant soybeans, so be sure to follow label requirements for cleanout.
4. Assuming that "dicamba is dicamba"
With three new dicamba products available on the market, dicamba is not just dicamba anymore. The new products reduce the potential for volatilization compared to old formulations. This means that older dicamba formulations cannot be used with new dicamba-tolerant crops. Stick to the labeled formulations to help reduce (not eliminate) volatility issues.
5. Ignoring wind speed due to limited time
We've all been there — a big rain is coming, too many acres and too little time, the weeds are getting out of control, etc. Off-target movement is not unusual when applicators spray in poor conditions, but the damage associated with dicamba will be more visible and damaging than with other products.
• High wind speed. The new dicamba labels prohibit applications when wind speeds are greater than 15 mph, but some of the labels have specific situations where applications are prohibited between 10 to 15 mph. High wind speeds greatly increase the risk of physical drift off the field. 
• Low wind speed. Low wind speeds can be just as dangerous as high wind speeds. Temperature inversions are often marked by wind speeds less than 3 mph. They are also marked by fog, dew and clear skies at night. Be aware of these signals, as spraying in a temperature inversion may result in suspension of herbicide in the air and lateral movement of dicamba across the landscape.
• Weed control rescue. These products are not a weed control "silver bullet." Dicamba-resistant weeds, spray drift incidents and poor control will be the result if they are treated as such. The new dicamba product advertisements suggest targeting waterhemp less than 4 inches in height. Spraying these products as rescue treatments in midsummer will increase likelihood of issues with off-target movement and injury to adjacent crops or sensitive plants. In addition, applications may not be made after the R1 stage of soybean growth.
The new dicamba products and Xtend soybean varieties provide an additional management option for problem weeds, particularly multiple-resistant waterhemp.  Proper preparation, appropriate application methods and good judgment will ensure effective control while minimizing associated risks. In the end, it is the applicator's responsibility to ensure that all the label requirements are followed and the product is used in a responsible manner.
Anderson is the Iowa State University Extension field agronomist for east-central Iowa. Contact her at [email protected].
Subscribe to receive top agriculture news
Be informed daily with these free e-newsletters
You May Also Like
---