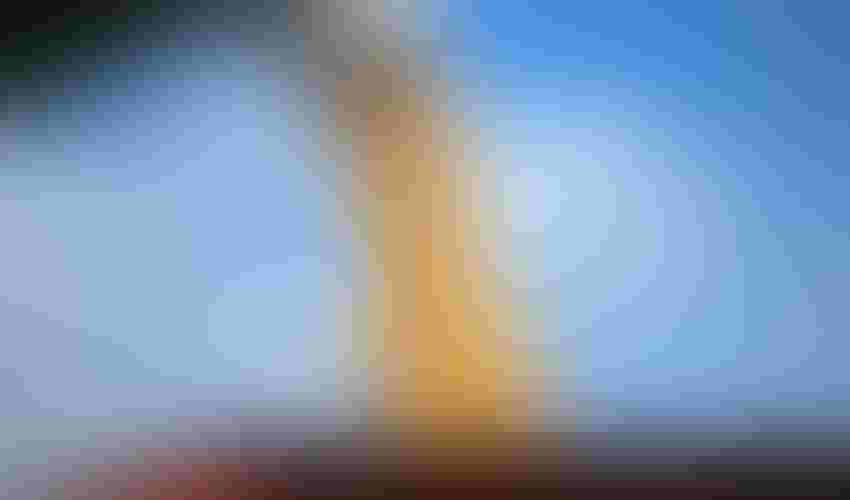 A well-known corn expert from one of the "I" states recently traveled east to North Carolina to present his "Seven Wonders of Corn Yield" outline at the Blackland Farm Managers Tour held at 3B Farms in Pinetown.
In a luncheon talk at the Blackland tour, Dr. Fred Below, professor of plant physiology at the University of Illinois in Champaign, emphasized that all seven of his wonders interact with each other. Successful corn farming requires a systems approach; each wonder must be optimized to achieve top yields.
Below's seven wonders are:
"Corn yield starts with plant nutrition. It sets the trajectory. If there is anything out of date with today's hybrids, it's plant nutrition. Increased yields are going to require more plants, but you're going to need narrow rows. High yield doesn't happen by accident. You have to plan for it and carry through, because the factor that has the biggest impact is that year's weather," Below said.
In his talk, Below emphasized that all corn hybrids aren't created equal.
"When I screen commercial hybrids, I see at least a 50-bushel difference between the highest and lowest hybrid," he added.
He conducts hybrid trials on three sites from southern Illinois to northern Illinois. "In general, the higher the yield potential for a given site, the greater the difference among the different hybrids, the more important it is to have the right hybrid," Below said.
Illinois is different than North Carolina in that it does not have the diversity of crops of the Tar Heel State. In Illinois, the crops are pretty much corn and soybeans. Below cautions against continuous corn from year to year. He urges a good rotation.
"If soybeans were the previous crop to your corn, your corn will see a 25-bushel yield increase. If corn was the previous crop, you will see a 25-bushel penalty, just the opposite," he said.
The cause of the continuous corn yield penalty is crop residue. Below noted that the residue acts like a sponge and prevents small rains from infiltrating the soil. The residue also immobilizes key nutrients, particularly nitrogen and sulfur.
"If you have a dry July, that residue will release allelochemicals that interfere with the growth of the corn crop. The corn crop doesn't like to live in the dead decomposing body of the previous crop. I hardly blame it," he said.
Plant population, or plants per unit area, is also important for top yields. "Most growers I know give up yield because they are not planting enough seed. The maximum population you can legitimately get away with in 30-inch rows is 38,000 plants per acre," Below said.
Growth regulators, both biologicals and biostimulants, are also important. Below points out that farmers can actually decrease yield if they use the wrong growth regulator or biological in the wrong weather on the wrong hybrid.
Plant response to a plant growth regulator follows the 'Goldilocks Rule': Too much, too little, just right. Sometimes the corn plant doesn't have enough of the regulator to do much good and sometimes the plants are too sensitive to the environment and too much growth regulator is applied.
Moreover, Below stresses that the future of corn plant nutrition is a "feed the plant approach" as opposed to a "feed the soil approach." Farmers need to feed that plant what it needs, when it needs it, and using technology to do so.
Below's favorite six elements for producing 230 bushel per acre corn yields are nitrogen, phosphorous, potassium, sulfur, zinc and boron. In his research, he used both a standard management practice and a high tech or systems approach to achieve banner yields.
In the standard practice, Below and his team applied phosphorous and potassium in the fall based on a soil test, applied 160 pounds of pre-plant nitrogen, planted 32,000 plants per acre, used no fungicides, and used 30-inch row spacing.
"In the high tech or systems approach, regardless of what the soil test said, we used our six favorite elements. We banded phosphorous, sulfur and zinc. We did not band potassium or boron because they are either salty or toxic so we broadcast them," Below said.
In addition to the 160 pounds of nitrogen applied preplant, Below and his team applied 80 pounds of nitrogen side-dress for a total of 240 pounds of nitrogen. Fungicides were applied at R1. A seeding rate of 44,000 plants per acre with 20-inch row spacing was used.
The high tech or systems approach delivered a 47 bushel per acre yield increase over four years and three locations across Illinois. "The value of the high-tech system over the standard differs according to that year's weather" Below said.
Subscribe to receive top agriculture news
Be informed daily with these free e-newsletters
You May Also Like
---