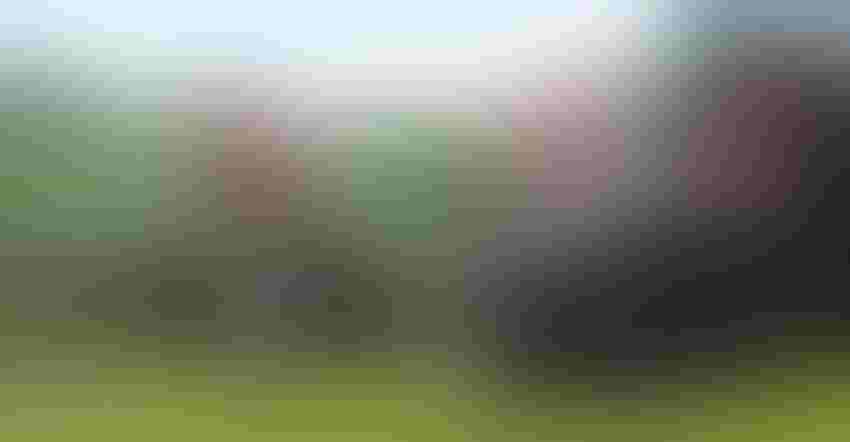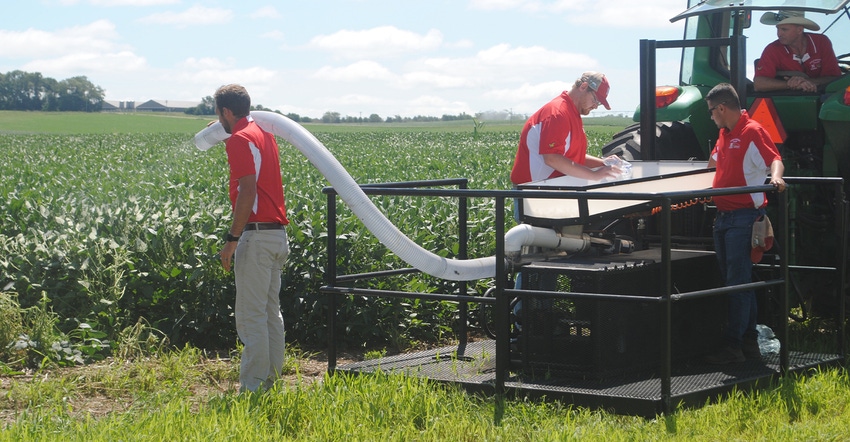 HAIL FOR RESEARCH: Justin McMechan (left), Nebraska Extension crop protection and cropping systems specialist, and a UNL research crew conduct a hail machine demonstration on plots near Pilger, Neb.
Pounding crops into the ground with a simulated hail machine isn't exactly an activity you would expect from Nebraska Extension crop protection specialists.
However, to research the effect on crops and to help farmers make the best decisions after a hailstorm, Justin McMechan, Nebraska Extension crop protection and cropping systems specialist, is willing to take on the task.
McMechan and Mike Kocher, University of Nebraska associate professor in biological systems engineering, beefed up a concept hail machine originally developed in 1986 by the late Dale Flowerday, a renowned UNL agronomist and agronomy professor.
The new machine has been demonstrated at field days across the state, including during Soybean Management Field Days near Pilger, Neb., this past summer.
With strong hailstorms a regular part of life for crop farmers across the Great Plains, producers know that these storms can occur at any time during the growing season, with damage ranging from very light and almost unnoticeable to severe.
The highest chances for damaging hail generally are in the late spring and early summer months. Because of how hail is formed, when updrafts in thunderstorms carry raindrops upward into the coldest portions of the atmosphere where they are frozen, the Great Plains states are more prone to large hail because they are located at a higher elevation.

DAMAGED BEANS: The results of damage applied by the UNL hail machine are strikingly close to real hail damage in the field.
After a hailstorm, farmers are anxious to know the value of the crop that was lost, and the value of the crop that is still in the field after the storm.
"The key thing is to wait seven to 10 days before assessing what is going on after a storm," McMechan says. "The emotional part of hail is big. So is the initial part of seeing it" right after the storm. It's difficult to assess whether a plant is alive until some regrowth is observed.
"In general, farmers should focus their attention on plant stand with early-season hail events," McMechan says. "Soybean populations can drop as low as 60,000 plants per acre in mid-June and still keep the crop. However, farmers should check for gaps between plants that are larger than 2 feet, because such situations can significantly impact yield."
Hail can damage soybeans in several ways, so researchers divide injury assessment into several categories, including stand reduction, leaf defoliation, stem damage and pod damage.
"Actual hail is not easy to research," McMechan says. "The hail machine used in researching hail is a collaboration of the UNL engineering department. We can meter ice rates from 5 pounds to 20 pounds per minute, as well as varied wind speeds. This machine allows us to replicate the effect and hit just a 10-feet-by-30-feet plot area, so it's as close as we can get to a real hail event."
The machine will cause busted and broken stems and shattered pods on the ground.
"We are still in the testing and calibration phase with the hail machine," McMechan explains. "We're working with hail radar groups to calibrate the machine to real-world hail events. There's interest from plant pathology, weed science and agronomy to understand plant disease modeling and risk, the management of weeds after a hailstorm, and difficult issues such as assessing stem damage to soybeans."
The hail machine has been used to help train crop hail adjustors, as well as providing hail damage for research purposes that causes entry points in the plant to study soybean gall midge. "It is a tremendous Extension tool," McMechan says.
Learn more by contacting McMechan at [email protected].
Subscribe to receive top agriculture news
Be informed daily with these free e-newsletters
You May Also Like
---