RTK is a good investment at peanut harvest
RTK is a good investment at peanut harvest
• Peanut producers can pay for RTK technology with more peanuts at digging time by reducing losses, particularly on rolling, curved, or terraced fields, where they'll get more accuracy, says Kris Balkcom, Auburn University Extension agronomy and soils research associate.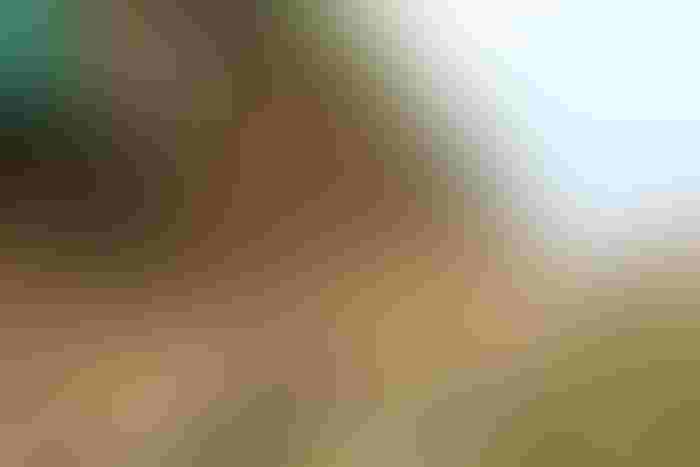 Anybody growing peanuts "needs to think seriously about investing in RTK" guidance systems, says Kris Balkcom, who discussed production practices at the annual meeting of the Mississippi Peanut Growers Association.
"You can certainly pay for this technology with more peanuts at digging time by reducing losses, particularly in rolling, curved, or terraced fields, where you'll get more accuracy."
Balkcom, who is Auburn University Extension agronomy and soils research associate at Headland, Ala., says cooperative research in Alabama and Georgia the pasts few years has compared accuracy of RTK-equipped tractors with that of tractors using the best drivers.
"We showed significant yield differences, when averaged across all the tests, with at least a $8 to $174 per acre benefit from RTK just on digging alone. With that kind of return, it won't take many acres to pay for the RTK equipment — and you get to use it for other crops besides peanuts."
RTK systems offer producers the highest level of accuracy, often at the sub-inch level, and auto-steer systems utilizing RTK can provide year-to-year repeatable accuracy in planting and harvesting operations, in addition to minimizing overlap and skips, providing more accurate placement of fertilizer, herbicides, and other inputs, offering the option of working accurately at night, and the ability to cover more acres with fewer hours of operation.
In discussing various production practices, Balkcom said the type of tillage used for peanuts isn't a major consideration.
"Peanuts don't really care how you till them. You can make a lot of peanuts with different tillage systems — it just depends on how much money you want to spend doing it.  Several tests over the years have shown all tillage systems about the same for peanut production.
"Your field topography may be a consideration. If you are in an area where you can rip and bed, it's hard to beat, but it's probably the second most expensive method next to moldboard plow, given today's fuel prices and other costs. It's three trips across the field, although with conservation tillage you may be able to cut that to one or two trips."
A new implement, the KMC subsoil roller, is "a good tool, whether growing wheat, peanuts, or cotton," Balkcom says. "There's always a need to do some deep tillage when you're growing peanuts, small grains, and cotton. Over the past three years, we've compared strip-till with the subsoil roller on both twin and single row peanuts, and they are equally effective."
Twin row production does require more horsepower and a bit more cost, he says, "but there usually is a yield benefit to offset that.
"One of the challenges with twin row, as we move more to conservation tillage, is getting a good stand. When you have a lot of residue, it's difficult to sweep that residue around to allow good soil contact and get a good stand. If you can't get a stand, you're just wasting time — you might as well plant single row.
"One way we found to deal with this is to put a coulter and a sweeper in front of the seed-opening disk to sweep the residue before the coulter goes through. If you're running in a killed cover crop, a simple sweeper is fine to clean out a good bed. But if you're double-cropping peanuts behind wheat, you really need the coulter to chop through the root mass and get the peanut seed down deep and covered.
Single rows versus twin-rows
"We planted all varieties in single and twin rows in 2011 to see if there were yield differences," Balkcom says. "We saw a yield response for twin rows in all except Florida 07 and Georgia 02C, both typically longer season varieties.
 "A lot of new growers are set up on 30-inch rows, and we've looked at 30-inch compared to single and twin 36-inch. Basically, over the last four years, we've seen that single 30-inch rows are about the same as twin 36-inch rows, keeping the same seeding rate and population. You increase your planter cost a bit, but you can utilize it for corn as well."
There can be a problem with 30-inch rows, Balkcom says, on rolling or terraced fields. "You can't get through with a pull-type combine on 30–inch rows — you've got have a self-propelled machine to do it. On flat fields and straight rows, you can get by with skinny tires and a pull-type."
Planting dates have changed over the years, he says. "When I was growing up, we'd start planting peanuts as early as we could in April. Then, tomato spotted wilt virus caused growers to move planting to mid-May, and that became the optimum planting time for years. But it didn't give us a long enough window for peanuts to pin down and fruit. As breeders have given us new varieties with better genetics and TSWV resistance, we've been able to go back to planting earlier. Under the right weather conditions, we can plant in April again, giving us a wider window for peanuts to fruit."
For planting, Balkcom says, soil temperature should be 65 degrees at 4-inch depth for three consecutive days, with a forecast for a continuation of that.
In comparison studies of three varieties (Florida 07, Georgia 06G, and Georgia Green) by Austin Hagan, Auburn University professor of entomology and plant pathology, with April 20 and May 18 plantings, there was a statistical difference in 2010 in favor of the April planting, Balkcom says.
 "But in 2011, it was the other way around — the later planting was a bit better. You just can't tell from year to year when is going to be the best time to plant; it's something you can't predict.
"But if conditions are favorable, I'd rather plant early than to plant late and shorten the window when peanuts are fruiting. You never know what kind of fall you're going to have, whether rains will disrupt harvest or there'll be an early cold snap and frost. I'd rather give up 200 pounds of yield by planting early than to risk losing an entire crop by planting late."
Seeding rate considerations
For seeding rate, he says, "6 seed per row foot has been standard since we started having problems with tomato spotted wilt virus. This was enough to insure a good stand and eliminate skips. Now that we have varieties with more resistance, I've seen cutbacks to 5 seed per row foot on 36-inch rows.
"But I don't want to make a blanket statement to plant just 5 seeds — it depends on planting conditions. You want to have adequate moisture and good soil-to-seed contact; if not, you may want to plant more seed. For April planting, I'm not too prone to cut back on seeding rate; I want to be sure and have enough seed to get a good stand. If you're planting end of May or early June, you could definitely cut back."
In recent years, Balkcom says, irrigated growers have been planting some of the new varieties at lower seeding rates, and there was no statistical yield difference between 2, 4, 5, or 6 seed per row foot in irrigated tests. "Irrigation will cover up a lot of mistakes. We are seeing some differences with dryland peanuts, however, and if you drop the seeding rate too low you could get in trouble."
Weed control should get close attention, Balkcom says. "I know farmers are busy — but if you plant something, you need to be prepared to take care of it. You may say at planting that you're going to come back and spray with a big sprayer that can cover a lot of ground, but sometimes you're not able to get it done, and you end up with a tremendous mess.
"Also, I often see herbicide injury where big sprayers overlap too much or the pressure was wrong. Often times they stop leaving a lot in the tank and it settles out.  So when they restart they have a higher concentrated spray volume resulting in herbicide damage.  We seem to do a better job of herbicide application, and get it done in a timely fashion, if we apply these materials when we're planting. My advice: keep the spray rig on your planter."
Researchers are continuing work with a growing degree day model to determine peanut maturity, Balkcom says.
"We're hoping this will allow us to do away with the pod blast method, which is more time-consuming and more work. It's much easier to calculate growing degree days, and you'll get the best returns when you harvest your peanuts at full maturity. When you look at dollar value on a per point basis in the grading system, it's certainly well worth it."
Balkcom says he received "a lot of calls from Mississippi and Arkansas growers last year wanting to know how many acres they can cover with a certain piece of equipment. "Every situation is different, but I generally tell them that with a 6-row digger you can average 36 acres per day. Sometimes you can get a lot more than that, but other days you may spend most of your time just changing plows because the ground is so hard. A good figure is 500 acres per season for one 6-row digger.
"For one 6-row picker, you can figure 22-25 acres per day, or 350 acres per season. For 1,000 acres, you'd probably need three pickers and two diggers to handle the peanuts in a timely fashion."
          You might also like:
Subscribe to receive top agriculture news
Be informed daily with these free e-newsletters
You May Also Like
---