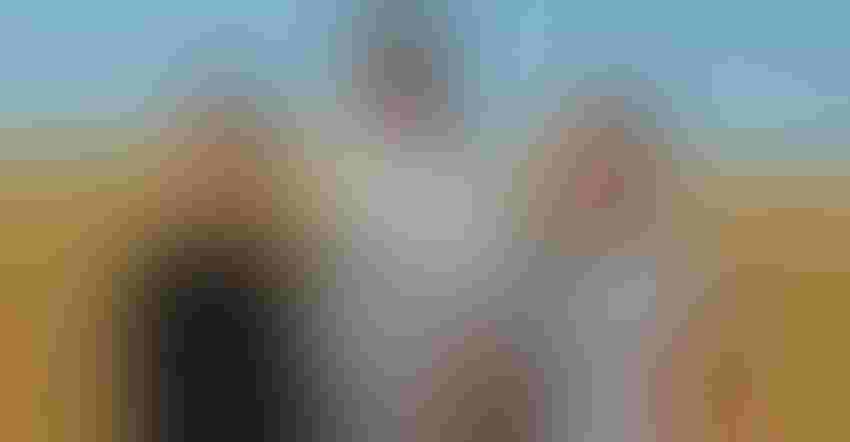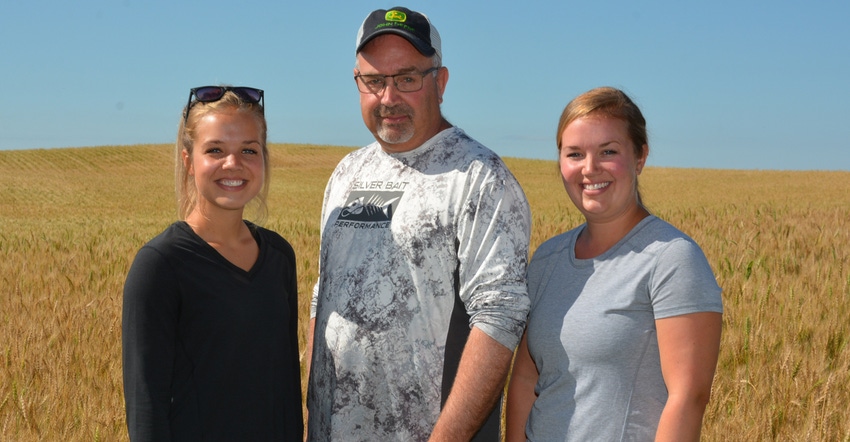 WORKING THE PLAN: The fourth generation of Robert Olson Farms Inc. is working its way into the business. Kari Olson (left) is building equity and experience working alongside her father, Rob, and one day will own the major interest in the farm. Nicole (Olson) Strafelda, with a young child at home, works part-time on the family farm.
Paula Mohr
Passing the farm to the next generation in the Olson family may appear as a comfortable, familiar practice. The fourth generation is now in the early stages of a 10-year business transition plan, developing management and agronomic acumen as did their predecessors.
To get to this point, though, required a lot of soul searching, long talks and planning among all impacted parties.
Along the way, it also required learning to let go.
Rob and Lonna Olson, Hawley, own and operate Robert Olson Farms Inc. Rob started farming in 1983 with his grandfather, Thorval, and father, Bob, in Clay County. Initially, he took over his grandfather's hog operation and farmed 100 acres on his own. As the years went by, Rob bought his own land, rented machinery from his dad and recently transitioned out of hogs. A decade before his dad retired, the family farm was placed into an S corporation, where it remains today.
The couple raised three daughters who were involved in the farm as they grew up. Each was given opportunities to pursue off-farm interests and to attend college. Sometime in the future, the parents thought at least one daughter might return to take over the farm.
However, three years ago, Rob found himself dealing with an unexpected health issue — a tumor inside his chest cavity attached to his spine — that forced the business transition discussion front and center. At the time, their oldest daughter, Nicole Strafelda, was teaching fifth grade in West Fargo and their youngest, Kari, was at North Dakota State University.
"I went to college for teaching, taught for five years and enjoyed it," Nicole recalls. "But when Dad had his health scare, he wondered if any of us wanted to farm."
Nicole quit teaching to help at home while Kari continued at college, working on an agricultural economics major and a crop and weed science minor.
Thankfully, Rob's health fully recovered and he and Lonna started seriously looking at the farm transition process and talking with Nicole and Kari about their futures.
It took some time to sort it out, given the traditional expectations of farm inheritance. In the end, though, all agreed that Kari had the dream and skills to one day take over the farm.
"From a young age, I always knew I wanted to come home and farm," Kari says. "When I was given the choice to stay home with Mom or go to the farm with Dad, I was jumping in that pickup before they could finish asking the question. I loved helping, building things, checking crops, feeding the pigs or just simply riding in the combine."
FARMING SISTERS: Kari Olson (left) and Nicole Strafelda work together with their dad Rob on the family's 2,300-acre crop farm. After much discussion, soul-searching and planning, the family decided that Kari would be the farm's future decision-maker.
By age 18, she started farming with 120 rented acres. Now she is up to renting 450 acres and owning 250.
"My dad and I went back and forth on whether I should get another job somewhere else first to gain experience and then decide if coming home is really what I wanted to do," Kari says. "With Dad's tumor and him getting closer to retirement, I decided I needed to come back as soon as I could so I could learn from him while he was still in the business."
Even though she wasn't sure she wanted to farm, Nicole admits that at one time she thought she was going to run the family business. However, her priorities did change. She is married and is a stay-at-home mom to her daughter, Elsie. She now works part-time on the farm.
"Kari can definitely do it and be the decision-maker," Nicole says.
While not interested in the business side of the farm, Stacie Hinrichs, the Olsons' middle daughter, returns to help whenever needed.
Future transition
Today, the Olsons farm 2,300 acres, raising no-till corn, soybeans and wheat. They also sow cover crops to protect and enhance the soil.
Kari rents one-third of the farmland, exchanging labor for equipment rent. This allows her the opportunity to gain farming experience and make her own decisions. After three to five years, if she still intends to farm, Kari will gradually acquire and manage Robert Olson Farms Inc., which includes grain inventory and equipment.
GENERATIONAL POWER: Kari Olson shared this photo of how technology and machinery has changed on her fourth generation Clay County farm. Her dad, Rob, is shown on his John Deere 8360 RT tractor with his 1790 corn planter. Her grandfather Bob is sitting on his father Thorval's Farmall H tractor, pulling a McCormick two-row corn planter. That H tractor is the first tractor that Kari's great-grandfather Thorval bought.
All land is owned individually and rented to the corporation. The goal is to transfer 51% of the corporation and control to Kari by the time Rob turns 65. Transfer of ownership will be a combination of labor exchange, sale and gifting of the S-corp.
In Rob and Lonna's wills are provisions to give the farming child discounts on all farming assets, should they die before the farm transfer takes place. All non-farming assets will go to the non-farming children.
Day to day adjustments
Rob is the first to admit the challenges of gradually letting go of the business reins.
"It is hard with family, being a father and a boss, too," he says. But he'd rather have those tough discussions now, face to face. And he has found it is easier to make these business decisions when you are in your 50s and 60s.
"Communication is key between the generations before they pass away and you're in the lawyer's office," he says. "You're setting your kids up for fighting if you don't do planning."
He appreciates the lessons he learned from his grandfather and his father as they transitioned out of farming. Both had different management styles as they eased out.
"Giving up control will be a tough challenge," Rob says. "It's hard because I've learned a lot over 40 years of farming. I need to let them make their own mistakes."
About the Author(s) Paula Mohr has been editor of The Farmer since 2004. She enjoys covering a wide range of topics that are of interest to Minnesota producers.
Subscribe to receive top agriculture news
Be informed daily with these free e-newsletters
You May Also Like
---