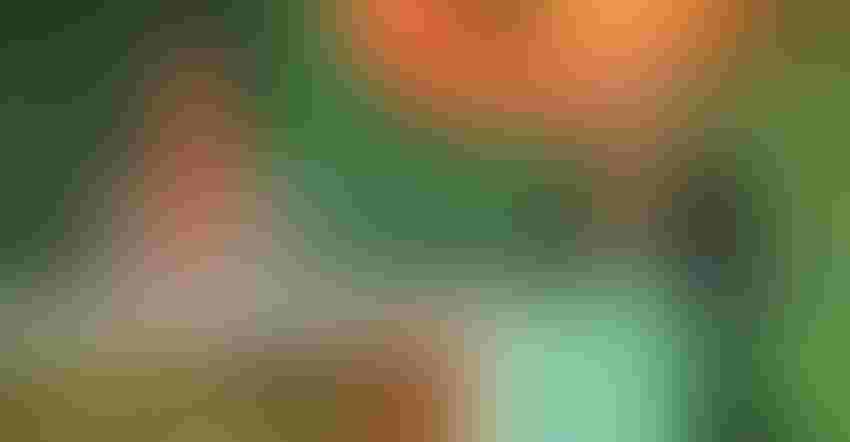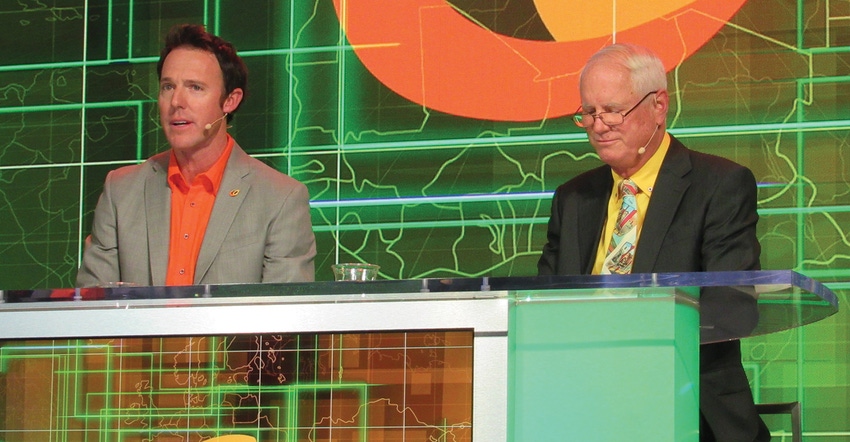 Almond Board of California chairman Brian Wohlbrink, left, and president Richard Waycott give a "State of the Industry" presentation at the 49th Almond Conference on Dec. 7, 2021 in Sacramento, Calif.
Tim Hearden
Registration is now open for the 50th annual Almond Conference, which will bring together growers and professionals from the almond and related industries on Dec. 6-8 in Sacramento.
More than 3,200 people attended last year's conference at the SAFE Credit Union Convention Center – the industry's first gathering in downtown Sacramento in three years.
The annual event focuses on the foundation of the industry's growth covering innovative research, strategic market development, and rapid adoption of industry best practices --- production and consumer research, regulatory updates, global market developments, sustainable farming practices, and the like.
The conference begins Dec. 6 with a "State of the Industry" report from top Almond Board of California officials, then continues with targeted workshops and luncheon speakers Dec. 7-8. Workshops at the conference center on trade and marketing, policy, water, sustainable cultivation practices, and other topics.
The gathering will include a trade show that last year featured more than 270 exhibitors who blanketed the bottom level of the convention center with the latest products and innovations available to growers. The event will also feature luncheon speakers and a gala dinner.
In their 2021 State of the Industry address, 2021-22 Almond Board of California chairman Brian Wahlbrink and president and chief executive officer Richard Waycott discussed the many challenges confronting the industry, including drought and heat that affected yields to a nagging shipping container crisis that jeopardized its lucrative overseas contracts.
Drop in production
This year's presentation is likely to discuss this season's anticipated 11% drop in production from last year, as the state expects to harvest 2.6 billion pounds of almonds this season. One of the culprits in this year's lower yield was a late February freeze that left some orchards without a harvestable crop.
Drought conditions and lack of irrigation water for other areas compounded the losses. Still, growers were expressing cautious optimism earlier this summer as the May position report of almond shipments and inventory revealed improved exports to some markets.
Last year's conference was the first in two years to be held in person and the first in three years to be staged in downtown Sacramento. A completed remodel of the SAFE Credit Union Convention Center enabled the conference's return after it was held in 2019 at Cal Expo, home of the California State Fair. The 2020 conference was virtual because of coronavirus-related restrictions on public gatherings.
Conference attendance is free but registration is required. Meal tickets are available for purchase during the online registration process and are optional.
About the Author(s)
Subscribe to receive top agriculture news
Be informed daily with these free e-newsletters
You May Also Like
---