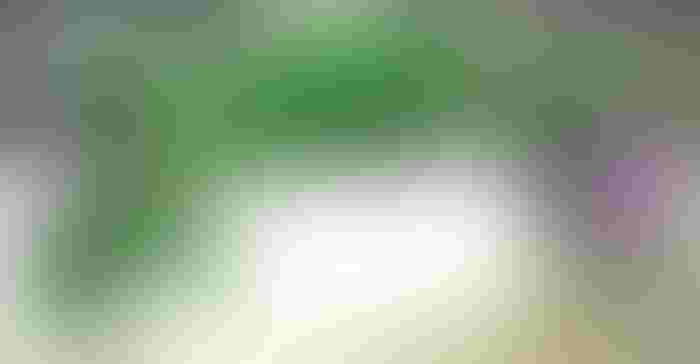 The box drill has been serving farmers for more than 40 years. They're popular because of their simple design and ability to put a range of seeds and fertilizer into the ground. Great Plains is upping the ante with its new line of BD7600 drills, with a range of improvements based on customer feedback, and a little engineering innovation.
With one look at it, it's clear a few things are different on the line. "We've enhanced the mainframe welds, and the machine has a significant upgrade in the tongue," says Rye DeGarmo, vice president, engineering, Great Plains. "We listened to the customer and dealer for a lot of these changes."
DeGarmo gave Farm Progress a walk-around of the new machine and offered insight into this latest drill design during the National Farm Machinery Show, held earlier this month in Louisville, Ky. Those new mainframe welds and a redesigned box boost both capacity and durability. In tests, that box has survived more than 8 million cycles — which means the drill was put into a test and twisted constantly to check for longevity.
But a drill is more than its box. And at the business end of the machine, it is obvious that the company is thinking about the user.
First, there's a wider platform across the back for filling with seed, and a crossbar on each box section. "That provides three points of contact for the user when climbing up or working on the platform," DeGarmo says. "That's a safety issue."
The boxes also can be outfitted with LED lighting, which is great for those late-night fills when you're working to get the crop in during a busy spring or fall, when daylight time is short.
And you'll find the box has more capacity, even though the size of the box is similar to previous models.
The business end
The innovation that will capture a veteran drill user's attention is the new feeder cup assembly, which meters by changing wheel rpm, not by forcing the user to speed up or slow down. In addition, staggered wheels and chevron-shaped outlet gates deliver seed and fertilizer more consistently.
Perhaps the biggest innovation is that each metering wheel has two sizes. You select the size by simply opening or closing the side that you want to meter through.
"There's a lot of magic in this design," DeGarmo says. "The user can change from planting wheat to alfalfa, simply by pushing or pulling a lever on each row."
That feeder cup is designed to meter seed, small seeds and granular fertilizer with greater accuracy. If you option the drill with a fertilizer box, you have some choices on size, but both chambers can easily be used for seed alone as needed, too.
For the main flow of seed or fertilizer, there's also a single-lever design for each box, which makes operation simpler.
An optional hydraulic drive will offer users the opportunity to use variable-rate seeding. That's a feature not available in the past and makes managing the system more flexible for operators. The hydraulic drive is not a big draw on the tractor, DeGarmo says. "For the variable-speed hydraulic drive, I'd say it's about 10 to 15 gallons per minute, and most tractors have that capacity," he says.
New box design, options
New box geometry offers other features, too, DeGarmo says. It can be filled completely without moving seed by hand. A new split-box design allows three different fertilizer to seed ratios as well. From 100% seed to as much as 45% fertilizer, you have options.
For now, the company offers three sizes of the machine — widths of 26, 30 and 40 feet. The biggest version of the machine, shown in the slideshow, will require a 200-horsepower tractor for transport. DeGarmo says in field operation, it would require 175 hp, however.
Other features include the Drill Command interface, which is compatible with most ISO-based controllers on tractors; or, you can use Mueller in-cab displays for section and rate control.
Beyond the light package and hydraulic drive options, farmers can also choose a weight kit to monitor seed rates on the go; blockage monitors to alert users to seed delivery issues; a camera that can be mounted where you need it; and Needham seed tubes (smooth inside) for improved seed and fertilizer flow.
The BD7600 also has several press wheel options to fit a range of needs, including a new 3-by-13-inch double rib that applies even pressure to the seed furrow for improved trench closing.
The 40-foot machine, as outfitted at the National Farm Machinery Show, retails for about $150,000.
Learn more at greatplainsag.com.
Subscribe to receive top agriculture news
Be informed daily with these free e-newsletters
You May Also Like
---