By Ethan Giebel
Spring is a time when youth who participate in showing livestock look toward the upcoming show season. Mike and Dr. Amy Robinson own A&M Farms near Mineral Point in Iowa County. They specialize in raising cattle and lambs that will rise to the top of competition in show rings throughout show season in the Midwest.
Lambs from A&M Farms have experienced success at jackpot shows, county fairs, Wisconsin State Fair and national competitions. Even before the 2015 lamb and calf crop is on the ground, the Robinsons' are beginning planning for the 2016 season and beyond.

Mineral Point family raises show cattle, lambs
On and off of the farm, the Robinsons' are committed to agriculture. Mike has been the agriculture instructor and FFA advisor at Mineral Point High School since 2000. Amy is an owner of Military Ridge Veterinary Clinic in Dodgeville. She has been a practicing veterinarian since 2002.
"We are a mixed practice with both large and small animals," she said. "The majority of our work is with cattle, but we see anything with hooves."
Mike had worked as a herdsman during college at the University of Wisconsin-River Falls farm, which is where he gained an interest in the sheep industry, specifically raising club lambs. Their venture in the club lamb business began when they received a pair of ewes as a wedding gift from friends about 20 years ago. After renting several different farms to house their ewes and beef cows, the Robinsons' settled at their current location in 2002.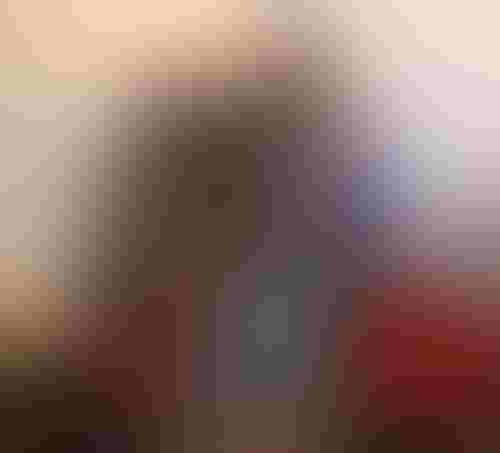 Amy and Mike Robinson make raising lambs and cattle a family project on their farm near Mineral Point. The Robinsons' children, from left, are Ellie, Joey, John and Annie.
As they began selling club lambs, they grew to know others in the industry and continued to build a base of loyal clients. At one point, more than 100 ewes resided in the flock. That number has been reduced to approximately 50 head of crossbred ewes and purebred Dorset ewes. As of late, introducing elite bloodlines into the flock through the use of A.I. has expanded offerings for their customer base.
~~~PAGE_BREAK_HERE~~~
"Lambs are a great project for young kids because they are easy to handle," said Mike. "It's a great first project if a young person isn't familiar with livestock. They are able to physically handle them with ease."
Overcoming challenges
Raising lambs for the show industry can be a challenge due to the seasonality of lambing. January and February are primetime for lambing at A&M Farms in order to meet demand for lambs that will be the correct size at shows throughout the summer. Other than weather, mothering ability of ewes can be an added challenge.
"The goal for our beef enterprise is to raise show heifers," said Mike. "Even though our focus is on Angus, we do have Hereford, Simmental and Red Angus genetics on the farm."
A diverse herd of more than 40 cows and heifers produce calves that are often sold for show or seed stock purposes. Thanks to A.I. and embryo work, Robinsons' bred the Heifer of the Year for the Wisconsin Angus Association in 2004 and have sold heifers that have fared well at various jackpot shows and fairs.
"I can't say enough good things about Angus cattle," said Mike. "Cows in the Angus breed have a natural maternal instinct. They get calves off to a great start and have the ability to make people money."
In recent years, a new project has emerged at A&M Farms. While helping a student get started with a meat goat project, the Robinsons began raising Boer goats. As meat goats have been gaining in popularity throughout the Midwest, so has the competition among exhibitors. Through careful selection, the Robinsons have been able to breed winners of shows in Wisconsin and Illinois. They are also involved with a group of individuals working to start the Wisconsin Meat Goat Association, which strives to hold more shows across the state.
Not only are the Robinsons' raising livestock on their farm, it is also where they have chosen to raise their young family. Joey, 10, twins Ellie and Annie, 8, and John, 6, all take on responsibilities at chore time and have begun working with and showing livestock.
"We are in this business for the kids," said Amy. "If it weren't fun, we wouldn't be doing it. It gets pretty crazy here sometimes with the farm and the kids but we wouldn't have it any other way."
Looking toward the future, all four of the Robinson children have shown an interest in agriculture at a young age. Taking on opportunities for growth in order to bring future generations back to the farm is a top priority for this young farming family.
Giebel is a student at University of Wisconsin-Platteville.
Subscribe to receive top agriculture news
Be informed daily with these free e-newsletters
You May Also Like
---