Kudzu bug infestation in Alabama soybeans a preview of what's to come
Kudzu bug infestation in Alabama soybeans a preview of what's to come
Kudzu bugs were attacking early season soybeans in Alabama in late June.The insect pests traveled directly from overwintering sites to young soybeans.Immature kudzu bugs can be mistaken for aphids.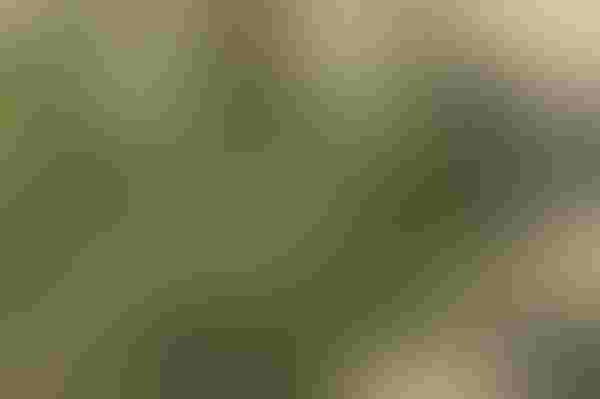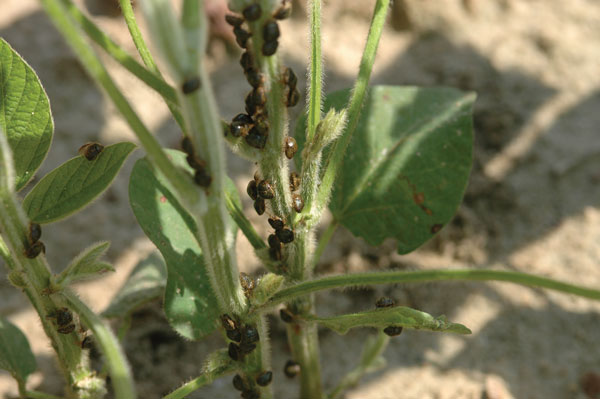 <p> SOME SOYBEAN producers in Alabama were seeing kudzu bugs in almost plague proportions in late June.</p>
Some soybean producers in Alabama were seeing kudzu bugs in almost plague proportions in late June.
This year's infestation of kudzu bugs on early planted soybeans in Alabama could be a preview of what's to come, says Tim Reed, Auburn University Extension entomologist. "Kudzu bugs likely will be our most serious pest of soybeans, possibly beginning next year on a statewide basis," says Reed.
"We started to pick these up this year on seedling soybeans that were less than 1 foot tall," he adds. "The 'guesstimated' threshold we're using now until we get more data is five per plant. From 1 to 2 feet tall, on vegetative beans, it's 10 per plant. And then once the beans are 2 feet tall, we're hoping you can wait until you see immatures along with adults before you spray."
Kudzu bugs apparently came straight from over-wintering sites and didn't stop at kudzu at the Auburn University site, says Reed.
"The immatures look a lot like aphids. Going into this year, we were hoping we could avoid spraying kudzu bugs on seedling soybeans, but we're not going to be able to do that. We've had reports from all over the state about kudzu bugs on seedling soybeans, and basically we've thrown out some of what we thought we had learned about this pest, as of the end of last year. It's behaving differently this year," he says.
Kudzu bugs were found in 15 Alabama counties in June of 2012. Now, there are only 13 counties where they haven't been found, says Reed.
"They're likely in every county in the state, and by this time next year, I expect them to be in all early planted soybean fields. We hope they will be a serious problem only in early planted soybeans. That has been the trend in Georgia and South Carolina."
They're primarily found on the main stem, though adults will be on the leaves, he says.
"If they're in seedling soybeans now, you'll probably have to make at least two applications to get you through the year. That'll open you up to worm problems. We'll have to see how this plays out in 2013."
According to the Alabama IPM Guide for soybeans, kudzu bug numbers tend to be much higher on full-season soybeans than in later planted fields. Immatures normally appear in full-season soybeans in late July to early August. Kudzu bug adults and nymphs feed on the main stem and leaf petioles with sucking mouthparts. The kudzu bug's feeding can reduce the number of pods per plant, number of seeds per pod, and seed size. This insect has been found to cause significant yield losses in Georgia and South Carolina soybeans.
Other soybean insect pests can cause problems
There are several insect pests of soybeans other than kudzu bugs that growers should be concerned about this year, notes Reed.
"Cutworms will feed on soybeans, cotton and corn. They'll cut off the plants at ground level and sometimes they'll chew on the leaves. Their damage might be mistaken for hail damage, and they can hurt a stand severely."
Cutworms feed on existing winter vegetation until it deteriorates, he says. If they're feeding on a nearby pasture or on weeds and you don't spray a pyrethroid, you might lose a stand due to this pest, says Reed, so they need to be controlled at planting time.
"Thrips also can get on soybeans and slow them up. They can especially slow the recovery of soybeans whenever the crop has been burned by herbicide applications."
Three-cornered alfalfa hoppers also are becoming more of a widespread pest on soybeans, he says. Adults overwinter and lay eggs inside the plant, so the eggs are hard to find. "In the immature stage, there's nothing else that looks like it. They'll girdle the main stem whenever you have very small beans.
"This pest is pretty abundant in the field until soybeans are about knee-high. Since we don't have good thresholds for three-cornered alfalfa hoppers on seedling soybeans, when consultants pick up three or four on 10 sweeps on small beans, they're going ahead and making applications. We haven't had problems yet with secondary pests coming behind these applications. Kudzu bugs may mean that this will no longer be an issue, since we have them at the same time of the season."
As a general rule, three-cornered alfalfa hoppers tend to be more severe in beans planted behind wheat, and in Alabama, most soybeans are planted behind wheat, says Reed.
"They tend to be higher up on the plant and can be caught with a sweep net. You'll have to use a drop cloth to catch the immature ones. Significant yield losses are most likely when you have a lot of girdling and the plants are small. Once the plants are setting pods, the amount of yield loss you'll have from one per sweep is not that heavy."
Lesser cornstalk borer
Lesser cornstalk borer can be a problem on soybeans in dry weather, he says.
"They'll bore into young stems, burrow up and down the stems, and kill the plant. You can determine if these are in your field with pheromone traps."
Damage also has been seen in soybeans from pillbugs that feed on the leaves and destroy the stand, says Reed. "We have not had a problem controlling these with pyrethroids. You may see them in large numbers in beans planted behind wheat. They feed on the plants at night and go down during the day."
A 10-percent stand loss is a good general rule to follow on soybean seedling pests, he says.
Growers should look for podworms to start showing up on soybeans when the plants start to bloom, says Reed.
"They're typically high on the plants in the morning, moving down on the plant as the temperature warms. Most research shows that with $8 beans, the threshold ranges from 1.7 to 2.5 per row foot. The plants can compensate early when the beans are small but less so later in the season. We use a conservative threshold of one per row foot in Alabama. You can control these insect pests with a pyrethroid. The threshold is about three per 15 sweeps."
Once a stink bug matures, it could be in your soybean crop for up to two months, he says. "Soybeans are susceptible to stink bug damage up to maturity. This insect will slowly increase in Alabama, and eventually it will be a major pest on soybeans, cotton and corn.
Soybean loopers are serious defoliators of soybeans, feeding on foliage and most often being a pest from late August through September.
Fall armyworms also can feed on soybean pods, says Reed.
"Remember when we're dealing with double-cropped soybeans behind wheat that you'll probably be dealing with complexes of insect pests. You may have sub-thresholds of several different insect pests, including stink bugs, three-cornered alfalfa hoppers, kudzu bugs and worms. A lot of farmers are cleaning up their soybeans in the early pod-fill stage, when they're putting out their fungicides."
          More from Southeast Farm Press
Alabama Agricultural and Rural Crimes Unit officially established
Black Sea wheat roller coaster continues
What should I do with flooded cotton field?
Tyron Spearman inducted into Peanut Hall of Fame
About the Author(s)
Subscribe to receive top agriculture news
Be informed daily with these free e-newsletters
You May Also Like
---