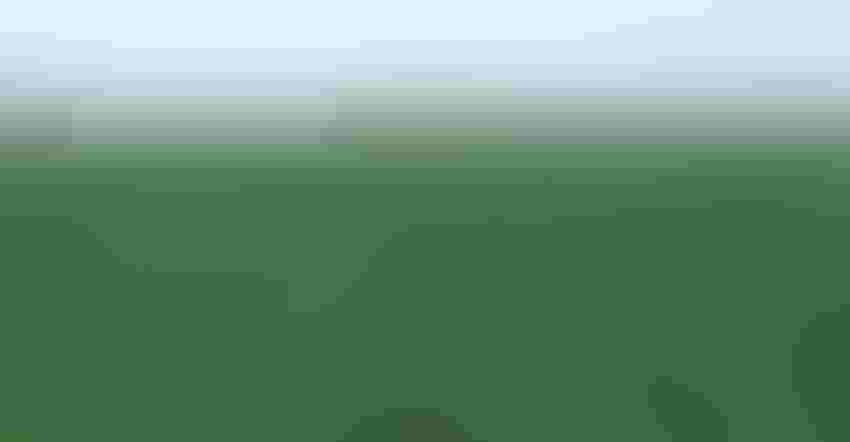 KEY DRIVERS: Tariffs and trade disruption, lower commodity prices, and declining farm income have all driven Iowa farmland values down about 1% in 2018.
Iowa farmland values declined slightly in 2018. The annual survey by Iowa State University released in mid-December shows a 0.8% decrease in the statewide average. At $7,264 per acre, the average value for 2018 is down $62 from 2017. Farmland values peaked in 2013 at $8,716 an acre.
The survey is conducted in November by the Center for Ag and Rural Development (CARD), with the assistance of ISU Extension. Results from the survey are consistent with survey results by the Federal Reserve Bank of Chicago, the Realtors Land Institute and USDA.
The $7,264-per-acre estimate and 0.8% decrease in value for 2018 represents a statewide average of low-, medium- and high-quality farmland, explains Wendong Zhang, an ISU Extension economist who coordinates the survey. The survey also reports values for each land quality type, crop reporting district and all 99 counties individually.
Lower commodity prices
After Iowa farmland values hit the historic high in 2013, they immediately declined by 8.9%, 3.9% and 5.9% in the next three years. Landowners received a small reprieve in 2017 when the statewide average increased 2%. While modest when compared to 2014, 2015 and 2016, the average for 2018 marks the fourth time in five years that Iowa average farmland values have fallen.
Lower commodity prices were one of the biggest factors driving down farmland values in 2018. "Lower commodity prices, in part due to the recent trade disruptions, were cited by the respondents in our survey as the most significant negative factor driving down land values," Zhang says. "It wouldn't surprise me to see another modest decline in 2019. But overall, values are stabilizing."
Despite the downturns, he says farmers don't need to worry about a collapse of the U.S. ag sector similar to the 1980s farm crisis. "Limited land supply and strong demand by farmers still seems to support the land market," Zhang says. "For five consecutive years, survey respondents have reported fewer sales of land than the year before, and the ag economy is still robust with 82% of the land in Iowa fully paid for."
Survey results
The following divides land values by county, district and quality:
• Land values by county. In the 2018 survey, 70 of Iowa's 99 counties reported lower land values, the remaining 29 reported higher values. For the sixth year in a row, Scott County had the highest farmland value and Decatur the lowest. Decatur County had a value per acre of $3,488: a gain of $8, or about 0.2% from 2017. Scott County reported a value of $10,537: an increase of $40 per acre, or about 0.4%. Hamilton County had the largest dollar decrease in value, $285 per acre, and Humboldt and Wright counties had the largest percentage decrease, 3.3%. Floyd and Mitchell counties reported the largest percent increase in values at 3.1%
• Land values by district. Five of Iowa's nine crop reporting districts showed an increase in land values. South-central reported the largest percentage increase, 3.8%. Central and southeast districts reported decreases of 2.4% and 3.6%, respectively. Northeast and southwest districts reported no notable change in value. Northwest and south-central districts reported the highest and lowest averages at $9,311 and $4,329 per acre, respectively.
• Land values by quality. Statewide, the high-, medium- and low-quality farmland values decreased 0.8%, 0.7% and 1.7%, respectively. Despite decreases across all other types of land in all districts, low-quality land in the northeast, south-central and west-central districts increased in value. Low-, medium- and high-quality farmland are $4,609, $6,805 and $8,863 per acre, respectively.

ISU's survey estimated the dollar value per acre of high-, medium- and low-grade farmland in November by crop reporting district.
Certain factors drive the variations in land value changes across counties and districts. "Put simply, land value equals farm income divided by interest rates. Local market competitiveness, local land availability and local income shocks tend to drive variations in land market changes across districts, counties and land quality classes," Zhang says.
Factors influencing values
The most common positive factors influencing land prices noted by survey respondents were limited land supply, strong yields and low interest rates. The most commonly cited negative influences were lower commodity prices, higher long-term interest rates, and recent tariffs on U.S. soybeans, pork and other ag products.
ISU's land value survey started in 1941, the first in the nation. The survey is conducted every November. Only the state average and district averages are based directly on the ISU survey data. County estimates are derived using a procedure that combines the ISU survey results with data from U.S. Census of Agriculture.
The ISU survey is based on reports by ag professionals knowledgeable of land market conditions, such as appraisers, farm managers, ag lenders and actual land sales. It's intended to provide information on general land value trends, geographical land price relationships and factors influencing the Iowa land market. The 2018 survey is based on 792 usable responses from the ag professionals surveyed; 62% of them answered the survey online.
CARD offers a web portal at card.iastate.edu/farmland that includes visualization tools, such as charts and interactive county maps, so users can examine land value trends over time at county, district and state levels.
Looking ahead on land values
In four of the last five years, Iowa farmland values have declined on average. The last time that happened was during the farm financial crisis of the 1980s. ISU Extension economist Wendong Zhang is often asked if Iowa is headed for another collapse in land values, similar to the 1980s. He doesn't think so.
For the last two years, farmland values have been treading water, and that's likely to be the case for the next few years, he says.
The biggest factor keeping farmland from dropping further is that very little land is available on the market. There are still situations where certain farms sell for high prices because at least two bidders are looking for land that fits their farming operation. Statistics show 82% or so of Iowa farmland is owned debt-free, so it's unlikely large amounts will hit the market soon. Strong crop yields have also helped prop up land prices.
"Low commodity prices are a problem," says Zhang, "and it's being made worse by the trade war with China, which is costing farmers and the entire Iowa economy."
It's estimated the trade war is causing Iowa to lose $1 billion to $2 billion in gross revenue. Also, as interest rates are inching higher, that's a sign they could continue upward the next year and help depress commodity prices. Zang says over half of the farm sales in Iowa are estate sales, and 70% of the buyers are other farmers.
About the Author(s)
Subscribe to receive top agriculture news
Be informed daily with these free e-newsletters
You May Also Like
---