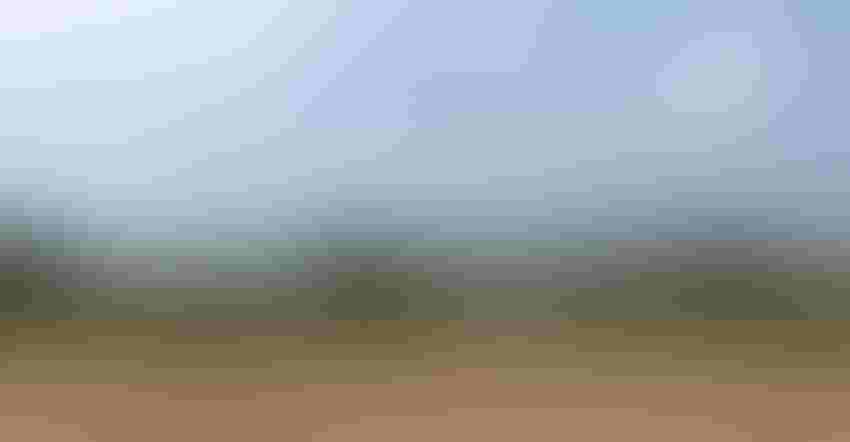 CHANGING LANDSCAPE: Wind turbines in the background loom over a solar farm under construction in the foreground at this location in east-central Indiana.
Tom J. Bechman
As a farm manager, Steve Slonaker gets frequent calls from representatives for wind and solar companies about leasing ground for wind turbines or solar panels. He's also a farm owner, and Slonaker, Centerville, Ind., looks at the economics of wind and solar differently.
Based on his economic perspective, specifically for solar, he easily prefers banking on coming out better in the long term by farming vs. a 20- or 30-year solar lease.
"My calculations as a land appraiser say you're much better off farming for 30 years with historical appreciation and farm income," Slonaker says. "I'm just not betting on solar people in general paying me for all those 30 years. I watched two nuclear plants being built, and then watched them torn down without producing anything."
Here's a look at Slonaker's points about the economics of wind and solar.
Wind turbines
When it comes to wind farms, Slonaker assumes that about 8 acres will be removed from production and/or damaged for each tower. Based on his information, a wind turbine tower serves about 125 houses for each acre removed from farming.
How does this affect land value if you sell the farm? An appraiser might add 10 times the annual lease to land value for each tower per 80 acres. If the lease is $12,000 per year, that's $120,000.
"But subtract the 8 acres which are of less or no value," Slonaker cautions. Based on recent land prices, at $15,000 per acre, that's 8 time $15,000, which equals $120,000. It could be a wash, he says.
"There is some sales evidence from northwest Indiana that indicates tower leases add no extra value over just regular cropland," he reports. "Factor in potential problems with drainage tile that may be created during construction. And remember, people who own the towers are your land partners for life."
Solar power
The economics for solar have more question marks because there are more open-ended questions around future recovery of the land after, say, a 30-year lease, Slonaker says. Based on the going rate per acre for a solar lease, he puts the present stream-of-income value somewhere around $19,000 per acre over 30 years. If it's left as farmland, he calculates that with 4% land appreciation compounded annually for 30 years, plus $200-per-acre net income from crops annually, total future value would be around $33,000 over the same 30 years. Slonaker adds that real estate appraisals for solar-leased land will be tricky.
But won't land still appreciate if it's covered with solar panels vs. growing crops for 30 years? That's where uncertainty comes in, Slonaker believes. The cost of removing solar panels after 30 years and uncertainty over whether the land could be returned to normal enter in.
"I would bet on farming versus somebody I don't know paying me for 30 years into the future," he says. "How big the risk of non-payment should be is an unknown, but as an appraiser, I would discount the lease by up to 25% for that alone."
There also are factors you can't put a value on, he adds. "I like looking at my crop and deer every morning, rather than glass, steel and a barbed-wire fence," Slonaker adds. "The disruption to wildlife and farm drainage, plus the social impact on rural communities, aren't worth any amount of money."
Subscribe to receive top agriculture news
Be informed daily with these free e-newsletters
You May Also Like
---