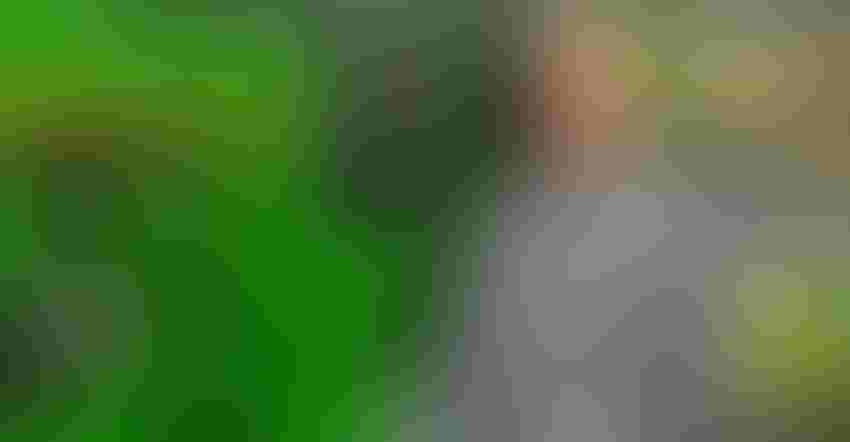 PROUD OWNER: Don Cummings, Jackson County, Ind., owns the John Deere 4430 tractor that Deere officials recruited to "pull" their new 1745 planter at the 2020 National Farm Machinery Show.
The more agriculture changes, the more it stays the same. Don't think so? Consider this. In the heart of John Deere's display at the 2020 National Farm Machinery Show was a 1977 John Deere 4430 tractor hooked to a new model 1745 John Deere 15-row, 15-inch-row planter, set up with a chain transmission drive and liquid fertilizer attachments.
If you dropped someone into that display, they may have thought it was 1977.
But it was 2020. Deere introduced the 1745 planter, simple in design yet able to be scaled up with technology if you choose. The driving force behind the planter is delivering what customers asked for: a planter they can operate with an older, lower-horsepower tractor. There are still many of those tractors around, but there aren't too many planters, and certainly few new planters, that older tractors have the horsepower or hydraulic capacity to pull.
"They called me and told me they needed my 1977 John Deere 4430 for their display at Louisville," says Don Cummings, Jackson County, Ind. "At first I wasn't sure why they wanted my tractor. When they explained that they were introducing a new planter which would be a perfect fit to pull with an older tractor, it made sense."
It didn't hurt that Cummings' tractor looks show-room new. He and his wife, Barb, are the second owners of the tractor. The original owner also farmed in Jackson County.
"I touched up the cab with spray cans myself several years ago," Cummings says. "A local guy, son of the late Bob Myers, longtime ag teacher at Brownstown Central High School, repainted the tractor and did a super job."
Cummings knows something about vocational agriculture and FFA. His dad, the late Jim Cummings, was a legendary ag teacher, spending most of his career at Whiteland High School and Central Nine Career Center, both in Johnson County. Jim was the FFA advisor for Indiana's first-ever Star Farmer of America, the late Merrill Kelsay, named in 1970.
Journey to Louisville
This wasn't the first time Cummings or his John Deere 4430 had interacted with Deere at the national level. Deere spokespeople learned that Cummings had a vintage 4430 several years ago when making plans to produce a 175th anniversary calendar.
After a series of back-and-forth contacts, Deere sent a photographer to Jackson County. Cummings' tractor was included in the company's anniversary calendar, which appeared in 2012.
There was even more secrecy this time around. After all, Deere wanted the 1745 planter introduction to be a surprise. "They were still great to work with," Cummings says. "It was neat for Barb and me to see our tractor on display here."
Just to send the message that the planter could be upgraded for technology and still pulled by an older tractor, Deere officials fitted the tractor with a GPS receiver. They transported it to Louisville, Ky., for the show.
Cummings was surprised when he saw it again. "I had installed a new muffler just for the show, but they brought a chrome stack all the way from Moline, Ill., to put on it instead," he says. "I guess they thought it looked sharper."
No, he won't be keeping the chrome stack. The tractor will return to vintage condition, complete with a new factory muffler!
Subscribe to receive top agriculture news
Be informed daily with these free e-newsletters
You May Also Like
---