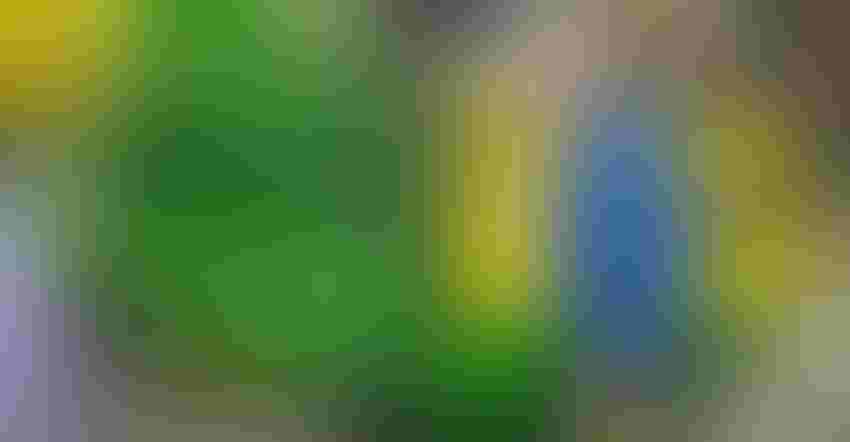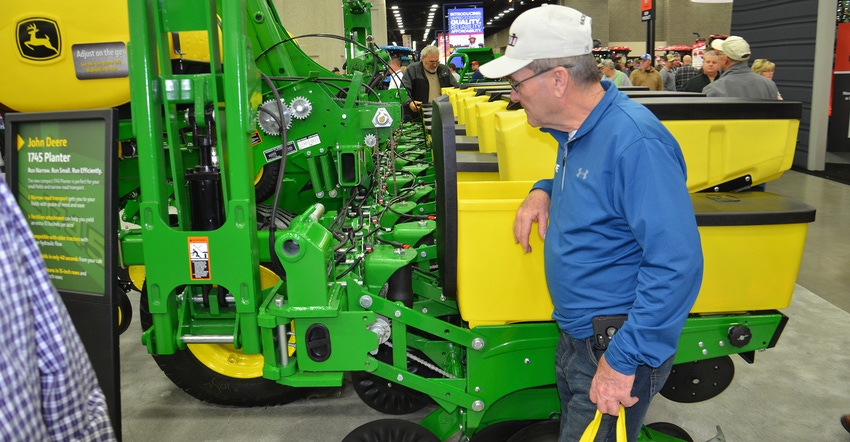 SIMPLE DESIGN: You can order the John Deere 1745 planter, introduced at the 2020 National Farm Machinery Show in Louisville, Ky., with a traditional chain-and-sprocket drive, or scale it up to RowCommand individual-row control.
John Deere spokespeople say Deere listens to customers. The manufacturer's latest planter introduction indicates that it indeed listens to a wide customer base — not just those who cover lots of acres. John Deere unveiled the 1745 MaxEmerge 5 planter at the 2020 National Farm Machinery Show in Louisville, Ky.
"A farmer just walked up and told me, 'You built this planter for me,'" says Ryan Hough, marketing manager for planting and seeding for John Deere. He was on hand for the new planter's debut.
The farmer who made the comment to Hough farms a modest number of acres, has some small and irregular-shaped fields, and must move equipment on narrow country roads. "That was part of our target audience for this machine," Hough says. "We have large, high-tech planter options, and now, by introducing the 1745, we offer new planters which appeal to a different segment of customers, broadening our reach."
The 1745 is available as an 8-row planter with 30-inch rows, or as a 15-row planter with 15-inch split rows for soybeans. It folds to a narrow width under 13 feet high for easy transport. "If your tractor and duals fit through the bridge, the planter will fit," Hough says. "The neat thing is, you can finish planting, press buttons, fold the planter and drive onto the road in less than a minute, all without leaving the cab."
Farmers told Deere that older tractors were no longer capable of being planter tractors because of two reasons: too little horsepower and not enough hydraulic capacity or hydraulic outlets. Only one set of hydraulic couplers is required to run the 1745 planter, Hough says. And if your tractor has at least 95 hp at the drawbar, it can pull the planter successfully.
Scale it up
If you saw the planter on display at Louisville, hooked to a 1977 John Deere 4430 tractor, you may have thought you'd stepped back in time. The planter on display was equipped with a gear drive with chains and sprockets. It featured 1.6-bushel hoppers on corn-only rows and 3-bushel hoppers for split rows.
You can get the 1745 with finger-pickup units and standard soybean meters, or you can get vacuum meters. In fact, you can even order it with optional RowCommand individual-row control. Deere data indicates RowCommand units save an average of 4.3% on seed costs alone. Order it with a basic planter monitor common years ago, or opt for the state-of-the-art John Deere SeedStar XP monitoring system.
"The beauty of this planter is that you can keep it simple, or you can add technology and scale it up," Hough says. "You can also order it set up for either liquid or dry starter fertilizer. Some customers told us they still prefer dry starter, so we included that option."
If you're going to use the planter for corn and soybeans, lock up the split-row units when not in use. You can order extra 3-bushel boxes, already with soybean meters installed, so you can switch out the corn boxes to plant split-row beans, Hough says. You can also opt for a 50-bushel CCS central-fill seed delivery system instead.
He promises that the planter will be competitively priced to ensure value. Deere will begin taking orders for the 1745 planter in June.
About the Author(s)
Subscribe to receive top agriculture news
Be informed daily with these free e-newsletters
You May Also Like
---