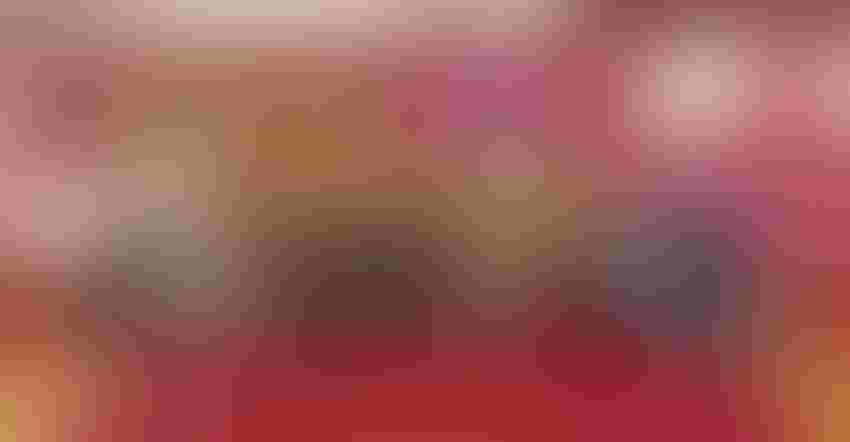 RAISING AWARENESS: Chatfield FFA students and their advisor hosted a "Break the Stigma" event Nov. 6 to raise awareness for mental health and suicide prevention. In the school gym, a memorial program was held where participants were invited to post notes to loved ones who have died. Those setting up for the event that day included Reigns Caradine (left), Ariel Lindeland, Maria Lawson, teacher Stacy Fritz, Sydney Allen, Alexis Henry, Lauren Cole, Tessa McMahon, Kelsi Goldsmith and Ryan Nosbisch.
Photos courtesy of Stacy Fritz
Stress and fatigue in students, teachers and staff are at an all-time high in most schools. Unfortunately, the pandemic has intensified these mental health symptoms.
After recent suicides in the community, FFA students at Chatfield (Minn.) High School decided to step up and help. With guidance from their FFA advisor, they hosted a "Break the Stigma" event Nov. 6 that featured a virtual community run-walk fundraiser, and a memorial program where participants could share stories of loved ones who died by suicide.
The fundraiser goal of $2,500 will pay for a communitywide suicide awareness training seminar called safeTalk. SafeTalk teaches participants how to identify someone with thoughts of suicide, how to communicate and engage with them, and how to connect them with intervention resources. The Minnesota Farm Bureau Foundation has pledged $1,000 to support the effort.


LOCAL COVERAGE: FFA members were interviewed about the Break the Stigma event by local media. Chatfield senior and FFA officer Sydney Allen (left) and senior and FFA member Lauren Cole spoke with reporters.
Stacy Fritz, agriscience instructor and FFA advisor at Chatfield Public Schools, explained that residents in the greater Chatfield community have been doubly challenged by COVID-19 and loss, on top of prepandemic stressors. The community recently lost several people to mental health-related issues, two of whom were current and past students of Fritz.
On top of that, students and staff were flexing between virtual and in-person learning during COVID-19 last year. The school started with hybrid instruction, meaning that half of the students at a time attended school in person, and Wednesdays were all distance (virtual) learning days. COVID-19 forced the school to go full distance learning for a while. Toward the end of the school year, students and staff returned to in-person learning.
"I have watched my students struggle with mental health through COVID, and you can see the strain, especially in those close to the kids we lost," Fritz says.
Bringing mental health resources closer to home
For those in need of mental health resources in southeast Minnesota, options are very limited. Usually, that means traveling to Rochester or the Twin Cities. "These barriers will prevent some from getting much-needed help," Fritz adds.
The 17-year Chatfield ag teacher knows from personal experience the impact of mental health challenges. She strives to help her students navigate them in a proactive way.
"I also went through significant loss as a kid, and I personally know the struggles they are facing," Fritz says. "The journey that I took as an adult to heal was a long one, with many bumps in the road, but being able to talk about it was what got me through."
Her goals? To make it easier for everyone to talk about mental health, and to place as much importance on it as we do physical health.
"If we can do this, we can reduce the number of mental health crises in our community and reduce the strain on our resources," Fritz says. "Most importantly, we can improve our students' quality of life. That is worth every minute of time spent on our #breakthestigma initiative."
To learn more about the safeTalk training, read the online January 2020 story in The Farmer about safeTalk.
About the Author(s) Paula Mohr has been editor of The Farmer since 2004. She enjoys covering a wide range of topics that are of interest to Minnesota producers.
Subscribe to receive top agriculture news
Be informed daily with these free e-newsletters
You May Also Like
---