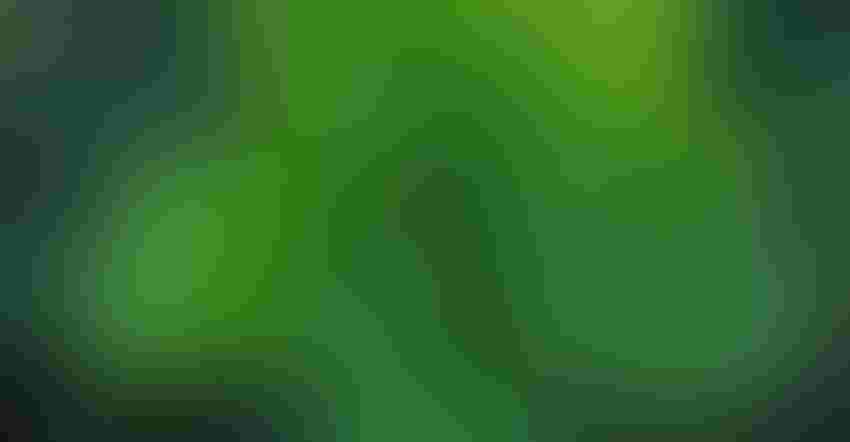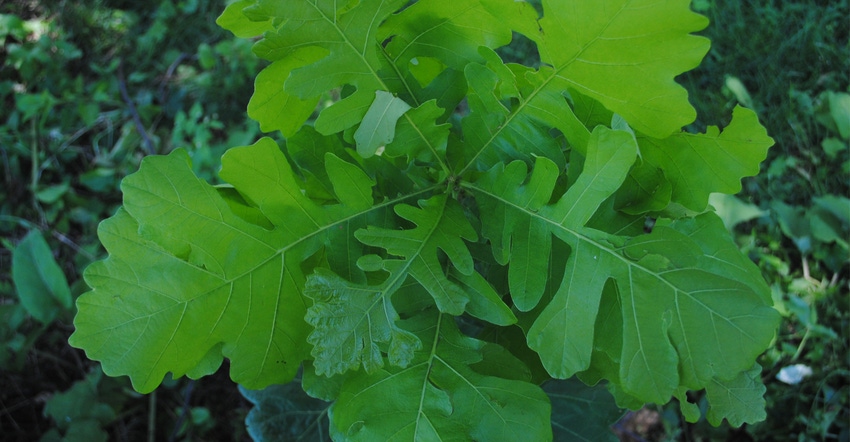 BEST TIME TO PLANT: With the weather going into a cooler period, generally with more precipitation, fall is often an optimal time to plant trees like this bur oak seedling.
If you are planting corn, soybeans, sorghum or small grain, spring is planting time. So, farmers and ranchers often think only of spring when it comes to planting trees as well. While spring brings forth new growth and a new season, fall is optimal for tree planting in many ways.
"With fall planting, there is a much longer period providing moderate conditions for root growth and establishment, before the plant has to survive summer heat and dryness," says Nebraska Extension educator Sarah Browning. "With spring plantings, trees may have only a few weeks, if that, before summer conditions hit. Fall temperatures are cooler, both air and soil temperatures," she explains. "Cooler air temperatures reduce water evaporation from the plant's leaves, reducing the total water demand needed to keep the tree alive."
For evergreen trees, this is crucial because they hold onto their needles for many years and use water more voraciously in the dormant season than deciduous trees do.
"Tree roots continue to grow until soil temperatures fall below 40 degrees F," Browning says. "Even if the leaves have fallen from deciduous trees, the roots can still be growing, establishing the tree on the site."
There are management considerations when you are planting trees in the fall. "Frost heaving is a concern, and becomes a bigger concern the later into the fall planting takes place," Browning says. "It is caused by repeated soil freezing and thawing during the winter months. If the plant has not established enough roots to hold itself in place, frost heaving can push the root ball out of the ground, or push it up in the soil enough to make the root ball susceptible to drying and root death."
Browning also suggests application of a deeper mulch layer during fall planting. "The goal is to keep the soil cold during the winter and prevent the warming and cooling of soil that results in frost heaving," she says.
That's why it is important to plant trees at the correct depth and address circling roots no matter which season you are planting in.
Plant the tree with the top main root at the surface of the ground. As for circling roots, many container trees have roots that encircle the root ball in the container. If they are left in this position, the roots may continue to bundle in a circle and not stretch outward into the soil away from the tree, causing long-term health issues for the tree as it grows. Circled roots can be frayed or pulled gently away from the stem of the tree as it is removed from the container during planting, to circumvent the issue.
For farm and ranch plantings, wind is always a big challenge. "These days, foresters recommend not staking trees in urban settings," says Browning. "Staking causes problems when not done correctly, and homeowners often leave the staking materials in place too long, which can damage the tree. In urban settings, wind is often not intense enough to be a serious problem."
Rural locations are different. "Make sure the staking is done right, and the materials are removed after one year," Browning suggests. "Many landscape companies still use wire in rubber tubing to stake newly planted trees. The wire creates a pinch point and can be embedded in the trunk if left too long."
Many tree care experts advise using two or three opposing 2-inch wide straps to stake trees during establishment. They recommend using rubber or stretchable wide strapping as staking material because these materials allow the tree to move slightly, strengthening the trunk of the tree over time so it can withstand wind events when the staking is removed.
About the Author(s)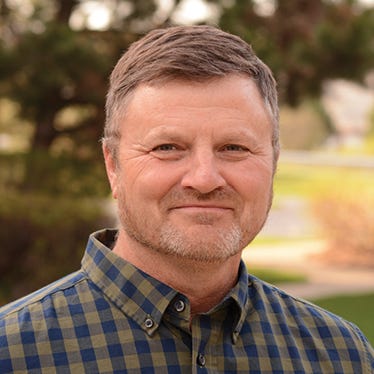 Curt Arens began writing about Nebraska's farm families when he was in high school. Before joining Farm Progress as a field editor in April 2010, he had worked as a freelance farm writer for 27 years, first for newspapers and then for farm magazines, including Nebraska Farmer.
His real full-time career, however, during that same period was farming his family's fourth generation land in northeast Nebraska. He also operated his Christmas tree farm and grew black oil sunflowers for wild birdseed. Curt continues to raise corn, soybeans and alfalfa and runs a cow-calf herd.
Curt and his wife Donna have four children, Lauren, Taylor, Zachary and Benjamin. They are active in their church and St. Rose School in Crofton, where Donna teaches and their children attend classes.
Previously, the 1986 University of Nebraska animal science graduate wrote a weekly rural life column, developed a farm radio program and wrote books about farm direct marketing and farmers markets. He received media honors from the Nebraska Forest Service, Center for Rural Affairs and Northeast Nebraska Experimental Farm Association.
He wrote about the spiritual side of farming in his 2008 book, "Down to Earth: Celebrating a Blessed Life on the Land," garnering a Catholic Press Association award.
Subscribe to receive top agriculture news
Be informed daily with these free e-newsletters
You May Also Like
---