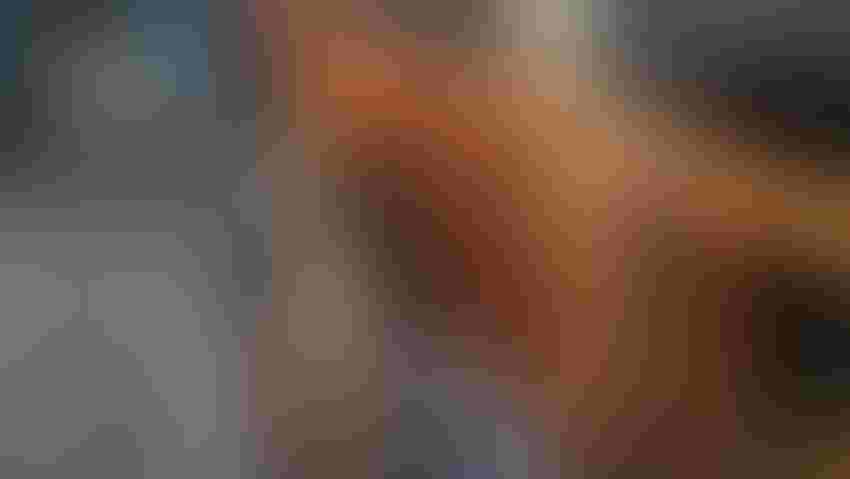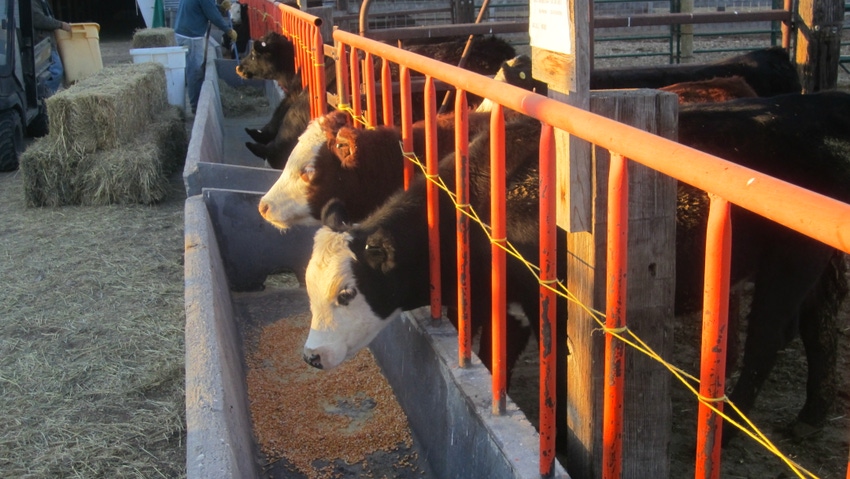 Early weaning of calves is an option for ranchers during drought-related feed shortages.
David Bohnert/OSU
This year is proving to be a serious challenge for many cattle producers in the western states, with prolonged drought and high temperatures.  Pasture and hay supplies are well below average and some producers are running out of forage. 
David Bohnert, Beef Extension Specialist and Ruminant Nutritionist at Oregon State University's Eastern Oregon Agricultural Research Center in Burns, says that if a person can find pasture, that's great, but if you're overstocked you need to get rid of some animals early rather than when you are forced to.  The forage available from reducing animal numbers will allow for a longer grazing period.
The Eastern Oregon Agricultural Research Center in Burns, like many other cattle operations, is short on hay this year.  "We have half the hay we usually grow on our flood-irrigated meadows, so we're planning to feed a little grain to stretch the forage.  We have the infrastructure to do that, so after we have all our hay harvested we'll inventory it and figure out how much corn or distillers grain we will need, to fill in," Bohnert said.
"Grass hay is costing $200 to $300, and we're looking at $250 to $300 corn, so it may pay to use some corn," he says. "It takes approximately half the corn to provide the same energy; it would take 2 pounds of hay to be equivalent to one pound of corn.  We can feed a decreased quantity of total dry matter, compared with full hay feeding, and maintain the cows.  They may be hungry and bawling (lacking normal amount of fiber fill) but we'll have a cheaper ration that works.  Rather than buy expensive hay, you might save a lot of money feeding a mix."
Look at the situation
Jay Davison, Crop Specialist, University of Nevada, Reno Extension, now retired, says ranchers must look at their individual situation and see what the options might be.  If they have to come off range allotments early they may try to plant summer annuals to provide a little pasture to come home to.  Other folks may simply have to sell cows.  This can be a hard decision, whether to sell cows or buy expensive feed—especially when it's taken years to build a good herd of cattle with the genetics you want.  It can be difficult to replace them later because new cows won't be as adapted to the conditions on your ranch.
If a person has any kind of forage, even if it's dry, a protein supplement may make it work, especially if you choose to wean calves early and are only feeding dry cows.  Even a little alfalfa can work as a supplement. 
Since feed conditions and options for alternative feeds vary from region to region, ranchers can check with local extension personnel to see what might be available, or to find things they haven't thought about to try.  "People near grain-producing regions might be able to obtain wheat mids relatively inexpensively.  There may be opportunities you weren't aware of," Davison says.
"There is drought relief money available in some regions.  Some producers think its welfare, but I tell folks that most people take advantage of it, and if you don't, you are putting yourself at a competitive disadvantage.  It might make the difference, in a bad year, of staying in business or not, and sometimes you have to do whatever you can do to keep going."  This could be important, especially if you want the next generation to have a chance to keep ranching.
Early weaning
Weaning calves early is an option, such as August or early September rather than October/November.  Those calves eat a fair amount of pasture, and their mothers also require more feed when lactating. 
"As a rule of thumb, every three days that the calf is gone saves a day of feed for the cow," says Bohnert. "If early weaning works for your operation, you'll have more forage for the cows—longer grazing into the fall—but you take a hit on income you'll get from the calves." 
Light calves generally bring higher prices per pound (but with less total pounds to sell) and a person has to pencil it out for their own operation.
"Calculate what your income will be, versus how much extra feed you'll need to buy.  Each operation may be different, including how you market calves—local market, video sale, branded product, etc.  Determine how you will market your animals, as well as looking at long-term feed resources, because early weaning is easy," said Bohnert.
"If you have to gather cattle early off a public range allotment to wean, however, the land management agencies may not let you put cows back out there, so that may be a consideration.  But if you can get those calves off, it leaves more forage for the dry cows and they'll also be in better shape to go into winter--not losing body condition trying to nurse a calf."
Have a plan
"When we get into a situation like this year's drought, if producers have limited feed resources it usually indicates another problem," said Bohnert.  "They may be overstocked.  One year of drought shouldn't dictate major change in an operation, but if we have several dry years in a row, it becomes more serious.  If you are in a situation where you have to reduce cow numbers, it might mean you are unable to manage your cattle with enough flexibility."  You are pushing the envelope on cattle numbers rather than having some leeway for flexibility.
"A few years ago Dr. Neil Rimbey, Allen Torrell and John Tanaka did a project to model what combination of livestock would work best to give adequate flexibility.  They found that in most instances you need a conservative stocking rate rather than 100%, yet high enough that you can still make the most money.  Many folks talk about optimum stocking rate being about 90% of capacity," said Bohnert. 
Where flexibility comes into it is that instead of being 100% cow-calf, you might run some yearling stockers as well.  "The numbers in their report suggested having about 50 to 70% of the herd as cow-calf and the balance as yearlings."  Then if feed resources look like they might be short on a certain year, the yearlings could be sold, preserving more of the forage for the cow-calf herd.
"You wouldn't be able to run as many stockers (or extra replacement heifers to sell) but you've kept the factory.  You haven't cut into the genetics of your cow herd," he says.  If you are buying and selling cattle all the time, it may not be as important to you to preserve those genetics, but if you've been working for decades to have certain genetics that do well in your environment, it hurts to have to sell those cows.
It is important to have a business plan.  "In times when moisture and forage are good, everything is fine, but when hay is in short supply, hay and grain prices go up, and pasture is not available, it becomes an emergency again.  It shouldn't be an emergency with a short-term environmental challenge—such as one year of drought. So you need some flexibility built into your operation all the time," said Bohnert.
Choosing to cull
You might choose to cull deeper on the cows, and keep more heifers, since heifers take less feed through winter.  "You are still keeping your genetic base, and can sell the older cows.  Destocking is always a last resort, but strategic culling can help you reduce the numbers."
Drought catches some people unprepared because ranchers tend to be optimistic—always hoping things will get better.  "We need to be careful, however, and have a budget plan, and be prepared, with some flexibility—rather than trying to maximize gross income every year.  We need to be looking at it for the long term," Bohnert said.
[Heather Smith Thomas writes from Salmon, Idaho.]
Subscribe to receive top agriculture news
Be informed daily with these free e-newsletters
You May Also Like
---