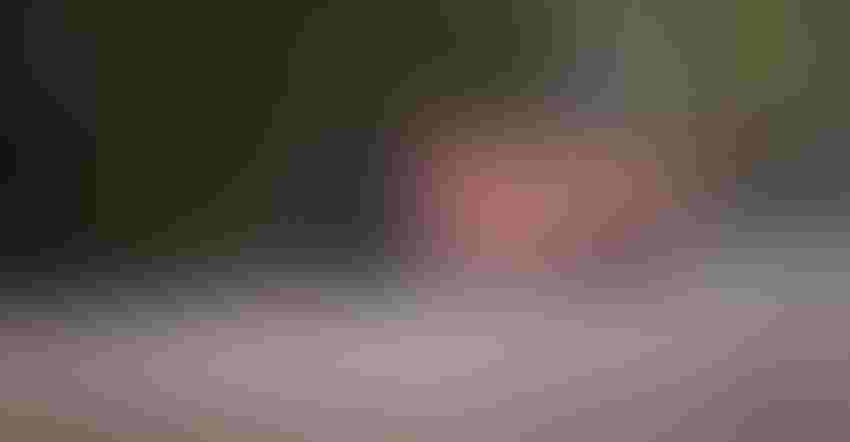 Soybean farmers will need to make above average yields to see a profit in 2020, based on University of Arkansas Extension crop budgets.
Ron Smith
Irrigated corn and peanuts offer Arkansas farmers the most promising options to cover all costs in 2020. Cotton shows a return to operating costs but struggles to cover capital and management.
Wheat producers may see a small profit against operating costs but will be in the red on total expenses. Soybeans are iffy and production system choice makes only a slight difference. Rice will cover operating costs but shows a slight loss against all expenses. Farmers will struggle to see a profit from sorghum.
Those estimates, based on recently released University of Arkansas Extension enterprise budgets, consider average yields, current price estimates and conservative figures for most inputs.
"These budgets represent an average," says Breana Watkins, program associate, University of Arkansas Extension agriculture economics. "Put in your numbers. Insert your information in those budgets."
Watkins says in preparing these budgets she recognizes that state average yields and current price and cost estimates will not cover every farm.
"It's an average and every farm is different. We see a lot of difference between the best and worst yields. Also, we don't include potential input rebates, discounts, and advantages of buying in bulk. It's important for farmers to keep up with suppliers and look for opportunities to buy at discounts. Evaluate all those situations within the budget."
Budget assumptions include:
Irrigated cotton yield at 1,200 pounds per acre. For dryland, she estimates 800 pounds. She figures 60 cents a pound for lint and 90 cents a ton for seed.

Irrigated corn yield estimate is 210 bushels per acre. She sets dryland production at 125 bushels. Price estimate is $3.75 a bushel.

Irrigated soybean production estimate runs 60 bushels per acre with dryland at 34. Watkins assumes $8.10 per bushel.

Peanuts, irrigated, should yield 2.25 tons per acre with a $420 per ton price. Yield on dryland peanuts drops to 1.5 tons per acre.

Conventional rice yield estimate runs 170 bushels per acre. Hybrid rice bumps to 190. Price projection is $4.80 a bushel. Hybrid production cost is higher.

Wheat yield estimate is 70 bushels per acre and price is $4.60. The budget does not consider irrigated wheat.

Sorghum yield figures consider 105 bushels per acre on irrigated fields, 65 bushels on dryland acreage. Price estimate is $3.20.
That's a broad overview of each crop but a deeper dive into each enterprise offers more detail, including differences among irrigation types (furrow, pivot and flood); production systems (hybrid, conventional, traits); and various differences in management systems (equipment, weed control, tillage). For more information check the enterprise budget page at https://bit.ly/380EXW6.
Watkins says farmers need to work through each of their expected crops now, to determine crop mix, acreage and management strategy for each enterprise.
Cotton outlook
She says cotton acreage appears to be increasing and that producers may see several reasons to include it their cropping plans.
"Soil type is an issue with cotton," She says. "And some producers need it in a rotation to help with other crops. That's a good benefit. We seem to be planting more acreage every year. Yield is always a factor, but remember, we use state averages for budget.
"Dryland cotton needs good growing conditions to make yield," Watkins says. She says many cotton producers will produce well above state averages and they should plug in figures based on their production histories.
Market prices also will vary, and Watkins advises producers to use their budgets to develop breakeven figures.
"This budget figures prices on the lower side. Markets could improve. Look at yield potential; play with your market options; determine when to pull the trigger."
She says soybeans prices at just over $8 are not promising at average yields. "Arkansas is not a high-yield soybean state, but some farmers are popping 70 and 80 bushels. We see profit potential with that, even at low prices."
She says her budgets show water-seeded rice as the most profitable option thanks to lower weed control costs. "But we don't hear of many who are trying it. More producers are switching to row rice."
She says wheat shows a "small profit against operating costs but a loss against all costs, at average yields. Success with wheat depends on fall conditions, how well farmers can get it planted. Also, what kind of winter will follow."
Lately, wet fall conditions resulted in late plantings and questions about planting on marginal ground. "That may have removed some excess wheat," Watkins says.
Farmers may consider other options for wheat. "Some are looking into forage to serve the cattle industry. That could be opportunity. Anytime farmers can find a niche market, a specialized crop to help sales, they might improve profit potential."
She's not optimistic about sorghum that offers "mostly negative returns. We have only a few acres and I don't see a comeback." Insect and disease pressures are factors.
Costs are down
Watkins says commodity prices and production costs weigh heavily on enterprise budget profit estimates. Corn, cotton and peanut markets offer some potential. Rice, soybeans, wheat and sorghum provide fewer opportunities.
Input expenses, she says, show, at worst, stability.
"We seem to have hit a peak with fertilizer costs, and it seems to be declining for now. That helps a little. Fertilizer costs were astronomical several years ago. Farmers benefit from getting needed nutrients at reasonable prices."
It's a cost they can't neglect, she says. "Sacrificing nutrients hurts yield and you can't play catch up."
Fuel costs, too, are lower. "Fuel and fertilizer costs go hand-in-hand."
"Overall, most costs are stagnant," Watkins says. "Many costs are down, compared to the last few years. Seed costs waned a little. No real new or exciting technology has been introduced."
Returns to capital and management
Covering all costs will challenge farmers this year, Watkins says. Producing above average yields and quality, in addition to a good marketing strategy, could make the difference.
Failure to cover all expenses, however, will create dilemmas for farmers and their lenders, Watkins says. "From a lender's viewpoint, financing might be a tough call. If producers are not making loan payments, they will run out of credit options. Financial officers are looking hard at budgets and cash flow."
She says seed and equipment companies and co-ops also offer lines of credits to finance crop inputs but also may take hard looks at customers who get too far behind.
"We need to see commodity markets go up," Watkins says. "Unfortunately, I don't see factors that will boost prices dramatically in the next five years. But one global scare or production loss could turn it around. Weather [often damaging] the last few years did not move markets. But farmers were better prepared than they were in 2011 and 2012."
The financial outlook for Mid-South crop enterprises "is not a fun story," Watkins says. "Commodity markets are static. Farmers will need to exercise a lot of discipline and patience and know their breakeven numbers. They must know the price they have to meet. If it's a profitable decision, take the price, live with it and don't look back."
Paying close attention to budget preparation, plugging in the most accurate numbers available and using realistic outlooks, Watkins says, will give producers at least a chance to eke out a profit in 2020.
"If you have questions or need help, contact me," she says.
Subscribe to receive top agriculture news
Be informed daily with these free e-newsletters
You May Also Like
---