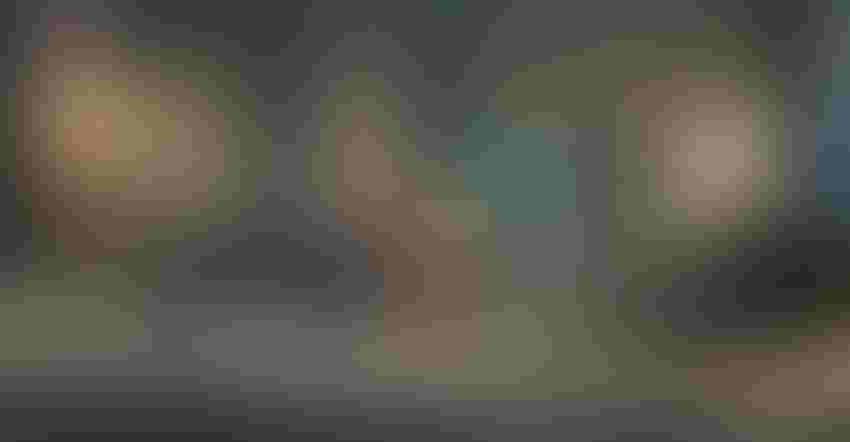 NEXT GENERATION: Calli Williams (left), John Eilertson, Taylor McMartin and Logan Wolter answer questions from Gov. Kristi Noem at the 2019 South Dakota Governor's Agricultural Summit.
Kindra Gordon
What's on the minds of next generation agriculturists? Four young South Dakotans had the opportunity to share their thoughts and concerns during a panel discussion at the recent 2019 South Dakota Governor's Agricultural Summit.
Participating in the discussion were John Eilertson, a senior animal science major at South Dakota State University from Wentworth, S.D.; Calli Williams, who sells livestock and farm insurance and raises Angus cattle with her husband near Mitchell, S.D.; Logan Wolter, who raises seedstock Simmental and Sim-Angus cattle with his family near Wessington Springs, S.D., and is completing his second year at Mitchell Technical Institute; and Taylor McMartin, who grew up in Hartford, S.D., but has been involved in 4-H, FFA and will be a freshman ag communications major at SDSU.
Their top concerns are:
1. Access to land. Wolter, whose dad passed away from cancer over a decade ago, has worked with his three younger siblings to keep their cattle operation going. They rent most of the grassland they run their cattle on. "We've been lucky for 20 years to do so," he said. "It is hard to buy land at a price that pencils out."
Williams and her husband struggled with finding land to start their cattle operation but were fortunate to connect with an elderly man who was a friend of her husband and ready to move to town. They live on the farmstead north of Mitchell with their land and cattle surrounding them. Had they not had the connection, Williams said it is unlikely they would have been able to live where their cattle are located.
Eilerston suggested that counties could establish formal mentoring programs to connect young producers with retiring farmers.
"It is hard to make connections with retiring farmers if you don't know them," he said.
2. Access to capital. Availability of youth loans is important, Eilertson said. In 2012, he applied for and received a youth loan from the Farm Service Agency. As a result, he was able to build his production records and show tax returns, which provided the financial history he needed to receive a beginning farmer loan from FSA.
3. Opportunities to get involved in agriculture. McMartin, the youngest of the panelists, said he was not exposed to agriculture until four years ago as a high school freshman. Taking an ag education class and becoming an FFA member introduced her to the industry and prompted her to join 4-H and raise and show sheep. Because of those experiences she now plans to pursue an agricultural degree. She and the other panelists who were all in FFA encouraged other youth to become involved in these programs and for communities to support 4-H and FFA.
4. Affordable health insurance. Williams and her husband both have off-farm jobs, so they have access to company health insurance.
5. A helping hand. When asked what simple things others might do to assist with their agricultural journeys, Williams said that lending a helping hand by loaning equipment or trading labor is greatly appreciated. A neighbor loaned them a tractor before one of the major storms this spring and it made a huge difference as they prepared their cowherd for the storm. Wolter, McMartin and Eilertson shared similar sentiments when friends and neighbors have offered support during difficult times and it lifted them up.
6. Fake new about agriculture. They said they are concerned about how many negative, false claims are made about agriculture online. "All of us need to try to do a better job telling others about agriculture and the blood, sweat and tears we put into it," Williams said. She is also concerned about the number of people who share negative ag news headlines. "I think we should instead say, 'Yes, that happened, but look what I did,' and put a positive example out there."
Gordon writes from Whitewood, S.D.
Subscribe to receive top agriculture news
Be informed daily with these free e-newsletters
You May Also Like
---