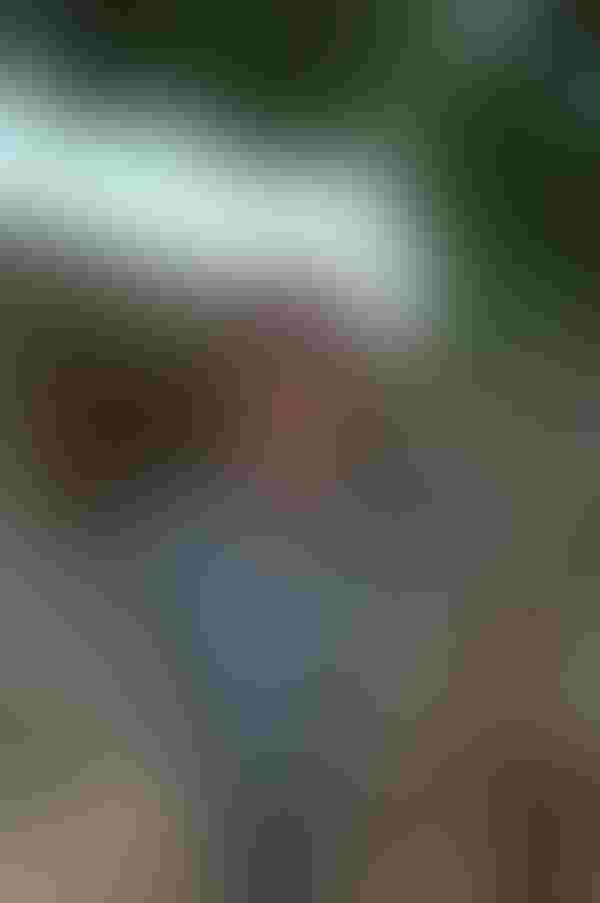 Archie Abrameit
Archie Abrameit took a few minutes off from his duties as field-day host, disperser of lunch tickets, pre-lunch speaker and traffic manager to talk about the important research that has occurred at the Stiles Farm Foundation for the last 50 years. Then he turned to some of the challenges that lie ahead for the agricultural industry.
Abrameit has been manager of the Stiles Farm Foundation since 1997 and says the annual field day, which has been ongoing since 1961 at the site near Thrall, Texas, offers farmers and others an opportunity to learn about the latest trends and how new technology might fit into a specific farm operation.
"I've seen a lot of changes since 1997," he said. "We've had a lot of new technology with equipment, computers and variety traits. We've also witnessed the success of the Boll Weevil Eradication Program."
He says a lot of cotton farmers "fussed about the boll weevil program fees, until they made an extra 200 pounds of cotton per acre."
Reduced tillage has been an important aspect of Stiles Farm research efforts. "With these Blackland soils I've been impressed with what I've seen from strip-till systems," Abrameit said. "I don't dismiss no-till but I do have some issues with no-till on a continuous basis. We need to cultivate occasionally."
He says strip-till offers several advantages over clean tillage. "One thing that's sometimes glossed over is the fertilizer saving. We can save as much as one-third of phosphorus and potassium costs, and at current prices, that's important."
He understands some reluctance for adoption of reduced tillage. "Some commercial farmers lease land and landlords may be retired farmers who are used to doing things a certain way and prefer clean fields," Abrameit said.
If you are enjoying reading this article, please check out Southwest Farm Press Dailyand receive the latest news right to your inbox.
Long-term, reduced tillage may not show significantly higher yields, but it provides other advantages farmers can't put a price tag on.
"And over 10 to 25 years, we build organic matter and soil quality. Water utilization is also better with reduced tillage, but that's also something we don't see immediately. It's a cumulative benefit that I've seen in crop production over the years."
Numerous benefits
Strip-till is on a par with conventional tillage systems, "but yield is not the only consideration. Strip-till minimizes trips across the field, reduces labor, decreases energy use and results in less soil degradation."
Water will be at the core of future research challenges. "We have to improve water conservation." Part of the challenge will be to provide information to users and then show them how different products, techniques and production systems will work on a particular field. "We can see a lot of similarities in farms here and those in Arkansas and Missouri," he said. "But there are also a lot of differences. We need to show farmers what's available and how it fits on their particular operations. We have the tools; we just need to use them judiciously."
Educational opportunities are important, too. "Knowing how to find and use information will be a key. Our annual field day is a small part of that but we need to go beyond that."
Funding for agricultural research will be a big challenge.
Another key will be "our ability to convince the public that biotechnology is OK. We can't take that for granted. Lack of knowledge by the public is an issue. But a lot of foreign countries need biotechnology to become more self sufficient."
50
th
Field Day
Abrameit said the turnout for the 50thAnnual Stiles Farm Field Day was encouraging. The day started off with pouring rain that kept folks out of the sticky Blackland fields, but the skies cleared, the temperatures moderated and farmers and others interested in production agriculture viewed the latest in equipment, production practices, weed control, varieties and livestock management.
It's a continuation of what the research farm has done for the last 50 years. Research projects include studies on cotton, corn, wheat, grain sorghum, sesame, sunflowers and occasionally vegetables.
The Stiles Farm Foundation began with a bequest from the Stiles family. J.V. and H.A. Stiles wanted to honor their father, James E. Stiles, and also wanted to help neighboring farmers in Williamson County by demonstrating modern farming practices.
"They envisioned a model demonstration farm where farmers could see such practices in action," according to a history included in the 50thAnniversary Field Day program.
They established the Stiles Farm Foundation in 1961 with a bequest of about 3,000 acres to what was then the Agricultural and Mechanical College of Texas—now the Board of Regents of the Texas A&M University System.
Currently the farm includes about 2,800 acres with 1,800 in cropland and the rest in pasture and stock tanks.
Abrameit honored one employee, Frank Griffin, with a plaque recognizing his service at all 50 Stiles Farm Field Days.
"I didn't know I would be here this long," Griffin said. "I was here when we didn't have anything but mules and horses. And I drove them, me and other folks. And my father and my brothers did. And I appreciate it.
"I thank God for the opportunity. And I thank Archie."
Griffin, 75, says he's seen a lot of changes since he started working at the Stiles Farm. "We had a lot of animals back then and a lot of people working, too."
"Frank is a remarkable person," Abrameit said. "He's a legend."
He also symbolizes what the Stiles Farm Foundation has done since 1961 and what it has meant to the community and to Blacklands farmers. It's been a half-century of change that honors the past but plans for the future.
Change has been the constant and change must be the impetus as researchers seek to find more efficient ways to feed the world.
"Research will help us be more successful," said Dr. Douglas Steele, director, Texas AgriLife Extension Service. "If U.S. farmers don't feed the world, who will? China will not and Russia will not. U.S. agriculture has a culture of helping others. The Stiles Farm Foundation will continue to be a part of that."
You may also like:
Ag research farm sought for unique Northeast Texas conditions
Private sector investment increasing for ag research and development
Drought, damaging storms create conundrum for High Plains cotton
Subscribe to receive top agriculture news
Be informed daily with these free e-newsletters
You May Also Like
---