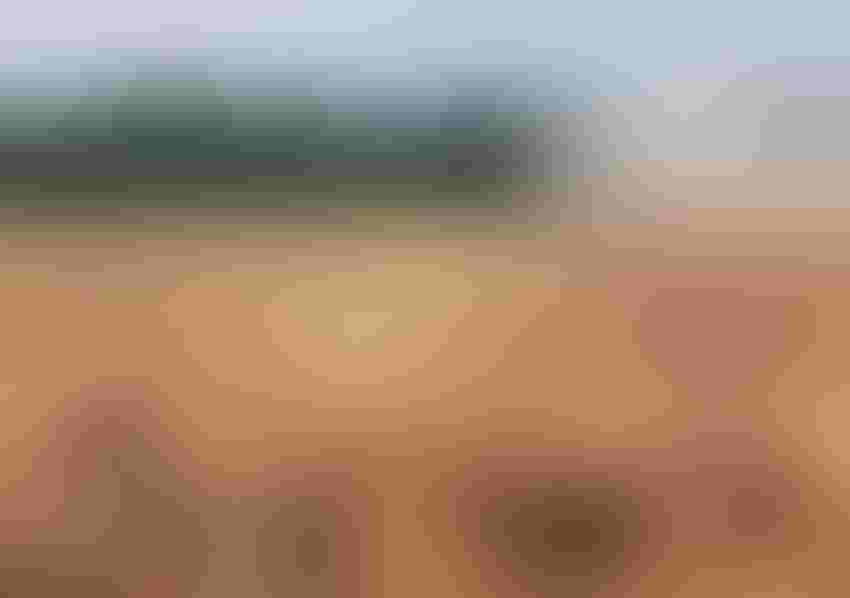 Twenty years in the future, a U.S. peanut farmer steps out of his house and looks at his farm. What does he see? What does he know? A lot can change in 20 years, and a lot can stay the same.
Southeast Farm Press got up with Donald Chase, 54, Georgia peanut farmer who chairs the research committee of the Georgia Peanut Commission, Dr. Scott Monfort, 48, University of Georgia Extension peanut agronomist, and Dr. Marshall Lamb, 53, head of the USDA National Peanut Lab and economist. We asked what they thought the characteristics of a peanut farm might be in 20 years.
Due to space, it will be difficult to include in this article all that Chase, Monfort and Lamb suggested could be in 20 years, but here are a few highlights from our conversations.
All three of the men hoped U.S. peanut production in two decades, which isn't too far into the future, would remain rooted on the fertile land of the family farm. With that in mind for this article, let's name our hypothetical future peanut farmer mentioned in the first sentence — Don Brand.
(EDITOR'S NOTE — This is the fifth and final article of a Southeast Farm Press editorial series called 'Excellence in Peanuts — A 20th Anniversary," which explored the last 20 years of U.S. peanut production through the lens of the Farm Press Peanut Efficiency Program, which is celebrating its 20th class of winners this year at the 21st Southern Peanut Growers Conference in July.)
Branding
It is 2039, and Don Brand has been farming for well over two decades. He and his wife raised a family on the farm during that time, may still be raising children. And by then, U.S. farmers will have operated under three or four future farm bills. It cannot be predicted exactly what future federal farm policies will look like or how the policies will play out for farmers.
What happens globally affects peanut farms now and likely will in the future, if not more so. The ebb and flow of trade disputes and policy reactions will be part of the future peanut farm.
Lamb, Monfort and Chase all said the stage is set for genomics to bring farmers and the industry advancements in the coming decades and years. Last year, the industry-funded, five-year peanut genome project, successfully completed the mapping of the peanut's genome. Through marker-assisted technology, land-grant university and USDA peanut breeding programs now have a strong tool to bring better varieties more quickly to growers' fields.
Brand will likely have access to leafspot resistant and drought-tolerant varieties, all with the quality and flavor profiles consumers demand.
Chase said successful peanut farmers 20 years from now will be more closely connected to consumers and what consumers want. He will help meet the demand in an environmentally friendly way, through reduced inputs, by using improved chemical products and agronomic practices, all while using less water. Brand will do this at the behest of the consumer, the government regulator or both.
Growing the Demand
Some growers today can reach near four tons per acre with current varieties. It's reasonable to think that level of yields will be more common in two decades. Even so, Monfort predicts, as today, there could still be a range in achievable yields depending on the grower. If Brand is successfully farming 20 years from now, he has likely made the right decisions that put him in the top tier of yielders for his area.
In 2012, per capita U.S. peanut consumption was 6.72 pounds. In 2017, it was 7.41 pounds per person, which equates to an increase of 100,000 tons of peanuts over that five-year period. If this holds, Lamb said, in 2039 Brand will plant a crop to meet a global demand for U.S. peanuts of between four million tons and five million tons. But that isn't guaranteed.
"The positive messaging of peanuts by organizations such as the Peanut Institute, National Peanut Board and our local state growers groups, I think, will continue to pay dividends for growers over the next two decades and contribute to the increases in demand for quality U.S.-grown peanuts, not just in the U.S. but globally as growing populations seek diets higher in plant-based protein sources, and peanuts will be one of the best sources for that," Lamb said.
Lamb said the nutraceutical market for peanuts has the potential to increase demand for products targeted to help or even treat medical conditions, such as diabetes, for an aging population.
Who will Brand be growing peanuts for and will it be at a price point that turns a profit?
Monfort offered a few scenarios that might play out for Brand:
The fact that Brand will be farming peanuts in 20 years likely means he has grown his operation over that time to survive thin financial margins.
"Many growers are not making any extra money right this minute. Commodity prices haven't moved very much but inputs (costs) continually go up. So that's what's eating our profits right now. So that's a world that's held stagnate, right? Living and making just enough to pay what we need to.
"If you look in 20 years, if we continue moving down the same road, well, I think you're going to see what we're seeing right now: that your small growers are going to be out of business or retired, and that will leave bigger growers getting bigger," Monfort said.
Sheller groups in 20 years may be directly farming peanuts, owning the land or leasing the land. Brand may know a farmer friend or two hired to grow peanuts for a sheller.
Or, Brand could be a member of a farmer-owned peanut shelling cooperative. Brand may not see profitable margins each year upfront for his production, but through the cooperative see better margins on the back end, collecting dividends from the co-op's shelling plant and marketing directly to manufacturers.
In 20 years, peanut growers will "need to make sure they are getting paid for the things the manufacturer wants and for the things the grower has control over," Chase said.
Driving
Monfort said more self-propelled peanut equipment and more sensory-based data systems will be available to Brand, but he will likely ponder which products or equipment makes economic sense for his operation, buying and implementing technology that helps him make money, but that is nothing new.
Chase said it is possible that in 20 years a peanut farmer, such as Brand, could be over-seeing a completely hands-free system to grow peanuts, meaning Brand may never touch a peanut or even drive a piece of equipment that does come in contact with a peanut.
Such a system would rely on robotic automation with highly precise and efficient data flow between various pieces of equipment within geofencing zones, for example, along with systems monitoring conditions in the field from planting to in-season applications to harvest to delivery to the buying point.
If such an automated system is not fully developed in the next 20 years, thinking about it and steering some research efforts today, plants the seed for improved peanut-specific advancements.
For example, through improved sensor-based models, Brand may know exactly what day is best to harvest his peanuts, which could be different days within a single field. As he harvests, he is getting immediate feedback from the buying point on the quality of his peanuts as they are being delivered, which can help him further hit consistent quality goals and manage his LSKs, adjusting his harvest on the fly as equipment moves across his fields.
Just like today, peanut farmers in the future will face challenges, from different diseases or other agronomic challenges to marketing to telling the good story to consumers, all will require good leadership representing the needs of the growers. Brand will be one of those leaders.
And, in 20 years, Brand may stumble upon a peanut farmer, a peanut agronomist, a peanut economist and a farm reporter sitting in a local diner having lunch reading again a peanut article from 20 years prior, discussing what they got right, what they got wrong and what they missed.
Subscribe to receive top agriculture news
Be informed daily with these free e-newsletters
You May Also Like
---