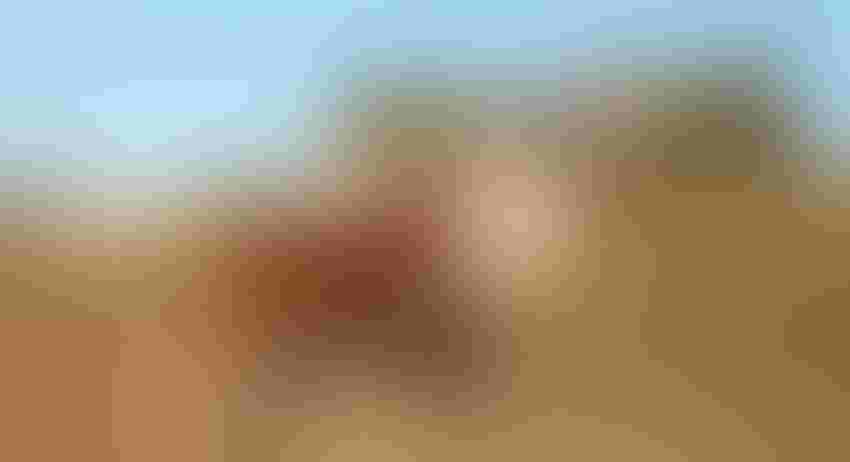 The APHIS' National Veterinary Services Laboratories in Ames, Iowa confirmed a finding of vesicular stomatitis New Jersey virus on an equine premises in Nevada's White Pine County on July 27.
All four horses on the premises have met the confirmed VSV index case definition with compatible clinical signs (oral lesions) and either positive complement fixation test (CFT) on serum samples (two horses) or real-time RT-PCR detected results for VSNJV on swabs from oral lesions (two horses). Oral lesions in the horses were first noticed on July 23, 2023. There is no other livestock on the grazing pasture premises. This is the first 2023 VSV index case for Nevada.
"We are working closely with local veterinarians and the owners of the equine premises to address the situation and prevent potential spread of disease," said NDA State Veterinarian Dr. Peter Mundschenk. 
The index case premises is currently under state quarantine. There have been no movements on or off the premises in the previous two months and preliminary epidemiological investigation indicates the infection was likely due to incursion of VSV-infected vectors. The premises will remain under state quarantine until at least 14 days from the date of lesion onset. 
The current ongoing outbreak of VSV in the U.S. was first detected on May 17 in San Diego County, Calif. Texas was subsequently confirmed as VSV-affected on June 15 (Maverick County, Texas). To date, 135 VSV-affected premises have been detected in eight counties in California (Los Angeles, Orange, Riverside, San Bernardino, San Diego, San Luis Obispo, Santa Barbara and Ventura) and one VSV-affected premise was identified in Maverick County, Texas, in addition to this index case of VSV in Nevada. Of these 137 affected premises, 134 have only equine species clinically affected, two premises have only affected cattle and one wildlife park premises had clinically affected rhinoceros.
Vesicular stomatitis virus mainly affects equine and to a lesser extent cattle and swine. Investigation of the situation is on-going to detect and prevent further spread. Livestock infected with VSV usually show clinical signs two to eight days after exposure to the virus. The first sign is usually excessive salivation due to vesicles, blister-like lesions in the mouth. Vesicles may also be found on the nostrils, teats and around the hooves. Vesicles swell and break, exposing raw tissue and causing pain and discomfort. Animals may refuse to eat or drink and may show signs of lameness. Death is rare and affected animals usually recover within two weeks. 
I

nfected cattle

If cattle are infected, often the hooves and teats are involved leading to severe economic impact in dairy cattle. This also generates worries because the disease is basically indistinguishable from Foot and Mouth Disease in cattle.

Though very unusual, people can be infected with the virus. In these situations, it is usually among those who handle infected animals (for example, while inspecting a horse's mouth and the horse coughs in the person's face, thereby delivering a large dose of virus onto the person's eyes and lips). Vesicular stomatitis virus can cause flu-like symptoms and only rarely includes lesions or blisters in people. It is not a public health risk, therefore details about the facility cannot be released, per Nevada Revised Statute (NRS) 571.160.

Known competent vectors for transmission of VSV include black flies (Simulidae), sand flies (Lutzomyia) and biting midges (Culicoides spp.). Biosecurity measures and vector mitigation should be instituted to reduce the spread of the virus. Enhanced and effective fly control measures are critical to disease prevention, as well as ongoing disease mitigation in areas where the virus and insect vectors are actively present. 

Only active lesions are contagious, as these have live virus present, and viral transmission can occur via direct contact with the active lesions, sharing of water troughs or direct inoculation of the virus by biting flies. Livestock with clinical signs of vesicular stomatitis are isolated until they are healed and determined to be of no further threat for disease spread. There are no USDA approved vaccines for vesicular stomatitis.   

Veterinarians and livestock owners who suspect an animal may have vesicular stomatitis or any other vesicular disease should immediately contact the State Veterinarian's Office at [email protected].

Source: Nevada Department of Agriculture
Subscribe to receive top agriculture news
Be informed daily with these free e-newsletters
You May Also Like
---