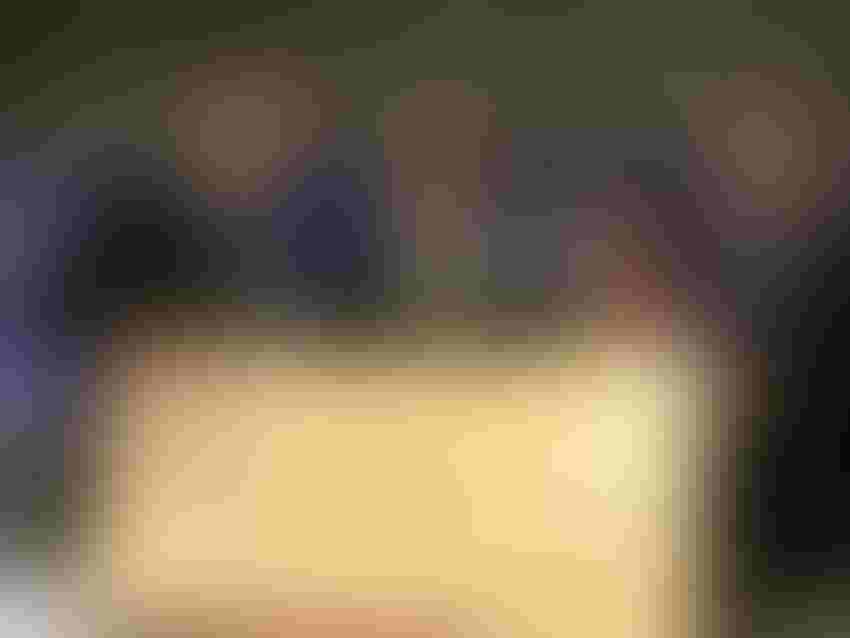 Chip Blalock, far left, Sunbelt Ag Expo executive director, and Ron Carroll, far right, vice President Smokeless Marketing at Swisher International, Inc., present Virginia farmers Michael and Wanda McDowell the check for winning the 2019 Swisher Sweets/ Sunbelt Expo Southeastern Farmer of the Year, Oct. 15 in Moultrie, Ga.
Ron Smith
Michael McDowell approached the podium a little stunned, gathered his breath, harnessed the emotions and said, "Wow."
McDowell, owner of Locust Level Farm, was picked to be the 2019 Swisher Sweets/ Sunbelt Expo Southeastern Farmer of the Year during the opening day luncheon of the Sunbelt Expo in Moultrie, Ga., Oct. 15.
"We've been rewarded well beyond what we deserve, even before this. It's been mentioned that I'm transitioning into a preacher, sharing more of God's word, and this (award) is for the farming enterprise. But scripture teaches us that if we are brought before our adversaries, God will provide the words that we are to say. Nowhere in scripture can I remember that when you are before your friends and family where those words will come from," he said, to the encouraging laughter of the more 1,000 in attendance.
Farmers from nine other Southeastern states were also in the running and were honored for being their respective state winners.
McDowell is the fourth generation to farm the lower Piedmont of Virginia. He is married to his high school sweetheart, Wanda. They have three grown children, all doctors of different disciplines.
McDowell graduated from Virginia Tech in Blacksburg in the late 1970s with a double major in animal science and agronomy. With the education and an eye for the future, he transitioned a traditional row crop and tobacco operation into one of the region's top Angus seedstock operation, implementing extensive conservation and land stewardship programs over the decades, including a Farm Conservation Plan and Grazing Plan developed with the help of researchers at Virginia Tech and North Carolina State University.
To produce purebreds for commercial herds, he uses new technology such as genetic selection, ultrasonic evaluation for yearling bulls and heifers, evaluation of genomic rankings, and embryo transfer programs with veterinary consultation.
McDowell, a long-serving member of an electrical cooperative that serves southern Virginia and parts of North Carolina, participates in a project to bring fiber optic-based broadband directly to rural areas in the region.
Rebekah Slabach, Virginia Extension agriculture agent in Halifax County, nominated McDowell for the award.
McDowell admitted he wasn't sure about submitting his nomination for the farmer of the year, wondering if it was right to put himself in a spotlight. A preacher friend visited with him and said maybe the opportunity was being presented to serve another purpose.
He ended his acceptance speech saying he knows the challenges farmers face today, with labor, weather and financing troubles, but he tries every night to leave the worries of the day behind with the sound of his belt buckle hitting the floor as he prepares for bed, ending by wishing grace and peace and a thank you.
As the Virginia state winner, he received a $2,500 cash award and an expense-paid trip to the Sunbelt Expo, a $500 gift certificate from Southern States and a Columbia vest from Ivey's Outdoor and Farm Supply.
As the overall winner, he receives a $15,000 cash prize, the use of a tractor for a year from Massey-Ferguson, another $500 gift certificate from Southern States, a Columbia jacket from Ivey's Outdoor and Farm Supply, a smoker-grill from Hays LTI, and a Henry Repeating Arms American Farmer Tribute edition 22 rifle from Reinke Manufacturing Co., Inc.
Subscribe to receive top agriculture news
Be informed daily with these free e-newsletters
You May Also Like
---