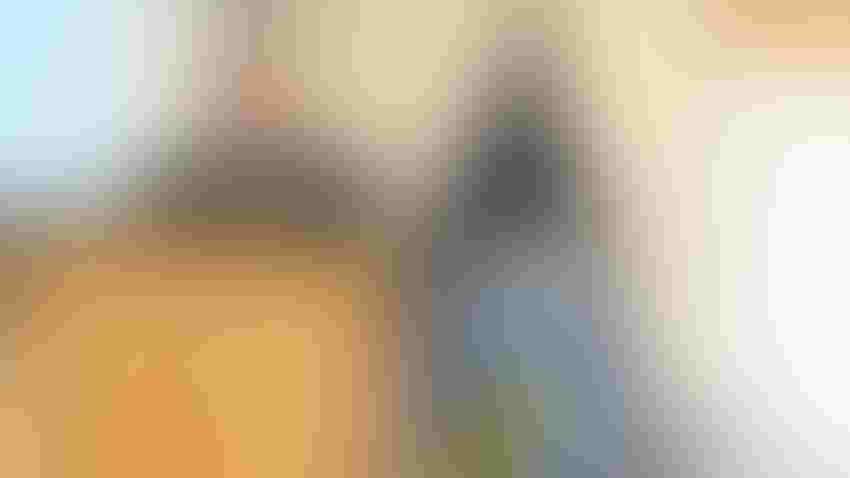 LABOR ISSUES: Secretary of Agriculture Tom Vilsack discusses labor and expanded markets for smaller farmers.
Jennifer Carrico
Concerns with the lack of agricultural laborers and proper markets for farm products were all discussed at a town hall event in Lime Springs, Iowa, where USDA Secretary Tom Vilsack addressed the audience.
The community Vilsack visited is the home of Upper Iowa Beef, a producer-owned beef processing facility that harvests more than 2,300 head of cattle each week. Upper Iowa Beef received a USDA grant to help expand its facilities through the Meat and Poultry Processing Expansion Program. Vilsack says this will help grow the business of the company locally and help the cattle producers delivering to this plant.
Ag labor shortage concerning
The continual lack of laborers in the ag sector was a concern brought up by Minnesota livestock producer Amy Brass. "I might be able to pay them, but I can't afford to provide benefits — and that is a continual issue," she says. Smaller producers and agricultural companies have a hard time competing against the larger companies who can provide benefits for their workers.
Vilsack showed concern for her problem, saying labor and insurance are an issue for many like her, and noting the Affordable Care Act was passed to help people get the health coverage they need. He also said the immigration system needs work, noting the $65 million Farm Labor Stabilization and Protection Pilot Program should help. "The agricultural industry relies heavily on migrant workers, but with a broken immigration system, it's hard to find a solution," he said. "The government knows what it will take to fix it but doesn't have the courage to do so." This pilot program will help farmers recruit workers from El Salvador, Honduras, Guatemala and Mexico.
Help coming for smaller farming operations
Vilsack told of the programs offered by the USDA to help provide more opportunities for small- to mid-sized farmers in Iowa. These programs provide rural areas with increased profit for being part of Partnerships for Climate-Smart Commodities. "USDA has funded 15 partnerships for projects in Iowa to expand markets leveraging the greenhouse gas benefits of climate-smart commodity production and provide direct, meaningful benefits to production agriculture," Vilsack said. Federal funding totaling $835 million and non-federal matching funds of $344.5 million will support this work. This covers 41 commodities and more than 85 climate-smart practices.
Vilsack stressed that these funds and future funds are available to farmers through an application process similar to other USDA programs.
Local and regional food systems will be promoted to ensure farmers are getting more for their products. Vilsack noted that at the grocery stores, farmers get 16 cents for every dollar of product sold. By investing in the local and regional systems, more funds get to farmers. USDA funds have also been given to states to expand the use of local products. Iowa has done this through the Iowa Farm to School Program and the Local Food for Schools program.
Subscribe to receive top agriculture news
Be informed daily with these free e-newsletters
You May Also Like
---