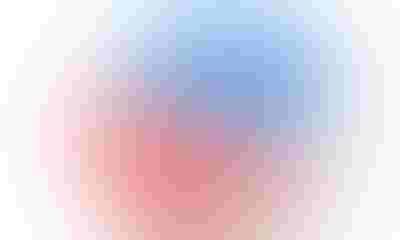 Early voting to determine the next president of the United States officially begins today, September 29, in the Hawkeye State, a key battleground that President Obama won twice. This cycle, it could swing back toward Republicans with their nominee, Donald Trump. He is currently leading the Democrat candidate, Hillary Clinton, by 4.8% according to RealClearPolitics polling average.
Related: Clinton and Trump: Where they stand on ag

PIVOTAL STATE: Iowa is a must win state for Donald Trump. Early voting officially begins today in the Hawkeye State, a key battleground in the U.S. presidential election. As November approaches, polls show it's a close race between Trump and Democrat Hillary Clinton in Iowa. (3dfoto/Thinkstock)
Meanwhile, combines aren't the only machines kicking into high gear in Iowa. The Iowa Ag Coalition for Trump, which includes Iowa Secretary of Agriculture Bill Northey and is led by farmer and former Iowa House Agriculture committee Chair Annette Sweeney, is also working long hours and covering a lot of ground to educate voters on Republican Presidential nominee Donald J. Trump's ag policy positions. The presidential election will be held Tuesday, Nov. 8, just 40 days away.
Ag issues are being emphasized in these final 40 days
"It's an honor to travel the state of Iowa sharing Mr. Trump's vision for agriculture," says Sweeney, a third-generation crop and livestock producer from Alden who served in the Iowa House of Representatives from 2009 to 2013. "Mr. Trump is putting the back 40 on the front burner in these final 40 days," she adds.
When Mr. Trump is elected, Sweeney says, "Iowa farmers will once again have a friend in the White House, something we have not seen for eight years. He understands the need to rein in over-regulation, such as the Waters of the U.S. rule, and he knows we must negotiate robust trade agreements that are fair to American farmers."
Northey says he is a part of the coalition to "be a voice at the table for Iowa farmers and talk about the importance of trade."
Next president will make significant decisions affecting agriculture
He believes that ag policy under a Hillary Clinton administration would be similar to the "regulatory overreach" farmers have endured under the Obama administration. "The disastrous WOTUS rules, undermining the RFS, potentially taking away atrazine as a crop protection tool, and many other areas are a real concern for farmers. I fear a President Hillary Clinton would keep us on that road, and possibly accelerate it. Trump is a businessman and understands the cost and damage that can be caused by undue government regulations."
Northey also stresses the importance of future Supreme Court justice appointments. "Decisions with significant effects on agriculture may be made by the Supreme Court in the coming years," Northey continues. "It is imperative that we don't allow a President Clinton to pack the court with liberal justices."
Republican candidate's ag advisory board includes six Iowans
Trump recently formed a national ag advisory board which includes six Iowans: Sweeney, Northey, Governor Terry Branstad, Trump's national chief policy advisor Sam Clovis, Iowa Summit Ag Group CEO Bruce Rastetter and former American Soybean Association President Ron Heck. Sweeney says Trump's views and ag policy positions especially important to Iowans include:
·        Agriculture is a national security issue.
·        The Trump administration will work tirelessly to make American energy independent.
·        A strong economy will be assured through fundamental tax reform that will allow farmers to keep more of their own money.
·        Appointing judges to the Supreme Court who will protect our Bill of Rights will be the same judges who will also protect property, water and mineral rights for farmers.
·        The Interstate Commerce Clause must be enforced to keep individual states form dictating policy for U.S. food growers.
·        Death must not be a taxable event and no business should have to be sold to pay estate taxes.
Members of Trump's National Advisory Committee for Agriculture and Rural Issues are:
Annette Sweeney – director of the Iowa coalition, farmer and former Iowa House Agriculture chair
Iowa Gov. Terry Branstad
Iowa Secretary of Agriculture Bill Northey
Sam Clovis – Iowan who serves as Chief Policy Advisor for the Donald J. Trump Campaign for President
Bruce Rastetter – Iowan and CEO of Summit Ag Group of Alden
Ron Heck – Iowa farmer and past president of the American Soybean Association
Charles Herbster – National Chairman of the Agricultural and Rural Advisory Committee for the Donald J. Trump Campaign for President
Rebeckah Adcock -CropLife, Government Affairs senior director
Robert Aderholt - Congressman from Alabama; chairman, Subcommittee on Agriculture
Jay Armstrong - Kansas Wheat Commission; chairman, Farm Foundation
Gary Black – George Commissioner Agriculture
John Block - Former Secretary of USDA
Mike Brandenburg - North Dakota state legislator
Sam Brownback – Governor of Kansas
Chuck Conner – CEO, National Council of Farmer Cooperatives
Mike Conaway – U.S. House of Representatives Agriculture Chairman
Jack Dalrymple – Governor of North Dakota
Dennis Daugaard – Governor of South Dakota
Rodney Davis – Congressman from Illinois; House Agriculture committee
Mary Fallin – Governor of Oklahoma
Eddie Fields – Oklahoma senator, chair of Oklahoma Senate Ag and Rural Development
Steve Foglesong - Former president of National Cattlemen's Beef Association
Jim Gilmore - Former governor of Virginia; chairman of Report on Terrorism and Agro-Terrorism
Bob Goodale - Former CEO of Harris Teeter
Bob Goodlatte – U.S. Congressman from Virginia; Former chairman of House Agriculture Committee
Mike Green – Michigan senator, chair of Michigan Senate Ag Appropriations
Helen Groves – Rancher; daughter of Robert Kleberg-King Ranch
Dave Heineman – Former governor of Nebraska
Hans Hunts – Wyoming state legislator and rancher
Cindy Hyde–Smith – Mississippi Commissioner of Agriculture and Commerce
Brent Jackson – North Carolina senator
A.G. Kawamura – Former California Secretary of Food and Agriculture
John Kautz – California wine producer
Charlotte Kelly – Tennessee cotton grower
Mark Killian – Farmer and Arizona Commissioner of Agriculture
Brian Klippenstein – Protect the Harvest
Tsosie Lewis – Former CEO of Navaho Nation's Agricultural Products Industries
Forrest Lucas – CEO of Lucas Oil; Protect the Harvest
Mike McCloskey – CEO of Fair Oaks Farms
Beau McCoy –  Nebraska senator
Ted McKinney – Former director of Global Corp. Affairs for Elanco Animal Health
Sid Miller – Commissioner of Agriculture, Texas
Jim Moseley – Former consultant on agriculture at EPA; former Deputy Secretary of USDA
Brian Munzlinger -  Missouri Senate Ag Committee chair
Casey Murdock – Oklahoma state senator
Tom Nassif – President or Western Growers; Former Ambassador
Garry Niemeyer – Former resident of National Corn Growers Association
Sonny Perdue – Former Georgia governor
Rick Perry – Former Texas governor
Ryan Quarles – Commissioner of Agriculture, Kentucky
Jim Reese – Secretary of Agriculture for Gov. Mary Fallin of Oklahoma
Larry Rhoden – Senator from South Dakota; House Majority Leader and Sen Majority Whip; Chair Senate Ag Committee
Pete Ricketts –Governor of Nebraska
Pat Roberts – U.S. Senator from Kansas
Marcus Rust – CEO Rose Acre Farm - second largest egg producer in U.S.
Leslie Rutledge – Attorney General, Arkansas; co-chair of the National Association of Attorneys General Agriculture Committee
David Spears – Commodity Futures Trading Commission; Dole Ag Advisor; Mid-Kansas Cooperative, Inc. senior vice president
Dr. Mike Strain – Commissioner of Agriculture and Forestry, Louisiana
Red Steagall – Official Cowboy Poet of Texas
Kip Tom – CEO, Tom Farms LLC - largest agri-business farm operator in Indiana; operates farms in South America
Johnny Trotter – CEO of BarG - 125,000 feedlot operation and farms 10,0000 acres in Texas
Steve Wellman – Former president of the American Soybean Association
Walt Whitcomb – Ag Commissioner, Maine
John Wilkinson - Chairman, Agriculture and Consumer Affairs Committee, Georgia State Senate
Related: Trump announces Ag Advisory Committee members
For more information on Trump's views on agriculture and the environment, contact the Iowa ag advisory committee at: [email protected]
Subscribe to receive top agriculture news
Be informed daily with these free e-newsletters
You May Also Like
---