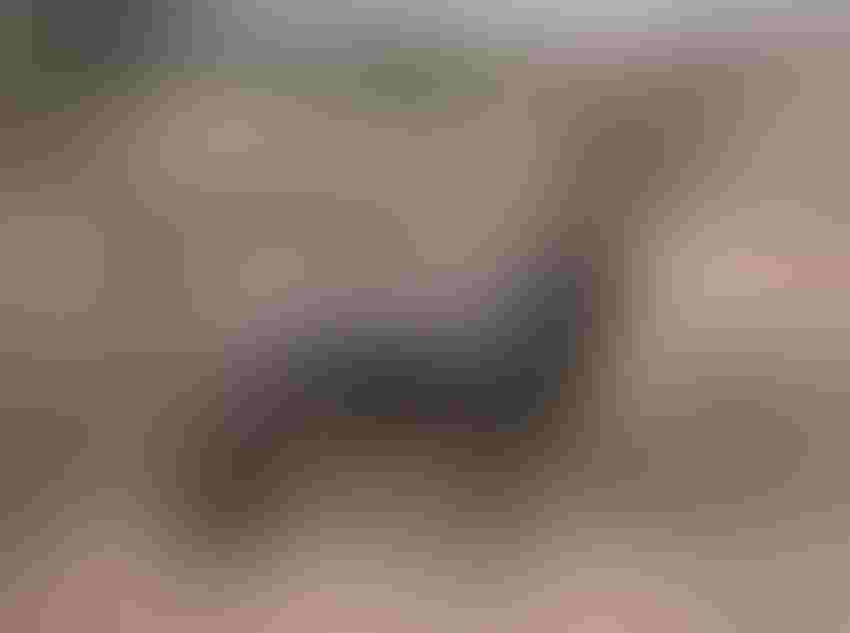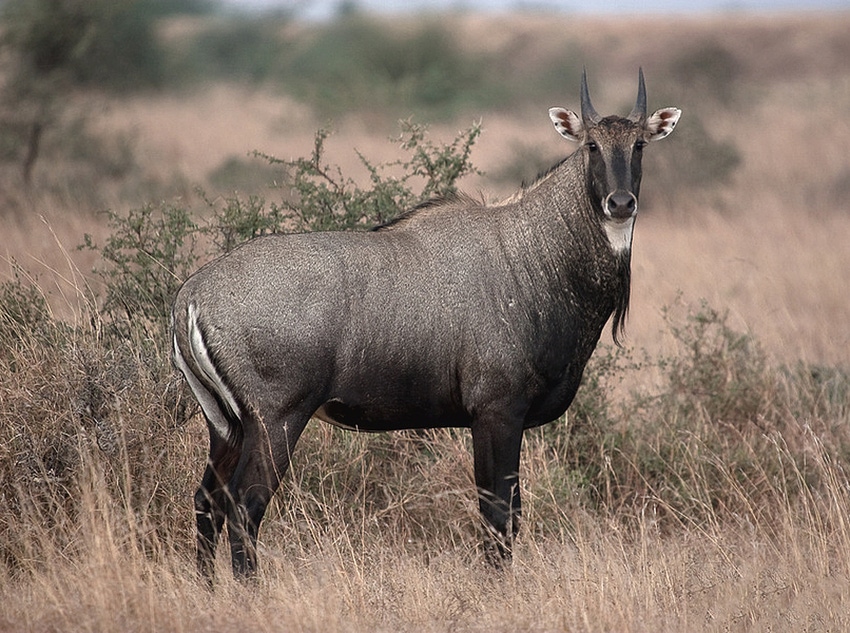 Nilgai Antelope (Boselaphus tragocamelus)
The fight against the spread of cattle fever ticks in Texas has a new tool in its arsenal, thanks to the research of a USDA entomologist and his research team in Deep South Texas. The tool looks at utilizing nematodes that serve as predators on the deadly ticks that has cattlemen and veterinarians alike hopeful that the spread of ticks in recent years may again come under control.
In the distant past, cattle fever ticks nearly destroyed the Texas cattle industry and threatened the U.S. industry. But intense eradication efforts and a permanent cattle fever tick quarantine zone along a large portion of the Texas-Mexico border helped to control that threat for years and have provided an effective prevention strategy that has worked well for decades – until a few years ago.
In 2004, a major uptick in the number of two types of ticks in South Texas caught animal health officials by surprise after many years of outstanding control and abatement efforts.
During those years of successful tick control and management in the South Texas borderlands, were sporadic instances occurred where Rhipicephalus annulatus and R. microplus, the ticks known to carry deadly Babesia bovis and Babesia bigemina, better known as cattle fever, were discovered not only on stray cows crossing the Rio Grande from Mexico but also on cattle on ranches in close proximity to the Texas border. But those instances were largely kept to a minimum, and any cattle found carrying the ticks during those times were quickly dipped by USDA and State of Texas animal health inspectors or private veterinarians.
But beginning about four years ago, large numbers of the ticks began cropping up in Cameron County, the southernmost point of Texas, and before long it was discovered that the uncontrolled emergence and spread of the ticks were related to the exploding population of wild nilgai, an imported exotic breed of antelope first introduced in South Texas at the King Ranch in the 1920s. Because nilgai range far and wide, the uncontrolled propagation of the antelopes quickly exploded across a large area.
A rather large animal—in some cases the size of horses—the nilgai roamed freely across parts of South Texas and across the border in Mexico, carrying the ticks and the diseases they harbor back and forth across the border. As their numbers continued to grow, the exotic antelopes began moving deeper into adjoining counties in South Texas.
DEADLY CONSEQUENCES
Officials say the fight against the influx of ticks from Mexico has been challenging. The federal Cattle Fever Tick Eradication Program (CFTEP) was established to eliminate bovine babesiosis from the U.S. cattle population as far back at the early 1900s. The program is a joint state-federal initiative because the disease is a severe and most often fatal threat to the cattle it infects.
The disease, once contracted by cattle, is generally characterized by extensive loss of red blood cells due to the breakdown of a cellular membrane that leads to anemia, jaundice, most often followed by death. Infected cattle may exhibit neurological disturbances characterized by incoordination, seizures, muscle tremors, hyper excitability, aggressiveness, blindness, head pressing, and coma, leading to mortality.
In addition, the two tick species responsible for carrying the disease are capable of causing blood loss, significant damage to hides, and an overall decrease in the condition of livestock.
Since 1907, the CFTEP has patrolled the southern borderlands to prevent infected strays from wandering across the river from Mexico. To this day mounted tick riders continue to patrol the border in search of strays that may be carriers of the ticks. The permanent quarantine zone is a thin tract of property located along the U.S./Mexico border that stretches across eight South Texas counties, and has been in existence now for 110 years, which has helped to control tick populations.
But no one expected the exotic nilgai would prove too fast and fleet and extremely elusive and capable of avoiding contact with the diligent tick riders and ranchers who keep an eye out for the animals within the designated quarantine zone.
The over-population of nilgai has become so problematic since 2014 that USDA and State of Texas animal control officers have declared an open season on the animals in an attempt to counter their rapidly growing population. But in spite of those efforts, cattle fever ticks have been detected in Texas cattle herds in a wider area in recent years, in some cases farther north into the interior of South Texas where they have not been reported at all in modern times.
But the work of John Golsby, a USDA entomologist who specializes in livestock arthropod pest research, is offering some hope that may help control spread of the ticks and the threat of the disease they can carry.
RESEARCH EFFORTS
It's not Golsby's first pest circus. The entomologist was part of a team of USDA scientists that released two insect species as part of a biocontrol program in recent years to kill giant reeds, known as "carrizo cane" or "Spanish reed," that invaded the banks of the Rio Grande and threatened to clog streams and irrigation channels, weaken river banks, stifle native vegetation, affect flood control, suck up water that could otherwise be used as irrigation for agriculture, and reduce wildlife habitat.
The team discovered that by introducing the arundo gall wasp (Tetramesa romana) that targets the main stem of the weed, and the arundo scale (Rhizaspidiotus donacis), which attacks the plant's roots, the undesirable reed, which can grow 3 to 7 inches a day, could be greatly reduced and managed.
Now Golsby is spending his days releasing a worm that loves to feed on ticks internally.
"It's a native, locally occurring parasitic nematode worm," said Golsby. "I think we can say that this nilgai aspect is the most critical problem for the eradication program right now."
While the elusive animals shy away from most populated areas and are difficult to locate in the South Texas brush country except by aerial scouting, animal biologists report the antelopes are noted for gathering in specific areas which they use regularly to release their bodily fluids, in other words, a latrine.
This has made it possible for Golsby and his research team to install automatic spray devices in select areas where the nilgai are known to congregate in the early evening. The spray devices are activated by movement of the animals. The spray serves as a carrier of the nematodes that make contact with the animals and then attack ticks that may be riding on them.
Researchers say three such spray machines have been placed on a ranch just north of Brownsville to help determine their effectiveness.
FARM BILL POSSIBILITIES
U.S. Rep. Filemon Vela Jr., D-Texas, whose district includes the Brownsville area, recently visited Golsby to inspect the spray operation. The lawmaker has been actively soliciting federal support for the outbreak of fever ticks in South Texas and says he is working to include additional funding for more machines and eradication efforts in the new farm bill.
"The cattle industry has been trying to come to grips with how to control this epidemic," Vela said this week. "As we work toward the next farm bill, we hope to address the fever tick issue in South Texas."
Texas Animal Health Commission (TAHC) inspectors and USDA biologists say the ticks have not only spread to cattle but also to wildlife in South Texas, including white-tail deer. Cattle specialists have said they fear the ticks and the diseases they carry will continue to migrate deeper into Texas and eventually to other U.S. states if eradication efforts are not increased, and that "could be devastating to the industry with estimated losses well over $1 billion."
TAHC and the Texas Parks and Wildlife crews have been limiting shipment of cattle and wildlife breeding stock outside the permanent and temporary quarantine zones that were established over the last three years to help prevent the movement of animals that do not pass rigid inspection. Even hunters are not allowed to move deer carcasses out of the area during hunting season without first having them inspected for ticks.
It has been estimated as many as 30,000 nilgai roam across South Texas currently, that in spite of efforts to help control population numbers. Golsby and other USDA officials say they are hopeful that early results of nematode research prove to be a positive development in helping to reduce tick populations in South Texas and add to conventional efforts to stop the migration of the pest deeper into surrounding areas.
Already heightened conventional efforts, like quarantines and inspections and aggressive dipping and other treatment methods have helped to curtail the spread of the problem. Just this week, a temporary fever tick quarantine in Jim Wells County, north of the area where the outbreak is most intense, was released as a result of positive results from their containment efforts. And with the additional aid of new methods like Golsby's nematode research project, animal health officials are optimistic the outbreak will eventually be contained and, hopefully, the ticks eradicated.
Subscribe to receive top agriculture news
Be informed daily with these free e-newsletters
You May Also Like
---