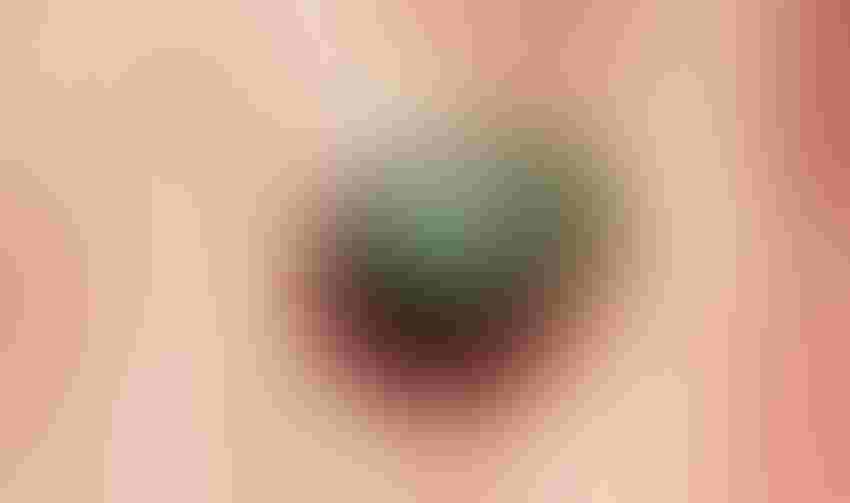 Close up picture of a live cattle fever tick
Texas AgriLife Extension
Texas Agriculture Commissioner Sid Miller is under fire again, this time over shutting down the use of cattle fever spray boxes that have successfully been used over 40 years in Texas as a defense tool to help in the eradication of ticks known to spread the deadly cattle disease known as bovine babesiosis, or Texas cattle fever.
Miller ordered the suspension of the use of these portable spray stations after a recent visit to the Texas border area, a visit his office says was prompted by complaints from ranchers who claimed the spray boxes were causing the death of some of these treated cattle. Miller told animal health officials he was shutting down the use of the boxes because using the pesticide Co-Ral in the spray boxes "was not in keeping with label guidelines."
The disease is a tick-borne, parasitic infection that causes significant morbidity and mortality in cattle. It is the most important arthropod-borne disease of cattle worldwide. Once contracted, it often results in cattle death. The disease was once endemic in large areas of the United States, especially in Texas, and caused devastating losses to the cattle industry dating back to the late 19th century.
Although these organisms and their vectors were eradicated from the U.S. by 1943, reintroduction is a significant threat as the ticks that carry the disease remain active in Mexico and often piggy back on stray cattle, horses and donkeys, deer, antelope and other wildlife that cross the Rio Grande River into Texas.
In a national effort to prevent the ticks and the disease from entering Texas, a Permanent Quarantine Zone (PQZ) was established in 1943 along the Texas-Mexico border. Even in modern times, that long and narrow zone is still patrolled by mounted United States Department of Agriculture (USDA) 'tick riders' who are on the lookout for stray cattle and other animals that cross the border into Texas. Those strays are tested and subsequently sprayed with chemicals to eradicate any and all the ticks they are carrying.
While the ticks that carry the disease were successfully restrained by the program and limited to areas within that zone for a number of years, incidents into areas outside the zone and deeper into Texas have been realized in more recent times. In 2017 for example, the ticks were detected as far north as the lower Texas Coastal Bend, causing the Texas Animal Health Commission (TAHC) and USDA-APHIS (Animal and Plant Health Inspection Service) to establish a number of temporary quarantine zones to counter the incursion.
As part of that effort, cattle raisers who discovered suspect ticks on their herd were required to have all their herd treated initially, with regular periodic treatments until no animal in the herd tested positive, a costly requirement for producers. The cattle spray boxes used by TAHC and USDA-APHIS made use of treatment efforts more readily available in hopes of preventing producers from having to round up herds and transport them greater distances for treatment options.
Texas and federal animal health officials say without the use of those spray boxes, the cost of treatment is expected to rise and they fear it may also interfere with efforts to stop the expansion and advance of the ticks deeper into areas that are unaffected, potentially causing an animal health crisis for the cattle industry.
"Portable spray boxes have been utilized for decades and have proven very effective in our containment and eradication efforts," said Dr. Andy Schwartz, Texas State Veterinarian and TAHC Executive Director. "It is important to note that over the years of state and federal use, there has been no indication the application of Coumaphos (Co-Ral) in spray boxes has led to cattle deaths."
 Schwartz says the spray boxes simplified treatment options because they are mobile.
"Because spray boxes are portable units, we can take the fight to where the ticks are," said Dr. Schwartz. "Since September 1, 2016, TAHC has traced fever tick exposed cattle to over 919 individual premises in 82 counties across the state. TAHC was able to efficiently and safely treat the cattle because of the spray box features. TAHC is committed to our mission of protecting the health and marketability of all Texas livestock."
See: Cattle Raisers refute concerns over cattle fever tick spray boxes
In a statement released by the Texas Southwestern Cattle Raisers Association (TSCRA) this week, Miller's action was criticized as detrimental to efforts to prevent the spread of the ticks responsible for carrying the disease. Robert McKnight, Jr., president of the Texas and Southwestern Cattle Raisers Association issued the release in hopes of "convincing Miller to reconsider his position."
"Our foremost priority is the health of our cattle, and we support the experts at the Texas Animal Health Commission (TAHC) and USDA Animal and Plant Health Inspection Service (APHIS) in their mission to protect animal health and productivity. The use of spray boxes has long been widely accepted as a safe and effective method to treat cattle for cattle fever ticks," McKnight said in the statement.
He said that according to TAHC and USDA-APHIS, the spray boxes they utilize are not known to have caused any cattle deaths due to toxicity, nor has TSCRA received reports of any such deaths. McKnight says Commissioner Miller's decision is detrimental to the health of the cattle and livelihood of ranchers who rely on the use of spray boxes to eradicate cattle fever ticks.
"We are very disappointed that Commissioner Miller made such a rash decision to take away this vital tool from Texas cattle raisers. His decision has a direct and immediate impact on cattle health, Texas ranchers and the entire U.S. cattle industry. His action could seriously endanger cattle welfare and prevent Texas ranchers from participating in commerce at a time when our industry is already facing hardships due to drought and other issues," the statement said.
In response to the outcry of cattle support groups, Miller responded in defense of his decision to shut down the use of the spray boxes.
"Ranchers had complained to me about their cattle dying from these spray boxes, so I went to South Texas to check it out," Miller said in a release, July 31, 2018. "From my personal observation, the insecticide was being used in violation of the label, so I shut them down. I also gave state and federal authorities lawful alternatives for applying this insecticide, but they refused to implement these alternatives."
In a Texas A&M University study, researchers determined if even a minor outbreak of Texas cattle fever ticks were to occur outside the permanent quarantine zone, the cattle industry could suffer significant losses. The study, titled "Economic Impact of Expanded Cattle Fever Tick Range," could result in more than a $120 million loss to the industry. Worse, if that outbreak were to go unchecked, that loss could quickly grow to well over $1 billion annually in losses to the industry.
As a result of the latest outbreak outside of the permanent quarantine zone, temporary quarantines exist in nine Texas counties, including Cameron, Hidalgo, Kinney, Live Oak, Maverick, Starr, Webb, Willacy and Zapata counties.
Subscribe to receive top agriculture news
Be informed daily with these free e-newsletters
You May Also Like
---