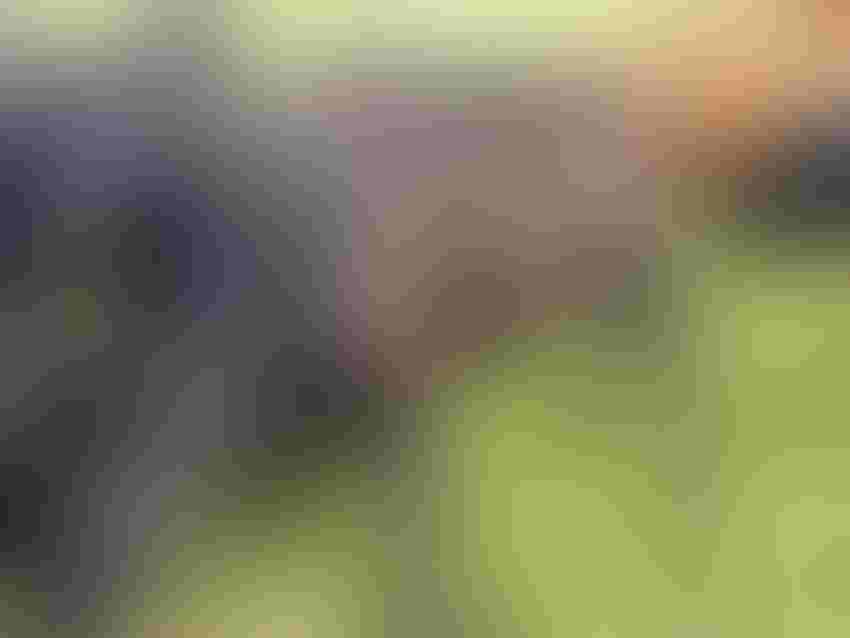 A number of factors affect horn fly resistance, but it can be successfully selected as a genetic trait.
Alan Newport
The horn fly, one of the biggest seasonal problems for the US beef industry has a chemical-free and viable solution, but there is little evidence anything is being done to move that direction.
That solution is selecting cattle for genetic resistance. Scientific and demonstrative evidence says this is true.
However, we searched for "bulls for sale fly resistance" using Google, Duck Duck Go and Bing search engines. Our internet search found two seedstock operations in Australia that advertise breeding for "buffalo fly" resistance and one in the US that mentions selection for fly and internal parasite resistance in its cattle -- Pharo Cattle Company.
We happened to know of one more, Steven Lukefahr in deep southern Texas, who selects for "internal and external parasite" resistance but whose website did not show up in the search.
Also, Curt Knight in South Dakota told Beef Producer recently he has had good experience with breeding his Red Angus cattle for horn fly resistance, among other traits.
We suspect there are others, but could not find them. Also, some breeds claim great parasite resistance, but still have significant differences between individuals.
We also found information that said USDA had made a grant for research on an "anti-feeding vaccine" for horn flies.
However, there is viable research -- now quite a few years old -- that shows some cattle have much greater natural resistance to horn flies, just as has been shown for tick resistance here and on other continents. Some have it, and some don't.
Dayton Steelman, emeritis professor of veterinary entomology with the University of Arkansas-Fayetteville, found in his years of research that resistance to horn flies is much different among individual cattle, in particular. He also learned that resistance is highly heritable among cattle.
Steelman traded emails with Beef Producer over this topic several months ago. He said he went to work as a researcher at the University of Arkansas in the early 1980s. The university had a herd of old-type Angus cattle that had been bred and selected into four groups, stratified by hip height. The shortest averaged about 46 inches. The tallest averaged just over 50 inches.
"I collected horn fly population data on over 400 Angus cows at the University of Arkansas and USDA Center at Boonville on a weekly basis for 14-16 weeks, each of four years, specifically on each cow," Steelman said. "The cattle received no insecticide treatments during this time. We used these data to calculate the heritability and repeatability. There was a statistically significant difference in horn fly numbers among the four size groups at the University of Arkansas and the group in Boonville.  The data showed that as the Angus cattle were selected for greater frame size ... had significantly greater numbers of horn flies."
Steelman said they later added Charolais, Chianina, Red Poll, polled and horned Hereford cows to the study and database. He said the different breeds had statistically significant variations in fly resistance, but they also found statistically significant differences among individuals within each of the breeds.
Steelman said they analyzed all the data and came up with an impressive heritability estimate of 0.58, or 58%, for horn fly resistance.
He added that researchers studying cattle ticks in South Africa and Australia estimated greater than 80% heritability for tick resistance. He said the Africans continued using their data to develop a cattle breed that was tick resistant.
Steelman also said he saw Canadian research on the relationship between hairs per square centimeter and cattle size. He says the study showed him the larger cattle had about the same number of hairs as the smaller cattle, and according to the Canadian researcher's data all cattle within a breed have about the same number of hairs at birth. Breeding them bigger just spreads the hairs out, he said it appears.
Steelman then did a study and found that of all the breeds available then, purebred Brahman cattle had the highest number of hairs per square centimeter. Chianina were were close behind, but the fact remained that hair numbers per square centimeter became less within each breed as the cattle were selected for larger frame size.
For further knowledge, Steelman then washed the animals with hexane and found the compounds being secreted by the two sebaceous glands and one sweat gland associated with each individual hair had an effect on fly attraction or repellency. The more hairs the animal had, the more glands in the skin to secrete these compounds, he learned.
He said further cooperative breeding work with USDA Meat Animal Research Center at Clay Center, Nebraska, showed him and the others could breed highly horn-fly resistant cattle, many of them of very large size, Steelman added.
In fact, the two US producers Beef Producer corresponded with both say they have had good success breeding for genetic parasite control.
Lukefahr says he has selected for fly resistance for many years in breeding a heat-resistant line of cattle he calls STAR (Senepol, Tuli, and Angus Red cross).
"My STAR cattle with slick hides and lighter colors (lighter than red) attract very few flies," he says. "Of course there are other genetic factors involved but these two traits undoubtedly have a major influence."
Kit Pharo says his selections have been quite successful and that he has used no paraticides now for many generations. Further, he ranks his bulls for fly resistance in all sales materials.
African rancher and consultant Johann Zietsman talks often of parasite resistance as an important part of overall adaptability and reproductive efficiency for cattle. He grew up on a ranch in Zimbabwe in a culture were plunge-dipping of animals was considered the primary solution for tick problems. Eventually he came to realize natural immunity to all parasites was a more effective and profitable plan.
In his book, Man, Cattle and Veld, Zietsman summarized this line of thinking: "The problem of ticks and internal parasites is not going to be solved with poisons. Dipping and dosing make cattle more susceptible to parasites and dependent on the continued use of poison.
"In addition, beneficial organisms such as dung beetles and oxpeckers are killed whilst creating populations of chemical resistant parasites. The only lasting solution is dependent on the breeding of parasite resistant cattle and not poison resistant parasites."
About the Author(s) Alan Newport is editor of Beef Producer, a national magazine with editorial content specifically targeted at beef production for Farm Progress's 17 state and regional farm publications. Beef Producer appears as an insert in these magazines for readers with 50 head or more of beef cattle. Newport lives in north-central Oklahoma and travels the U.S. to meet producers and to chase down the latest and best information about the beef industry.
Subscribe to receive top agriculture news
Be informed daily with these free e-newsletters
You May Also Like
---