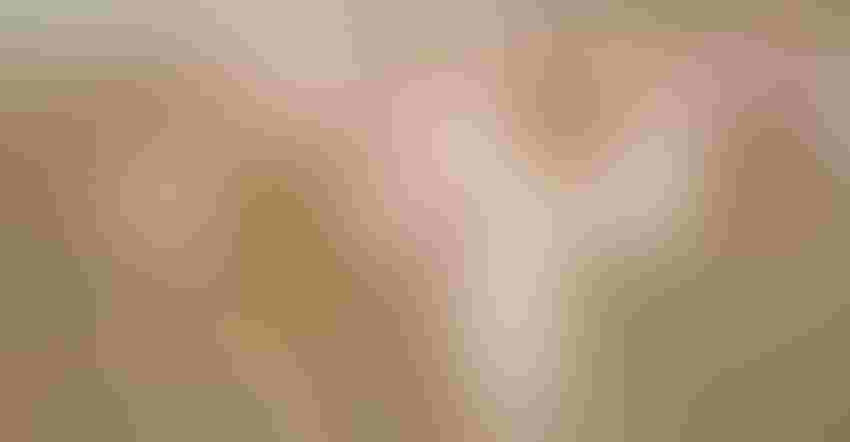 BIG IMPACT: Weaned pigs grow in a nursery barn in South Dakota.
A new push for livestock development has gotten underway in South Dakota. Touchstone Energy Cooperative — an association of rural electric cooperatives — recently hosted the Livestock Development Summit in Brookings, S.D. The utility association is planning to hold several local livestock development meetings around the state in 2019.
Why livestock?
If you want to improve the rural economy in South Dakota, you need to focus on ag development — and livestock development needs to be a big part the focus, says Mike Jaspers, East River Electric Power Cooperative business development director. Jaspers, a farmer and cattleman, served for two years as the secretary of agriculture in Gov. Dennis Daugaard's administration.
Livestock enterprises can have big economic impact on rural communities in a couple of ways, he says.
One, they reduce the basis for corn and soybeans. The basis is the difference between futures and cash prices and reflects the local demand for grain. The smaller the difference between the cash and futures price, the higher the net price is for grain.
The basis for corn in Parkston, S.D., compared to the basis in Sioux Center, Iowa, narrowed 28 cents in four years. Sioux Center is in Sioux County, Iowa, which has the largest concentration of livestock in the U.S. Parkston is the hub for the recent expansion of pig farms in southeast South Dakota. The 28-cent improvement in the corn basis was worth $56 per acre this year, based on average yields in the Parkston area, according to Robert Thaler, professor and South Dakota State University Extension swine specialist.
Two, they create jobs on the farm and in town. Once enough livestock enterprises are developed in an area, they bring in feed mill, construction, trucking, and veterinary and consulting businesses to develop and support them.
"If you want jobs in rural America, you need chores," Thaler said, quoting Bill Even, a former South Dakota secretary of agriculture and now CEO of the National Pork Board.
Good time for startups
Now is a good time to be thinking about expanding or starting livestock enterprises in South Dakota, according to Jeremy Freking, a director of development at the South Dakota Department of Agriculture.
Valley Queen Cheese Factory and Agropur, two of the state's milk processing plants, are expanding and will need milk from 40,000-50,000 more cows to run at full capacity in the future. Seaboard Triumph Foods' new hog packing plant in Sioux City, Iowa, provides a nearby market for more hogs finished in southeast South Dakota. Also, there's growing demand worldwide for beef and poultry.  
There's even the potential for a new "livestock" to be raised in South Dakota — fish. Aquaculture worldwide is booming. More than 55% of the world's fish is being is now farm-raised. Prairie AquaTech, a 2012 start-up out of SDSU that developed a way to make fish food from soybean meal, is expanding its plant at Volga, S.D. Fish grown on farms in South Dakota would have an advantage because they will be close to the feed supply.
TALKING LIVESTOCK: Panelists discuss the benefits of expanding and creating new livestock enterprises at recent Livestock Development Summit hosted by Touchstone Energy Cooperatives.
South Dakota would do well to produce the finished product rather than sell the livestock feed to other states or countries. It's the "sweet spot" in the value-added food chain, Dierson said.
Local meetings
The Touchstone Energy Cooperatives are discussing plans to hold several local economic development meetings in 2019.
The goal of Livestock Development Summit at SDSU was to start a region-wide conversation about the role agriculture development can have on the future of our area, and then to bring similar events and messaging to local areas, Jaspers said.
Organizers hope not only to educate producers, regulators and local decision-makers about livestock development, but also to foster continued discussion about how we can grow our rural communities by any and all means available.
Subscribe to receive top agriculture news
Be informed daily with these free e-newsletters
You May Also Like
---