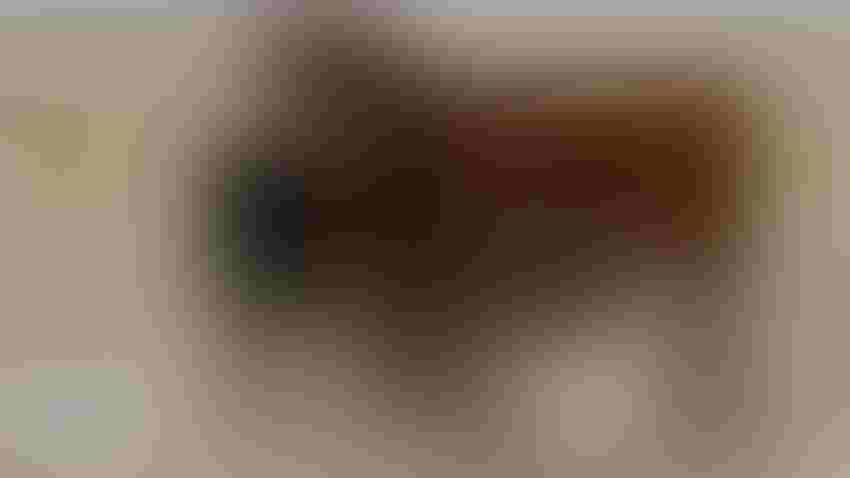 A cow and calf are on corn stalks.
Cody Sand
Art McElroy winters his calves with their mothers on his farm in Saskatchewan, 10 miles north of the U.S. border. The cows calve in June-July and he usually doesn't wean calves until April or May. This saves feed and labor and is better than grain-feeding to develop their rumens, enabling them to become good foragers. The steers and heifers do well on grass the next summer.
"I've read articles by Walt Davis, Chip Hines, Burke Teichert and Kit Pharo; my philosophy has been a long, slow evolution," McElroy says. "The traditional way of raising cattle creates tremendous expenses in growing a calf." 
It's time for some innovative ideas.
"Reading some of those articles helped me put pen to paper and understand where my costs are," he says. "One way we can reduce cost is to leave all the calves on the cows.  There is no cheaper place to develop a heifer than on her mother.
"We winter graze as much as possible, which reduces the cost of raising a heifer and she is also out there learning from her mother. Daily gain is minimal through winter but with the grass-based genetics we've been using for the past 12 years (and downsizing cows—which is a long, slow process), it works well," he explains. 
"I had to start thinking in terms of return per acre rather than the traditional unit of production or cow. We only have a certain amount of forage, but if we have more small cows, producing more calves, this gives us more total pounds to sell than with fewer big cows with bigger calves," he says.
This meant a shift in understanding what has the most value—whether it's a 560-pound (or bigger) calf or a 400-450 pound calf—and understanding the costs associated with each animal. 
"I've seen tremendous results. Two years ago I had to feed for 100 days, but the winter before I only had to feed about 30 days. If we save grass in the summer for winter grazing, 8 out of 10 years we can do a lot of winter grazing."
You just need to be prepared for the odd winter when you have to feed some hay, he says.
"Burke Teichert talks a lot about lowering expenses. Wintering a heifer on her mother is one way to do that, and also the healthiest place to keep her for the winter," McElroy says. This can also reduce other costs, in not having to treat sick calves or have death loss from disease. A healthy heifer will do better for the rest of her life, compared to one that was compromised by illness.
Added stress
"The way some people wean calves by taking them off their mother and sending them to the auction, comingling with other cattle and trucking them again—to a new place with different feed and different water—it's no wonder they get sick!"
When he weans calves in April, they go back out where they were—half a mile from home, either grazing or bale grazing--and the cows stay in the corral. "By that age the calves don't need milk anymore and the cows are not milking much. Those calves are also more independent than a younger calf, and learned about grazing from mom. After about a day and a half I move the cows clear away and the emotional tie is not nearly as strong," he says.
"To separate them at weaning, all I do is put them in a corral, open a gate and let the cows go back out past me. I stop the calves, and they go under a gate. I put the cows in a nearby pen, and then the calves go back out to where they grazed with their mothers.  It's a very quiet process compared to having a bunch of bawling cows and calves in the fall," says McElroy.
"This is an easy transition for my calves. Health issues are minimal; I don't recall ever treating one.  They don't bawl, or wander around in the dust, not eating or drinking.  The stress is so much less," he explains.
"I run the heifers with my grass yearlings until time for breeding. That's where these calves with grass genetics really shine, with compensatory gain. They make up for lower gains during winter, and they do it nicely with our rotational grazing. I am very pleased with how they perform," says McElroy.
Born in late May-early June, they are old enough by the time they are separated that they are not dependent on mama. "I really like this method of raising heifers. We breed 45 to 50 heifers every year and if I end up with 30 bred heifers out of that group I am happy. I assume they are the ones that were born in the first 21 days." They come from fertile cows, and are old enough to breed early.
"There are ways to make a living raising cattle, without being a slave to it. We can keep these animals performing, and to optimize herd performance the stockmanship is very important.  We work with the animals all the time," he says.
"The heifers are all pretty quiet at weaning, because of the time they spent with their mothers.  There are occasionally a few wild ones, but when you weed those out, there are fewer in the future," says McElroy.
'

Very expensive'

"The way a lot of people develop bulls and heifers for breeding and the amount of feed they put to them is very expensive. You can get a high percent of those heifers bred but are they actually fertile or is it fed into them?" They probably won't be fed that way later in life on someone's ranch and probably won't breed back as well as they should.

"I have a few young cows that fall out during that second year, because I don't sort them off in winter and feed them better.  I could get more of them to breed back if I hauled them more feed, but we live in a tough environment and I want cows that can do it on their own."
Subscribe to receive top agriculture news
Be informed daily with these free e-newsletters
You May Also Like
---