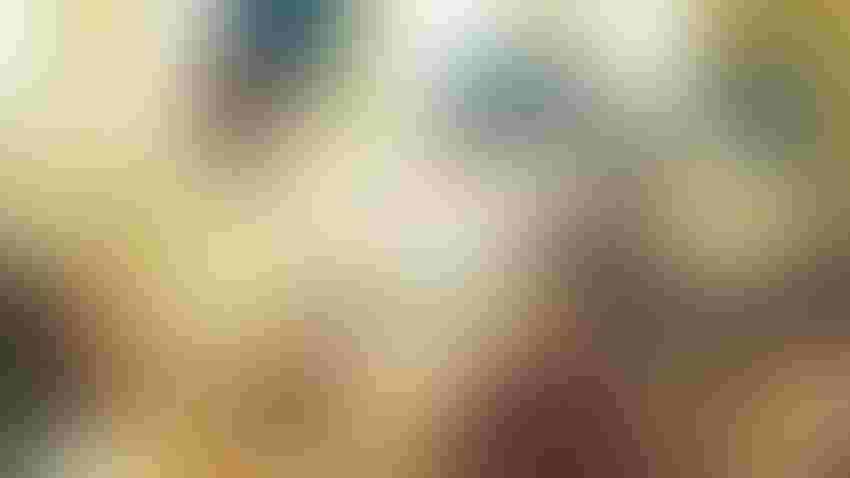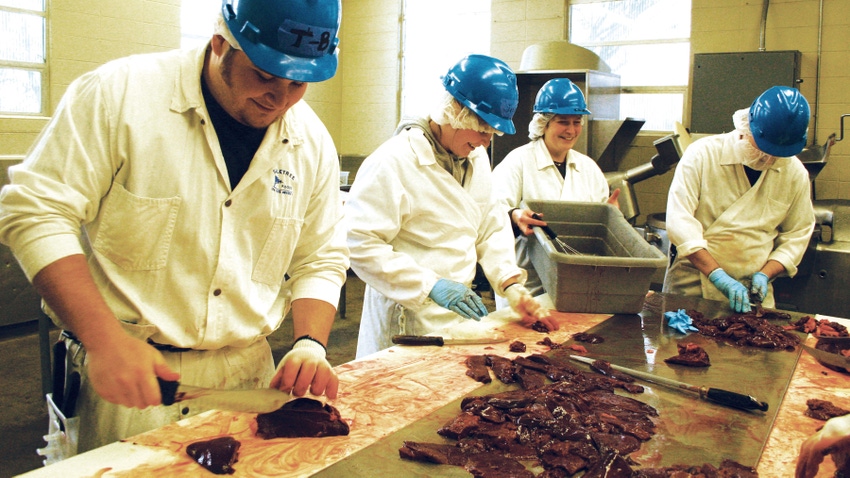 Students cut jerky in Oregon State University's meat center.
Oregon State University
Oregon legislators have approved $9 million for the state Department of Agriculture to support meat inspectors who will aid businesses that are working to process and sell meat products in the state.
"I am pleased that we were able to secure $9 million to support the State's Meat Inspection Program for the next two years," said Governor Kotek. "This funding adds critical capacity for local certified meat processing to aid businesses and farm owners across Oregon. I look forward to seeing the positive impact this allocation will have for Oregon's local economy."
The funding is part of an ongoing effort to boost economic development and enable Oregonians access to locally produced meat products. In July 2022, the U.S. Department of Agriculture (USDA) approved the state's program, making Oregon the first state on the West Coast with a state meat inspection program.
"Developing and implementing a State Meat Inspection Program has been on my bucket list since the mid-80s," said Lauren Henderson, Acting Director of ODA. "Over the years, Oregon's meat producers have been telling us about the few in-state options for processing, and the pandemic made it so much worse. Ranchers were facing 18-month wait times to process their livestock; we knew that was unacceptable. The industry and the legislature stepped up and helped us create a program that can grow with the needs of Oregon's meat processors."
The Meating Place in Washington County recently became the state's first slaughter facility under Oregon's State Meat Inspection Program. The Meating Place was one of six meat processors statewide to receive a portion of the $2 million grant allocated by the Oregon Legislature in the 2021 session. In addition to the inspected meat product, The Meating Place continues to provide custom processing, a full-service butcher shop, and a café filled with local meats. The shop's entire farm-to-fork meat supply system takes place within a 20-mile radius.
Oregon's State Meat Inspection program is "at least equal to" the federal meat inspection program required by the USDA Food Safety Inspection Service (FSIS). That means that any federal requirements for sanitation, food inspection, sampling, and labeling, are also incorporated in the state inspection rules.
The state's program is not meant to compete with USDA. Instead, it complements the federal program and increases the state's capacity by supporting smaller, local businesses to produce, process, and ship statewide. Existing USDA-inspected facilities may choose to stay with the federal inspection program or enroll in Oregon's program if it benefits the business.
Details on the state meat inspection grant program are still under development. ODA will announce more details on how to apply and who is eligible as soon as possible. In the meantime, ODA staff are available to answer your questions and help you understand the meat inspection program. You can email questions to [email protected] or call 503-986-4720.
Source: Oregon Department of Agriculture
Subscribe to receive top agriculture news
Be informed daily with these free e-newsletters
You May Also Like
---