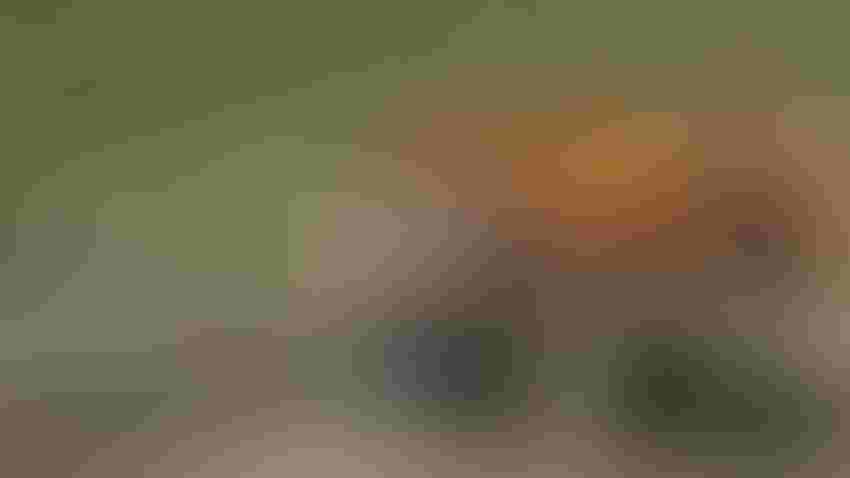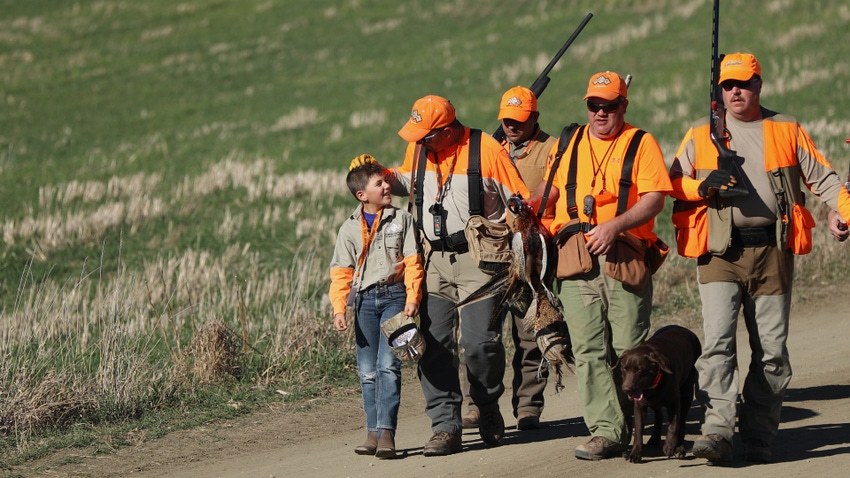 A group goes pheasant hunting on Jorgensen Land & Cattle Co. land in South Dakota. Many ranches across the U.S. cater to agritourism as a second income.
Jorgensen Land & Cattle Co.
In today's economy with rising input costs and uncertain prices for livestock, it can be difficult for ranchers to make a living from cattle without outside income. Some ranchers find innovative ways to create a second income from their land—capitalizing on other uses such as hunting and recreation, camping, etc. A rural setting can attract people who pay for opportunities to hunt, fish, birdwatch, ride, hike, or have a wedding, family reunion or some other special event.
Many people are eager to experience nature and/or a western ranch environment. Some ranchers host special events or entertainment, in various types of agri-tourism, or agri-tainment, as one Texas rancher calls it.
Agritainment
Janet Noble of eastern Texas found innovative ways to bring the public to her place besides selling eggs and pork to local customers. She also raises Longhorns and wanted to expand her acreage for more cattle--but urban sprawl surrounded her place; there was no way to get additional land. 
Then she realized this was actually a plus. Most people who direct-market their products have to travel to farmers' markets, or encourage people to drive to their farm. 
"In my situation, people come to me all day, every day, as they are going to and from work in town," she said. 
"We've added additional enterprises involving recreation. We host a fall festival, offering fun activities for 8 weeks. We do a maze with sorghum and have a dozen other activities for people who come. Every Friday and Saturday night we have Flix in the Sticks--an outdoor movie. We set out bales of hay for people to sit on, to enjoy our hay bale amphitheater--or bring their own lawn chairs. City people can come without driving for hours," Noble said.
"We cater to the couch potato who could benefit from a healthier lifestyle (more outdoor activity) as well as learning more about nature. We believe that if people come outdoors and have a nice time at our place, this could be a start.
"We host birthday parties, and urban camping. We provide all the camping equipment and teach people how to do it themselves—cooking over a fire, setting up tents, etc. We play games around the campfire and give them a good time, but we are also teaching them. If they decide they enjoy this sort of thing and want to go to a park or lake, they could feel comfortable and capable doing it on their own," she explains.
Facilities for events
Hailey True and her family own Powderhorn Ranch, 25 miles southwest of Douglas, Wyo. The ranch operation is Diamond Land & Livestock, and includes a horse breeding program, a cow-calf ranch operation and a hospitality business. "We've opened the ranch to guests—primarily for events someone else puts on. We provide the facilities, lodging and meals," she said.
The ranch hosts horsemanship clinics, but also retreat groups, photography groups, leadership retreats, personal growth and personal respite retreats.
"This has been another way to incorporate our ranch horses," she said. "Many of the groups that come here can enjoy trail rides, or we give demonstrations. Horses are good for people!  When you have horses you can trust, and can share them with other people for these experiences, it's neat to watch their eyes light up and see their confidence grow. It's fun to see people start to latch onto something they've never had access to before."
Cottonwood Ranch in Elko, County, Nev., also caters to the public. This ranch has been in the same family for many generations. Agee Smith grew up there and now his daughter and son-in-law (McKenzie and Jason Molsbee) are involved. The ranch has been diversified for a long time as a guest ranch and recreation business for more than 60 years—hosting weddings, reunions, retreats, workshops, etc. People staying at the guest lodge have opportunity to fish, hike, mountain bike or bird watch.
"We also have people staying here for hunting," Jason Molsbee says.  "In recent years we've slowed down on summer guests, leaning more toward just hosting events and schools instead of having people coming here all the time to go riding, etc. Hunting has been a big part of the ranch business since Agee's dad started in 1952 with deer hunts.  Agee did that part for many years, and I've been doing it for 22 years," Jason said.
Hunting
Nick and Cody Jorgensen are part of a family ranching operation (Jorgensen Land and Cattle) in South Dakota that offers pheasant hunting on more than 10,000 acres. "We've been doing this for nearly 30 years," Cody Jorgensen said.  "We built a lodge in 2012 for hunters. This kind of enterprise takes more management than simply allowing hunting on the property."
For an enterprise like this, it's important to make sure you have enough people in the family who want to do it—to manage the land and the hunting guests. "A person needs to be passionate about being a hunter and have the ability to deal with people.  It's a way to bring in more money on a per-acre basis and might make the difference of make-or-break some years," he said.
This particular enterprise took a significant investment in facilities, but before 2012 they didn't have much cost in the business. "Now we have a lodge—basically a hotel that's an all-inclusive resort, the Lazy J Grand Lodge--that can accommodate up to 40 people. It's grown into a bigger business for us, providing many services. There are other ranchers in our area who haven't jumped into it as deeply but still host hunts on their property," Nick Jorgensen said.
Many California ranches use agritourism and/or hunting as part of their annual income.  The 12,000-acre Work Ranch near Paso Robles has been doing this a long time. George Work (second generation) and his wife Elaine have improved their land for livestock and wildlife and it became an attraction for quail and pig hunters. The ranch is halfway between Los Angeles and San Francisco, about 15 miles off highway 101, which makes a great location for agritourism. "We've been doing this forever, with our hunting program, then leased it to a hunting guide on a share/cash rent, and he handles all the booking on his website," George Work said.
"We also are part of the Farm Stay program. Many of those guests are a different clientele.  We pioneered that program in California. There had to be state legislation before we could do it, because of all the regulatory factors, but we were successful in getting it passed. Now people can receive compensation for doing it," he said. Their son and daughter-in-law also host trail rides. The extra income from additional enterprises often enable multiple generations to stay on a ranch.
Subscribe to receive top agriculture news
Be informed daily with these free e-newsletters
You May Also Like
---