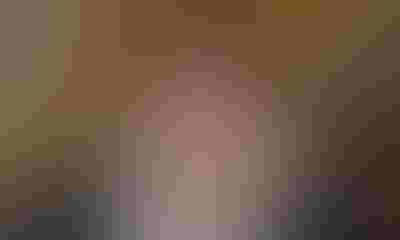 The lower price of soybeans over the past marketing season has an unintended consequence besides cutting into your profit margin. It means less money available for the Indiana Soybean Alliance board of directors to allocate for various uses in Indiana.
"The checkoff is a federal program set up in 1990," says Jane Ade Stevens, CEO of ISA. About $11 million was collected through checkoff funds from Indiana in the most recent year, she notes. Half of that goes to the United Soybean Board. The other half, $5.5 million in the recent budget, funds activities of ISA.

DIRECTOR SPEAKS: Jane Ade Stevens discusses a number of issues, including how the Indiana Soybean Alliance board is prioritizing use of checkoff funds.
The soybean checkoff is one-half of 1% of the sale price of soybeans. "So when the price of soybeans is lower, less money is collected through the checkoff," Ade Stevens observes. "That means our directors are looking even more closely at budgets and priorities this year."
Here is a portion of an interview with Ade Stevens about current and future plans of ISA.
IPF: Has the drop in soybean prices impacted ISA's programs?
Ade Stevens: Yes, it has been a lean year for checkoff funds. The ISA board has done a good job of prioritizing where available funds should go. Our new fiscal year will begin Oct. 1, and we have a three-year strategic plan. Between what the market does to checkoff funds and what the plan says, the board sorts out priorities for the coming year.
IPF: What are the top priorities in the long-range plan?
Ade Stevens: The first priority is further development of the livestock industry. Next on the list is production research. Another priority is promoting discovery of new uses for soybeans.
IPF: Who sets priorities at the national level?
Ade Stevens: The United Soybean Board has 70 directors. We are privileged to have four Hoosiers on that board.
IPF: Why is development of the livestock industry such a high priority?
Ade Stevens: It's vital because the single biggest user of Indiana soybeans is livestock producers as a whole. We use checkoff dollars so our staff can work with partners in the livestock commodity groups, Indiana Farm Bureau Inc., and other groups and agencies to help address issues livestock producers face. We fund programs like Know Before You Build, which is designed to reduce any surprises the livestock producer might find during the process of putting up a new building. Part of that project is also aimed at helping them develop public relations efforts with their community. As part of the project, our staff advises farmers. We can't use checkoff dollars for lobbying purposes, however, such as to push for changes in laws related to livestock zoning.
IPF: ISA will be a major sponsor of the new phenotypic center being constructed at the Purdue University Agronomy Research Center. What is ISA's commitment to that project?
Ade Stevens: We announced late last year that ISA has committed $2 million to the project. Half goes toward the building project, and the other half will fund an endowment research program for soybean research at the facility.
IPF: What are plans for the Glass Barn at the Indiana State Fairgrounds?
Ade Stevens: That was a major investment of checkoff funds to promote agriculture and reach consumers, not only at the fair, but year-round with K-12 educational programs. Our budget will only allow redoing exhibits about every five years, but we tweak it annually. We're also launching a new virtual learning program utilizing Indiana State Fair staff to reach students unable to attend on field trips.
Subscribe to receive top agriculture news
Be informed daily with these free e-newsletters
You May Also Like
---