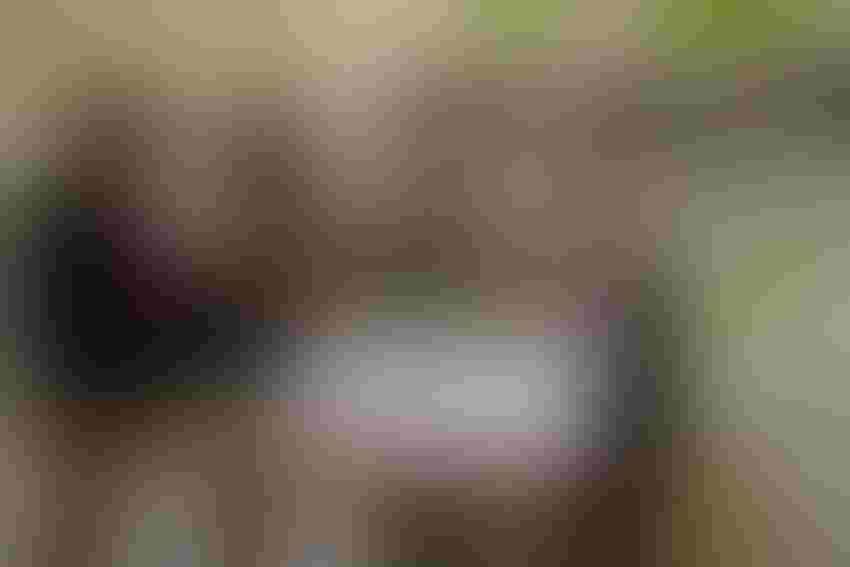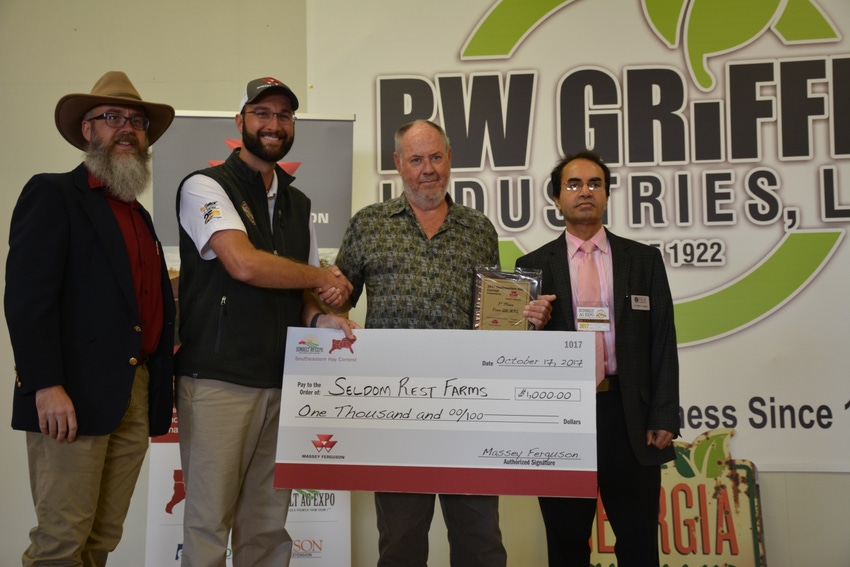 Lee Gilmore, center, of Seldom Rest Farms in Tennessee, won the overall prize for the 2017 Southeast Hay Contest. Gilmore received the award from, at left, Dennis Hancock, UGA Extension forage specialist, Ash Alt, regional manager for AGCO, and, on far right Uttam Saha, program coordinator for the UGA Feed and Environmental Water Laboratory.
Ron Smith
Despite weather setbacks this year, the annual Southeast Hay Contest once again shows good management decisions can still lead to high-quality hay in the Southeast.
Seldom Rest Farms from Pulaski, Tenn., won the overall prize for the 2017 Southeast Hay Contest with an alfalfa entry scoring a relative forage quality score of 269. Lee Gilmore from Seldom Rest Farms accepted the honor on the opening day of the 40th anniversary of the Sunbelt Ag Expo on Oct. 17.
"Weather is always a major factor when attempting to produce high-quality forage. This year, wet conditions early and dry conditions late in the growing season proved to be a major limitation for many producers," said Dennis Hancock, University of the Georgia Extension forage specialist who coordinates the contest each year.
Though it was wet early, Hancock said, drought lingered in some parts of the region later in the season, resulting in problems with high nitrate levels with 11 percent of contest samples disqualified because nitrates were higher than 5,000 ppm, Hancock said.
The contest is joint venture ran by UGA Extension, University of Florida Institute of Food and Agricultural Sciences, Clemson University Extension and Alabama Cooperative Extension System.
The contest has seven categories, and drew nominations from seven states this year. The top three entries based on RFQ score received cash prizes. First place received $125, second received $75, and the third place entry received $50.
As top winner, Seldom Rest Farm won a choice of a new Massey Ferguson DM Series disc mower or RK Series rotary rake for the 2017 hay production season plus $1,000.
The contest began in 2004 when a group of county Extension agents began a program to highlight forage's relative forage quality, a way to predict the fiber digestibility and animal intake of harvested crops.
For a comparative way to use RFQ scores, Hancock provided a few examples:
Hay with a RFQ of 100 or more can usually be economically fed to maintain beef cows

RFQ of 125-150 is adequate for stocker cattle or young growing replacement heifers, and hay with an RFQ of 140-160 is suitable for dairy cattle in the first three months of lactation.

RFQ of 155 could conceptually be labeled premium hay.
Massey Ferguson is the primary sponsor of the contest, and Hancock and the company have partnered to produce an educational video series called "A Cut Above the Rest," which includes information on agronomic management and equipment operation, he said.
About the Author(s)
Subscribe to receive top agriculture news
Be informed daily with these free e-newsletters
You May Also Like
---