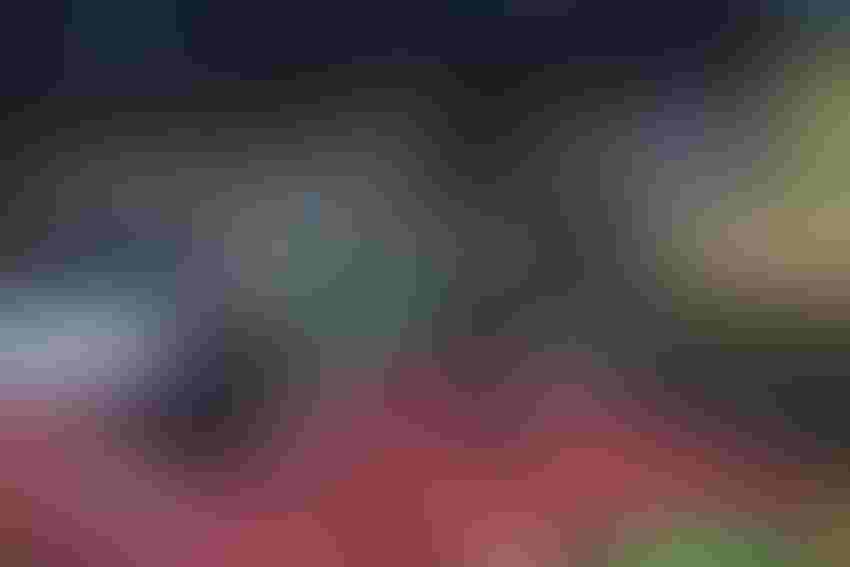 Rotocopter UAV units may be more feasible for livestock operations.
In the modern world, high technology has vastly changed the way we live and work. From smart phones to the Internet, we get much of our news and entertainment differently, and generally faster, than we did just a few years back. Also, many of us have turned to the Internet for purchasing goods and supplies.
But it's not just the Internet or phones, but cars and trucks that are getting (and hopefully making us) smarter. While we may be a few years away from complete autonomous driving, we are already seeing an abundant package of driver assistance technology available in many, if not most, new models of cars and trucks, everything from auto-correction of steering if drivers should unintentionally drift from their lane of traffic to auto-braking that takes control of stopping a vehicle to avoid collisions and unexpected pedestrian traffic.
 TECHNOLOGY AND AGRICULTURE
Farmers are taking advantage of smart technology, like satellite-guided planting systems, irrigation operations, plant disease and pest risk recognition and evaluation, and driverless tractors and harvesters. Drones are being used more and more on the farm for a number of applications, and work is currently underway to bring the next generation of robotic systems to the field and farm.
But much of the modern technology being utilized in agriculture has been slow to work its way into the world of ranch management. Livestock producers have been more reluctant to embrace it, not because they are incapable of mastering new technologies, but because software developers writing new programs for agriculture have mostly been focused on farm operations.
Megan Clayton, Assistant Professor and Extension range specialist for Texas AgriLife in Corpus Christi, says the reluctance of Texas ranchers to embrace new technologies is slowly beginning to change as more software is developed addressing the specific needs of livestock producers. She speculates that ranchers may soon find more interest in unmanned aerial vehicles (UAV), or drones, once they are convinced beneficial software will help them perform ranch work more efficiently, ultimately saving them time and money.
She says those types of applications might include more efficient monitoring of livestock, water and fence conditions across the ranch, especially in areas that are difficult to access. Also, software that estimates the amount of pasture forage available for livestock, identifying the percentage of brush coverage in a pasture, and even identifying what plant species exist on the ranch could all be useful technologies.
 USING A DRONE ON THE RANCH
As software specific to ranch work and livestock management becomes available, she says chances are good producers will be interested in the use of UAVs.
"There are two main types of drones, fixed wing and rotocopter," Clayton says. "Fixed wings are quite expensive and lack the ability to hover, so most ranchers will likely prefer a rotocopter. A common type for commercial use is a DJI Phantom 4 that retails for $1,200 to $1,500."
But better efficiency that helps to save time and manhours in ranching could easily justify the investment for the UAV and the software specific to ranch operations. But producers should understand that operating a drone on the ranch, or for any commercial or business purpose, does require registering the drone with the Federal Aviation Administration and acquiring a Part 107 UAS Pilot License for commercial drone operation.
 SPECIAL RULES
Clayton says while there are very specific rules that govern the commercial use of drones, many classes are offered by area colleges. Texas AgriLife Extension may be able to help by connecting operators with training resources.
General rules for commercial drone pilots include the following:
 • Staying five miles away from any airports without prior permission from airport and air traffic control (check B4UFLY app)
• Drone pilots must always yield right of way to manned aircraft
• Keep drones within line of sight
• Must follow community-based guidelines and more
Anybody receiving a salary or making money off the enterprise they are flying for (including cattle or leased wildlife hunting) would be considered a commercial operator. Commercial pilots must be at least 16 years old and pass an initial aeronautical knowledge test, which is good for two years. They must also be vetted by the Transportation Safety Administration and follow the listed operating rules unless a certificate of waiver has been issued:
 • Must fly in Class G airspace
• Keep aircraft in sight
• Fly under 400 feet
• Fly during the day
• Fly at or below 100 mph
• Yield right of way to manned aircraft
• Must not fly over people
• Must not fly from a moving vehicle
For more information about drone use and regulations, visit https://www.faa.gov/uas/getting_started/. To connect with others who fly drones in the area, check out the new Texas Ag Drone Enthusiasts Facebook page.
Subscribe to receive top agriculture news
Be informed daily with these free e-newsletters
You May Also Like
---