COST SAVINGS: Supplementing DDGs into a cattle diet is often a way producers can add protein and fiber into a total mixed ration.
DarcyMaulsby/Getty Images
For many producers, adding dried distillers grains into their total mixed ration can be a great option to save on feed costs.
Heidi Doering-Resch, nutrition field specialist with Form A Feed, says there are things to consider when adding or supplementing with DDGs. "Distillers usage, whether it be dried, modified or wet — we break it all down to what it costs per nutrient on a dry matter basis," she says. "We base that on the understanding that distillers doesn't actually bring a lot of starch, but it brings protein and fat."
As the starch content of distillers grains is much lower than corn grain, producers should plan to use DDGs to raise protein and energy in a total mixed ration. "We're actually finding that with what our corn basis is, we can overfeed our crude protein requirements, and that allows distillers to be brought in as an energy source," she says. Certainly, ration economics, alongside sound nutrition, play a large part in helping decide how much distillers we can use.
In any operation, producers should pay careful attention to nutrient needs being addressed. "If you overfeed the fat component to it, you can depress dry matter intake," she says. "We really like to feed distillers with a source of fiber just to help keep that standpoint safe. With total dietary fat in the rations, once you start hitting above 6% to 7% of the total diet in feedlot rations, you can start to depress rumen microbes because there's too much fat emulsification." For Doering-Resch, her role encompasses helping producers from all types of operations work to create the appropriate diet. "We start at the ground level with what we have as base ingredients, then formulate a supplement to complement that," she says. Even if working with a technical nutritionist isn't possible, producers can follow this same procedure on their operation to optimize performance and health.
Optimize nutrients
Producers who plan to add or supplement distillers grains into cattle diets must be aware of the nutrient content changes, as well as the potential for element content changes. One of the elements that is most commonly discussed in DDGs is sulfur. "We do pick on sulfur with distillers just because that's the easiest ingredient that these plants have to do clean-in-place [CIP] procedures to adjust their pH along the process," Doering-Resch says. "Some plants will actually use phosphoric acid to address that pH, and then sulfur just becomes a lesser issue, and you get higher phosphorus coming through in that product as well."
Producers should always consider all elemental amounts in a diet, including feedstuffs, supplements and water content. Growing cattle should get 0.15% of diet dry matter in sulfur, but no more than 0.4% daily depending on their ration forage levels. Too much sulfur can result in lower performance and other health issues, such as polio, she says. "You know you can get other mineral interactions as well that you should be cognitive of; it can affect vitamin digestibility, and you can get health issues and even some soft feet or hoof rot.
"We typically utilize it [distillers] from a protein standpoint, but we have to remember that the fat and energy value is there, too," she says. Find more information about supplementing with DDGs from Form A Feed's website, formafeed.com.
About the Author(s)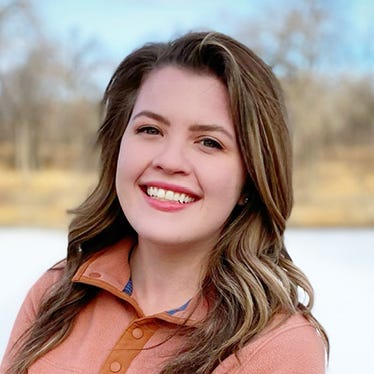 Editor, Dakota Farmer, Farm Progress
Sarah McNaughton is a graduate of North Dakota State University, with a bachelor's degree in agriculture communications, along with minors in animal science and Extension education. She is working on completing her master's degree in Extension education and youth development, also at NDSU. In her undergraduate program, she discovered a love for the agriculture industry and the people who work in it through her courses and involvement in professional and student organizations.
After graduating college, Sarah worked at KFGO Radio out of Fargo, N.D., as a farm and ranch reporter. She covered agriculture and agribusiness news for North Dakota, South Dakota and Minnesota. Most recently she was a 4-H Extension agent in Cass County, N.D., teaching, coordinating and facilitating youth programming in various project areas.
She is involved in agriculture in both her professional and personal life, serving on the executive board for North Dakota Agri-Women, and as a member in American Agri-Women, Sigma Alpha Professional Agriculture Sorority Alumni and Professional Women in Agri-business. As a life-long 4-H'er, she is a regular volunteer for North Dakota 4-H programs and events.
In her free time, she is an avid backpacker and hiker, enjoys running with her cattle dog Ripley, and can be found most summer weekends at rodeos around the Midwest.
Sarah is originally from Grand Forks, N.D., and currently resides in Fargo.
Subscribe to receive top agriculture news
Be informed daily with these free e-newsletters
You May Also Like
---