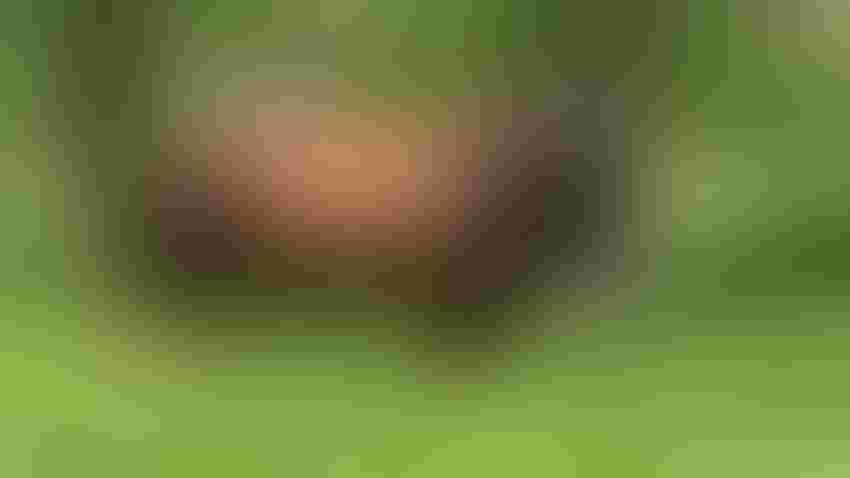 A half-Mashona and half-Red Angus bull stands in a wooded area.
Rob Pierce
Many cattle suffer heat stress during summer, especially in regions with hot, humid environments and where fescue is the predominant forage. Endophyte-infected fescue can impair blood circulation and hinder ability to handle hot (and cold) weather. Heat-stressed animals don't eat well, impairing growth and milk production. If body temperature becomes too high, fertility is also reduced.
Most beef breeds in the U.S. are British or European (Bos Taurus species) but they don't handle heat as well as cattle originating in hotter climates. Cattlemen in the southern U.S. tried to resolve this problem by introducing Brahman genetics—beginning in the 1880s. Brahman cattle from India and China are one of several Bos Indicus breeds, a separate species. These Zebu cattle do well in hot, humid weather, but also have some disadvantages.
Though widely used in tropical and subtropical climates because heat tolerance and parasite resistance are crucial for successful beef production in these areas, they have a reputation for excitable temperament, slower growth, and variation in carcass quality, so some producers have been experimenting with other heat-tolerant combinations.
Heat-tolerant Bos Taurus breeds of Spanish and/or African origins include Mashona, Criollo, Romosinuano, Tuli, and Senepol. Adding some of these genetics to traditional American breeds is currently proving to be a good combination for increasing heat tolerance while keeping desired traits of the Bos Taurus.
Raising composites
Pharo Cattle Company (PCC) is headquartered in Colorado but has cooperating producers all over the U.S. Some of them are now raising heat-tolerant composites. Al DeWit, a cattle breeder and Pharo Cattle Company cooperator in Missouri (Dbar7 Ranch), started using Mashona cattle 12 years ago and then added some Romosinuano genetics as well.
"We'd been ranching in Oklahoma and dealing with heat, but when we moved our operation to Missouri, we had heat, high humidity, and the endophyte toxicity of fescue," says DeWit.
Kit Pharo (Pharo Cattle Company) had looked at a herd of Mashona in Florida. Mashona is a Bos Taurus breed from Zimbabwe with good heat tolerance and ability to do well on low-quality forage. Zimbabwe has a 3-month growing season, producing a tremendous amount of grass, but it is then dormant the rest of the year, with low quality. Kit was impressed with these cattle, so Weston Walker and Al DeWit, both PCC cooperators, went to look at that herd.
"Phenotypically, they are a little different from British cattle, but we really liked the look of the Mashona females," says DeWit. "I bought a bull from that herd but used him sparingly. We had a purebred Red Angus herd and were turning purebreds into crossbreds which is fine if it works but hard to reverse if it doesn't. Weston bought Tarzan, another bull originally from that Florida herd and I sent some heifers to him to be bred. This gave me a bigger group of F1 heifers. It wasn't until they had their first calves as two year olds and all bred back on time that I committed to going this route."
Walker and DeWitt also heard of another heat-adapted breed, the Romosinuano. This breed descended from Spanish cattle brought to South America in the 1500's. They developed in lowland Columbia and Venezuela with equatorial heat and humidity and extreme parasite pressure.
"We found a herd in south Texas, which had come from the USDA Subtropical Research Station at Brooksville, Florida. Weston and I went to look at those cattle and some additional Mashona cattle. We bought semen from another Mashona bull and bought a small herd of Romosinuano cows, calves, and yearlings," says DeWit.
"We began breeding Romosinuano females to Red Angus while forcing them to meet PCC functional requirements for staying in the herd; breeding on time, weaning a calf every year, breeding back on time with no pampering, no excuses. We ended up with a functional herd of about 20 cows that met these performance requirements."
Generalissimo
Along the way, a purebred Romosinuano heifer out of those original cows was bred to a small-framed, very thick PCC Red Angus bull and produced an outstanding bull calf, PCC D-7 Generalissimo. "The composite we targeted initially is half Red Angus, one quarter Mashona, and one quarter Romosinuano. Phenotypically, the 'Romo' doesn't  completely exhibit the traditional PCC phenotype. They're not as thick and are also framier," says DeWit.
"However, by crossing them with our really thick Red Angus and with them being only 1/4th of the composite, we achieved an acceptable phenotype, while gaining excellent heat tolerance and parasite resistance. I'm not as concerned about the phenotype itself.  I believe form follows function and if we can produce cattle that perform, they will sell themselves."
Regarding the final breed composition of the PCC heat tolerant composite, these breeders are still sorting it out. "With limited numbers and limited bulls, not all matchups result in the same mix. Time will enable us to see what different percentages do to the final product. Creating a new composite is a long and expensive process. You buy bulls but don't have the experience yet to know what the composite will look like or how it will perform, so you limit how much you use a bull, which makes it expensive. And it takes a lot of time," he says.
"The Romosinuano has the slick hair gene, so Missouri is really too far north for those cattle in winter. They do grow a little extra hair if they go through fall and winter, but it's not nearly as long or thick as a Red Angus or even a Mashona would grow."
Because they don't have as good a winter hair coat, they are stressed by cold, and eat more, just to have additional energy to create enough body heat to keep warm. "If we knew it was going to be really cold, we'd provide shelter so they could get in out of the weather—which is something we'd never do with our other cattle. But we needed the Romosinuano to create the genetics for our composite. The composites that are only ¼ or even ½ 'Romo' will grow plenty of hair," says DeWit.
Summer swelter
And in the summer they really shine. A Missouri summer can have high temperatures and high humidity. "Romosinuano and Mashona cows will be out grazing or lying around in the sun even if shade is available. In Florida, when we first looked at Mashona cows, it was August and very hot. Those cows did not have shade but were grazing or lying around and looked very comfortable," he says.
"The Mashona is an easy fleshing breed and the half-blood cows in Missouri were always in better shape than the Red Angus, maybe partly because they keep grazing when the British cattle are shaded up. They do well on fescue in summer and their calves do well. With summer heat, these composite heat tolerant cattle will prove themselves."
Subscribe to receive top agriculture news
Be informed daily with these free e-newsletters
You May Also Like
---