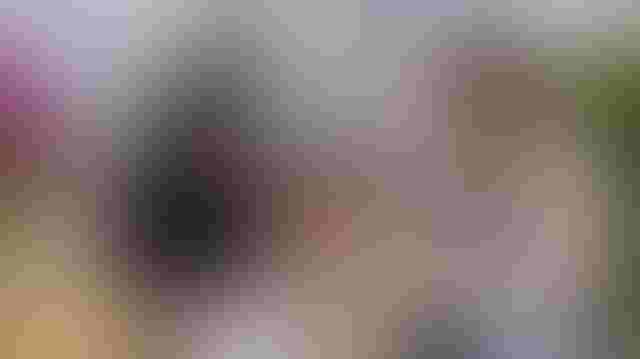 Idaho farmer Bob Stirling shares a piece of beef jerky with a child in Ecuador.
Bob Stirling
Idaho farmer Bob Stirling and his family started a project a few years ago to assist protein-deficient children in Ecuador by teaching village families how to make beef jerky. He became interested in helping poor families in Ecuador when he went there during his college years in Utah, earning a Bachelor's Degrees in Animal Science and International Agriculture.
"Some of the professors at BYU were doing projects in Latin America to help people improve their quality of life through better agricultural techniques," he said. "I wanted to be part of that, and my research took me to Ecuador, Bolivia and Peru."
His first project was in Ecuador, working with dairy cattle, to increase milk production. "One reason I chose this project was because I saw little children in Ecuador stunted in growth. They get plenty to eat, but a diet high in starch—potatoes and rice--and not enough protein. Though most of the families I worked with owned livestock—cattle, hogs, sheep—they didn't consume them. Their animals were something to sell when they needed money," Stirling said.
Children stunted due to protein deficiency is common in the developing world. "The first 1,000 days of life is the most important for a child--the first 9 months in the womb (270 days), and the 2 years after birth (730 days), making the total of 1,000 days. A woman's diet during pregnancy is influential for brain development in the unborn child. Her consumption of protein during that time greatly increases the cognitive development of the baby," he said.
Young children need protein
In the first 2 years after birth, a child needs adequate protein, whether nursing the mother or consuming milk or other protein-rich foods. Brain development during that time affects the child's entire life—ability to excel, do well in school, earn a living, etc.
"My first time in Ecuador when I was helping families with their dairy cattle, I knew they couldn't sell a steer or hog, but if they could increase milk production they could give a child one cup of milk per day," Stirling said. "Even just one cup per day or a piece of cheese would double that child's daily protein intake."
He was working with farmers and the co-op that bought their milk. "I showed them that if they could change some management practices with the dairy cows, they could increase milk production, and every morning, when they carried buckets of milk to the co-op to sell, they could keep some for their children," he said.
He finished his research studies in Ecuador, Bolivia, and Peru, got married, started a family, and bought a home and small farm in southeastern Idaho near Rigby. He worked for Roger Ball's meat-packing plant in Blackfoot, Idaho, and later in Mr. Ball's beef jerky business.
"Looking back to Ecuador, one reason it was difficult for these families to have enough protein—especially meat and dairy products—was there was no refrigeration," he said. "They could not slaughter a steer because most of it would spoil before they could eat it. Working in the jerky business, I kept thinking about Ecuador and wondered why people in developing countries didn't make jerky, because beef jerky has a stable shelf life and keeps a long time."
Native Americans figured this out, making pemmican from bison and other large animals they hunted—mixing dried meat with dried berries to create a jerky that would last a long time without refrigeration.
"I thought about the potential for beef jerky in developing countries; if you give a child a small piece of jerky every day, it would fulfill the recommended daily protein requirement," he said. "For many years I talked about this with my wife and told her that someday I would go back to Ecuador and teach people how to make beef jerky so their children could have enough protein."
Returning to Ecuador
They decided to do it when their oldest child was 12 and not yet into high school, and the youngest was 4 and no longer in diapers. "This was the time to go, and come back before the children were high school age, because I wanted them to have an American high school experience," Stirling said.
He and his wife sold their home, he resigned from his job after 17 years, and they moved to Ecuador. "We lived there18 months, and it was a difficult life because we were on our own, and not affiliated with any organization.Usually when people do something like this, they are affiliated with a government agency, a humanitarian group or church mission, and have some backup support," he said.
"No one was there to pick us up from the airport, no one arranged for housing, and we didn't know how to live there, get food, etc. We had to learn a lot of things.It was difficult for my children because the school system is very different. Our kids didn't speak Spanish and we put them right into a school," he said.
"I worked with community groups, women's groups, church groups, and went to elementary schools. I made beef jerky and gave people samples. I'd meet with parents and show them how to do it at home.Kids love beef jerky, so when I took it to elementary schools they loved it. I thought that if we could create some kind of system so each child could have a piece of jerky at school it could really help them."
Many of those children go to school on an empty stomach. "It's difficult to concentrate or read if you're hungry. I thought if we could give these kids a mid-morning beef jerky snack, their testing scores would be much better," Stirling said.
"Then in early 2020 the coronavirus popped up and put a damper on everything. We watched that for a couple weeks; people were predicting how it would spread throughout the world. We experienced riots and protests when they shut the country down, closed all the roads and airports, would not sell gasoline, closed all the stores and no one could buy groceries. We were stuck inside our house for 3 weeks and couldn't leave. Thankfully we had some stored food and water," he said.
"If this pandemic was going to be what they were predicting, there's no way we wanted to go through that in Ecuador, and decided to move back home. My wife and I looked at each other and asked, 'Where's home?'We'd sold our house."
Back home
There were 3 months left in the school year so they decided to just move back to Rigby and put the kids back in their old school until they could figure out what they were going to do. "We were living in a two-bedroom, one-bathroom apartment in Rigby, so our children could go to school.We bought new school clothes and school supplies and they went to their first day of school. They loved it because they didn't have to carry a 5-gallon bucket of water to flush the toilet, and there was toilet paper in the restroom!They were glad we'd moved back."
At the same time, they were glad they'd been able to spend time in Ecuador and make a difference for some of the people in that country, he said.
Subscribe to receive top agriculture news
Be informed daily with these free e-newsletters
You May Also Like
---