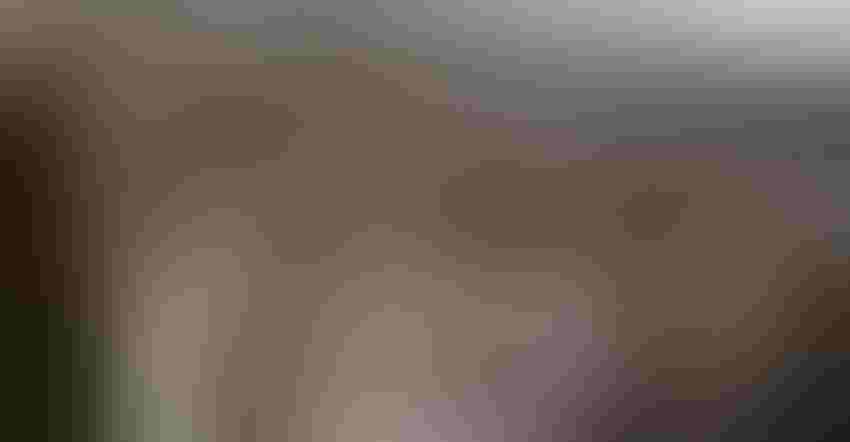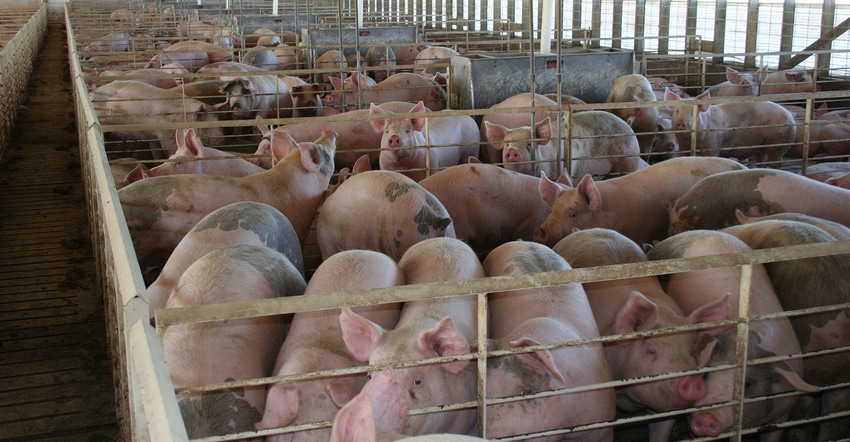 GLOBAL RIDE: Volatility is expected to continue in pork prices as the industry deals with myriad challenges including shifting consumer dollars, trade and the use of technology.
DarcyMaulsby/Getty Images
A slowing global economy, tariffs and African swine fever are among the challenges buffeting a U.S. pork industry that's been growing since 2014.
Porcine epidemic diarrhea virus decreased the size of the U.S. hog herd by 3.2% in 2013-14, according to the Swine Health Monitoring Project. By contrast, the sow herd has been growing by 1.8% per year since 2015, according to Kent Bang at a March 20 pork outlook meeting in Rochester attended by about 30 people. Bang is a member of the Compeer Financial Swine Team and is vice president of swine lending.
There's been a continuous increase in pigs weaned per litter, climbing from just shy of 8 in 1990 to 10.75 in 2018. Wean-to-finish survival averages about 88% nationally, but some producers are averaging 92% to 94%. A record number of hogs have been slaughtered annually the last three years. Close to 130 million hogs were produced in the U.S. last year, Bang said, with a market weight of about 280 pounds per head, which has been on a long-term rate of increase of about a pound per year. The U.S. is adding 600 million pounds of pork per year.
Where is the pork going?
Domestic demand is at or near all-time highs, according to Bang, and the United States is the world's lowest cost provider of quality pork at the port. Exports have been key and need to increase. China, South Korea, Mexico and Canada are top markets for U.S. pork. The Korean Free Trade Agreement, or KORUS, signed last year, improved access for U.S. pork into South Korea as most pork now enters the country duty-free.
However, aluminum and steel tariffs are hampering trade with Mexico. In January, the value of pork exported to Mexico declined by 32% and the quantity exported declined by 12%, according to the U.S. Meat Export Federation. Mexico's pork processing industry is built to compliment the U.S. industry, Bang said, as the country imports fresh ham trucked across the border where it is processed. For now, it appears the market disruption is short-term, but if the country begins investing in other processing infrastructure, there could be long-term impact on market share, Bang said.
There is a 67% tariff on pork going to China, but many Chinese companies are state-owned and would therefore pay the tariff to themselves. Even with the tariff, U.S. pork is fairly competitive with Chinese pork, Bang said. There is great growth potential for U.S. exports because of the population, even though China is the world's largest pork producer.
Another factor in China is African swine fever. Bang suspects the country isn't revealing the true extent of the disease. The disease was first confirmed in China on Aug. 2, 2018, and since then more than 100 outbreaks of the highly transmissible virus have been reported. African swine fever does not affect humans, but it does impact both domestic and wild pigs. There is no cure and no vaccine for the disease, which is fatal to hogs.
According to a new Reuters report of data from China's Ministry of Agriculture and Rural Affairs, the country's hog herd declined 13% in January compared with the same month in 2018 and the sow herd dropped by 15%.
What about the economy?
There are plenty of recession indicators, according to Bill Moore, vice president of portfolio risk management at Compeer Financial, and "you often don't know it's a recession until you're in it."
U.S. consumer sentiment is good and consumer spending is 70% of GDP, but consumer spending is fickle. If the U.S. consumer quits buying for any reason, the odds of a recession increase, he said.
Worrying factors include rising consumer debt — credit card debt is up 33% and auto debt is up 23% — a slump in U.S. factory orders and a decline in employment at small companies.
There's agreement the global economy is slowingm with world GDP at the lowest level in a decade, Moore said. A UBS model suggests world growth slowed to a 2.1% annual pace at the end of 2018, which is the weakest since 2008-2009. The question is whether the U.S. economy can grow when the rest of the world isn't.
The tariffs imposed by the Trump administration and the retaliatory tariffs put in place by other countries are impacting the economy, with the Fed talking about the effects. Some have described it as a game of chicken, but Moore said it's more like a college fraternity drinking game where both sides get hurt, but you hope it hurts the other guy more. Sadly, he said, the U.S. is winning, but that doesn't mean there won't be a hangover.
What can pork producers do?
Find somebody who can do what you're not good at to improve your business, said Adam Hocker, who owns and operates Future Profits Consulting, based in Williamsburg, Iowa. Hocker works with pork producers and row crop growers in Iowa, Minnesota and Illinois to manage risk.
Producers who do nothing have the same results as before, but by having a plan it brings clarity.
"With the right plan and process, you can put yourself in the position to be in control," he said.
Production and financial records are vital and should be integrated. Establish a goal and determine the decision-maker.
"Hindsight is foresight's worst enemy," Hocker said. "Insight is the solution."
He suggested five ways to increase profitability:
• Increase price by selling your product better
• Decrease cost of production
• Add additional offerings to have multiple streams of income
• Increase frequency of product sales, understanding it takes about 160 days to produce a hog and 90 to 116 days to produce a bushel of corn
• Increase volume
Hocker challenged pork producers at the meeting to get a competitive bid on their feed cost, saying they could cut feed cost by 5% by seeking out other suppliers.
"You have to know what strategy is right for you and how to apply it," he said.
Kubat Willette is a Farm Progress digital content creator.
Subscribe to receive top agriculture news
Be informed daily with these free e-newsletters
You May Also Like
---