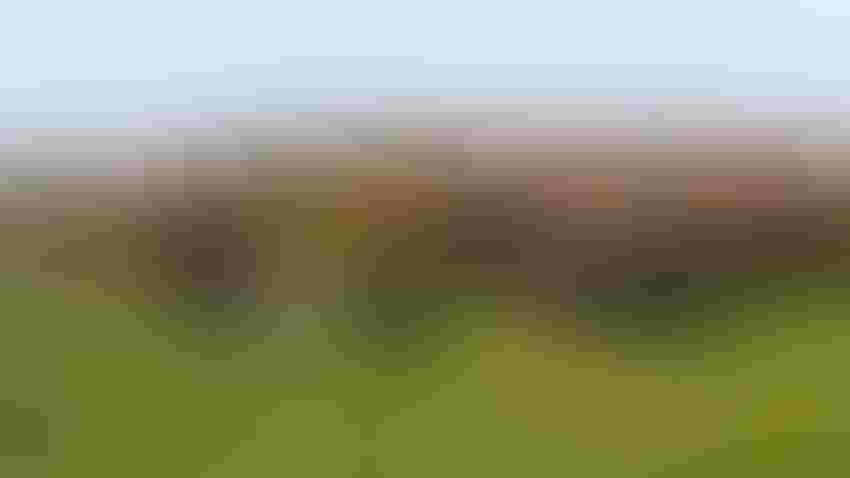 DOUBLE WHAMMY: U.S. dairy exports weakened in April, according to Ben Buckner, dairy and grain analyst for AgResource Co. "This is not something you want to see when milk production is peaking in the U.S. with the spring flush," he said.
FARM PROGRESS
Due to continued dry weather across a wide swath of the Midwest, dairy, grain and energy markets have been "pretty wild in recent weeks," says Ben Buckner, dairy and grain analyst with AgResource Co., who spoke during a recent Professional Dairy Producers Dairy Signal webinar.
"The feed, energy and dairy market outlooks all depend on the weather right now," Buckner said. "Overall, the markets have struggled to find fair value for any lasting period of time. That probably continues, and we want to be prepared for that."
Widespread rain needed
Buckner emphasized how important the need is right now for drought-ending rain. "It can't be overestimated," he said. "Whether Mother Nature really allows us to build stocks of cheese or butter hinges on weather in both the Northern and Southern hemispheres over the next 12 to 14 months."
Adding insult to injury, U.S. dairy exports weakened in April, dropping to a three-year low.
"This is not something you want to see when milk production is peaking in the U.S. with the spring flush," Buckner said. Dairy exports are highly important and account for more than 16% of dairy product sales. According to the U.S. Dairy Export Council, the U.S. had three consecutive years of record dairy exports in 2020, 2021 and 2022.
Buckner said the collapse in milk prices in the first half of 2023 has far exceeded what he was expecting in January. The Class III milk price dropped to $15.07 on June 13.
"Part of it is, we are still growing global milk production," he said. "Maybe as food demand is plateauing — especially in Asia, where import demand is slowing — we are still producing a lot of milk in the U.S., Europe and New Zealand, and that milk is looking for a home in the global market."
Economic impact
Buckner said the fragile state of the world economy is likely changing how most countries purchase dairy products.
"Does a country like China or Vietnam choose to build discretionary dairy stocks during these uncertain times, when prices are still relatively elevated compared to history?" he asked. "I think probably not. I think most countries will be buying hand to mouth for the foreseeable future."
Buckner discussed a forecast about the state of the global economy released by the International Monetary Fund.
"Twice a year, the IMF tells us everything they know about the state of the general economy and the long-range forecast for the next 10 years," Buckner said. "They do think the rest of 2023 will be fairly challenging, with 2.8% GDP growth and just 1% GDP growth in developed countries, with interesting opportunities in 2024 and beyond. These long-term forecasts are subject to change, but the message that we got is, even though inflation is down, it is still negatively impacting the economy."
Inflation dropped to 4% in May, down from a peak of 9.1% in June 2022.
"We are still dealing with high input prices and interest rates, which is affecting more than just auto loans and home loans — it's impacting the state of global business," Buckner noted.
He said the interest rates charged to lending institutions went from zero to 5% in just 12 months.
"This is the fastest the U.S. has hiked interest rates in history," Buckner said. "Nobody knows if the economy will have a soft landing, or if we will get into a recession, and when that is. The U.S. and the rest of the world economies are very fragile right now."
Buckner did say there are positive signs in the U.S. economy, including very low unemployment.
"People are making a lot of money," he said. "Even restaurant consumption looks fairly normal."
Subscribe to receive top agriculture news
Be informed daily with these free e-newsletters
You May Also Like
---