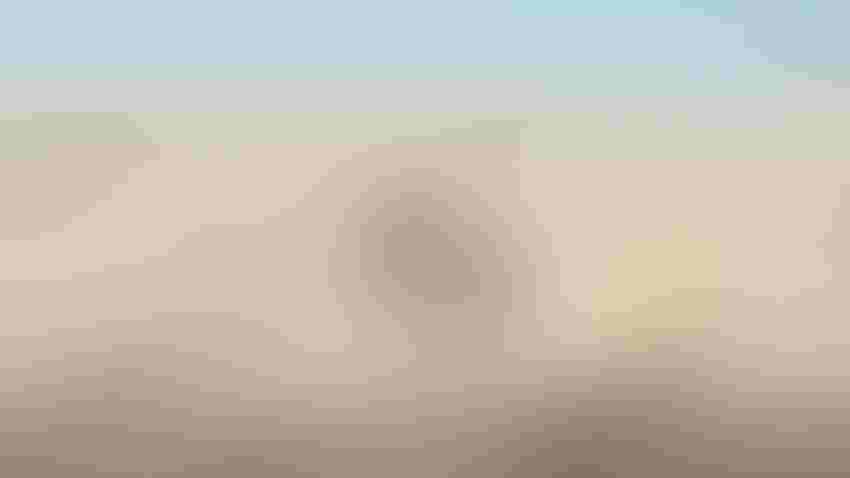 Pramod Pandey and colleague check a dairy digester. The manure-filled lagoon is covered by the dairy digester. Covering the manure by the pillowlike structure creates anaerobic conditions (no oxygen) for the manure, which starts producing biogas. Inside the pillowlike structure, biogas builds and can be used either as a gas to cool or heat a home or converted into electricity.
UCANR
California ranks number one in the nation for dairy production, with 1,100 to 1,200 dairy farms, each with an average of 1,436 cows, mostly concentrated in Tulare County in the San Joaquin Valley. A major dairy waste is cow manure, a byproduct that can require millions of dollars for each dairy to manage.
To help manage the manure, the California Department of Food and Agriculture provides funds to California dairy farms to install dairy digesters, a technology that can break down manure and produce methane (a form of renewable energy). The digesters provide additional benefits such as capturing greenhouse gases while improving the nutrient value of manure and water quality.
Pramod Pandey, UC Cooperative Extension specialist in the School of Veterinary Medicine Extension at UC Davis, has been studying dairy digesters for over 20 years to understand the conversion of manure into renewable energy. He also is trying to determine the effects of anaerobic processes (in low-oxygen conditions) on dairy manure quality, biogas production and the environment.
Between 2015 and 2022, CDFA supported approximately 133 dairy digester projects in California, with grants of more than $200 million to various dairy farms. For dietary components that cannot be completely digested by a cow's stomach, dairy digesters use a variety of bacteria to break down the manure under anaerobic conditions. This provides an option for sustainable waste treatment. The process not only reduces greenhouse gas emissions by capturing the gases released from manure, but also produces renewable energy in the form of biogas, which can be used as an alternative fuel for cars to further bring down greenhouse gas emissions. In addition, the dairy digester helps reduce odor and pathogens that pose a risk to human health.
Producing biogas
According to Pandey, one cow can theoretically produce roughly 100 pounds of wet manure daily, and this manure contains nitrogen and phosphorous, which are important for soil. About 40 cubic feet of biogas is produced from the manure of one cow under anaerobic conditions, and this biogas has a potential to produce around 24,000 btu per cow. In California, a 1,000-square foot home uses 45,000 to 55.000 btu per day for heating and cooling. That means manure from two or three cows could meet the daily energy demand of a small home.
By using digesters, farmers can prevent greenhouse gas emissions and simultaneously generate energy and soil amendments, which provide nutrients to cropland, lessening the amount of commercial fertilizer needed. By connecting technologies, the liquid from digesters can be improved to produce water that can be used for irrigation and for meeting the water demands of a dairy farm.
"The main purpose of a dairy farm is to produce milk, and current low milk prices make it difficult for dairy farmers to focus on manure management without the support from government," Pandey said, adding that managing waste is not only expensive but time-consuming. Although dairy digesters can cost $5 million to $10 million to build and install, the technology is helpful in manure management.
"The California state government plays a big role in the success of this technology because the majority of dairy farmers are not financially able to invest in implementing the manure management technology, which assist both dairy farms and community," said Pandey.
Dairy farmers traditionally use anaerobic or manure lagoons to store their liquid manure waste until they are ready to apply it to farmland as fertilizer. The issue is that the lagoons emit greenhouse gases such as methane into the atmosphere.
"It is important to not overexpect from a dairy digester because it doesn't reduce all forms of pollution from manure completely," Pandey said. "But given the available resources, funding and technology, I would say that we're off to a good start."
More incentive
Dennis Da Silva, a dairy farmer in Escalon, has been working in the industry his entire life and used to be "totally against" digesters. In the late 1970s, Da Silva's father, who immigrated from Portugal, started Da Silva Dairy Farm, which Da Silva currently runs.
"I spend a lot of money getting solids out of my lagoons every year," Da Silva said.
Although he does not have digesters set up on his farm just yet, Da Silva agreed with Pandey that the government has made it much easier for farmers like himself to tackle waste.
"I used to be against the dairy digester idea, but there's a lot more incentive to invest these days," said Da Silva. "It's also likely that, in the future, there'll be regulations that will crack down on dairy farms if you don't already have digesters," he added.
Currently, he is in the permitting phase, waiting for approval to begin building the digester on his farm, which is expected to take about two years.
Pandey said that the process is slow and there is still a lot of room for improvement, but the intention is a step in the right direction. "The only thing that the digester doesn't produce is milk," Pandey said jokingly.
Source: University of California Division of Agriculture and Natural Resources
Subscribe to receive top agriculture news
Be informed daily with these free e-newsletters
You May Also Like
---