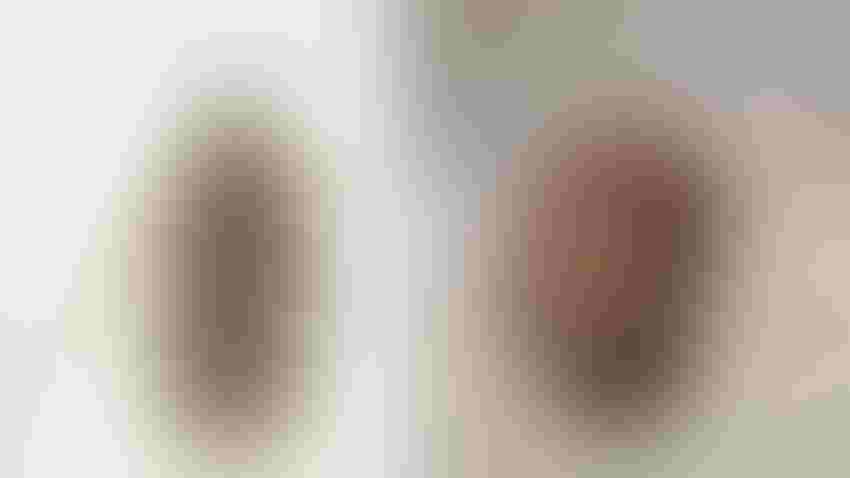 NEW PESTS: The elm seed bug (left) and Asiatic garden beetle have been discovered in Minnesota for the first time.
Courtesy of bugwood.org
Minnesota's Department of Agriculture announces the arrival of two invasive insects new to Minnesota, as reported to the department's Report a Pest service in August. Both insects were reported by two separate homeowners and were later confirmed as invasive insects: the elm seed bug (Arocatus melanocephalus) and Asiatic garden beetle (Maladera formosae).
The elm seed bug is an invasive insect that has piercing sucking mouthparts and primarily feeds on elm seeds, but it can also feed on linden and oak. The elm seed bug is mostly considered a nuisance pest like the box elder bug, as they can enter homes in large numbers. Box elder bugs are active in late summer and fall, but the elm seed bug is active in mid-June.
Native to Europe, elm seed bug was first confirmed in the United Stated in 2012. It is established in several western states, such as Oregon, Washington and Utah.
Adult elm seed bugs are about 1/3-inch long; they arena dark rusty-red and black color. The underside of the insect is red. On the back behind the head, there is an upside-down black triangle set inside two rusty-red triangles. Next to the edges of the wings where the abdomen is exposed are alternating white and rusty red-black patches.
The Asiatic garden beetle is an invasive insect that feeds on over 100 hosts, including fruit, vegetables, perennials and annuals. Grubs prefer roots of ornamentals and garden plants. Preferred hosts include butterfly bush, rose, dahlia, aster and chrysanthemum. Adults feed on the leaves and flowers of their host plants. Heavy infestations can lead to complete defoliation except for the leaf midribs.
Native to Japan and China, this beetle was first found in the United States in New Jersey in 1922. It is established in New England and a few Midwestern states, including Illinois and Indiana.
Asiatic garden beetles are about 3/8-inch long, are chestnut brown, and may have a slight iridescent sheen. The abdomen protrudes slightly from the wing covers. Adults emerge at night and fly actively when temperatures are above 70 degrees F. They are related to Japanese beetles, but they differ in that Japanese beetles fly and feed during the day while Asiatic garden beetles feed at night.
More information on the elm seed bug and the Asiatic garden beetle can be found online.
Since both the elm seed bug and the Asiatic garden beetle are newly discovered in Minnesota, the MDA would like to better understand where these insects may be in the state. Residents can report suspected sightings of both insects to the MDA's Report a Pest line or call 888-545-6684. Please include clear photos when submitting a report online.
Soil Management Summit
The Soil Management Summit, to be held Dec. 7-8 at Arrowwood Resort in Alexandria, Minn., emphasizes proven farmer experience and applied science. Learn how heavier, colder soils aren't necessarily the challenge they're made out to be, straight from the fields. Hear from no-till, reduced-tillage and cover crop farmers as they share their experiences, so you can be spared the same hard-learned lessons.
The summit features presentations and a Q&A with researchers, farmers and agricultural advisers; information from sponsors; and conversations with farmers experienced in different soil health practices.
Those who attend the entire conference can earn Certified Crop Adviser continuing education units.
Registration scholarships will be available for interested producers. Contact Shane Bugeja for more information at [email protected].
For more information about this event, contact Jodi DeJong-Hughes, [email protected].
The University of Minnesota Extension and the Minnesota Office for Soil Health present the Soil Management Summit.
Albert Lea Seed welcomes new leadership
Brett Bell is taking over day-to-day operations as president and CEO at Albert Lea Seed, as Mac Ehrhardt, who has been president for the past 20 years, will take on a new role as chairman of the board of directors.
"Mac and the leadership of Albert Lea Seed have done a fantastic job over the past 20-plus years of establishing a leadership position in the fast-growing organic seed segment of the market," Bell says. "This, coupled with their emphasis on serving the needs of regenerative farming, positions us for continued growth."
Bell, a self-described "Iowa farm kid," comes to Albert Lea Seed with 27 years of experience in the agricultural business, including leadership roles in seed sales and agronomy. He most recently served as executive vice president at Anuvia Plant Nutrients and has also served in leadership roles at Landus Cooperative and Cargill.
"Brett brings years of experience and contacts throughout agriculture, and he is excited about working with industry partners to improve our product offerings for our customers and for grain aggregators and ingredient suppliers," Ehrhardt says. "Brett said something in one of our conversations that has really stuck with me: 'The most fun I've had in my career has been selling seed.' That sentiment, combined with Brett's experience, education and energy, gives me a lot of confidence for the future."
"I am not going to disappear!" Ehrhardt continues. "I will be here to assist Brett and our talented and hardworking team as he takes the reins. My job is to help Brett and the leadership team grow our business while maintaining our core values and company culture. I will continue to work directly in some areas of the business and will be a strong voice on our new leadership team. And if the team lets me, I will continue to pick up the phone!"
Ralco appoints new president-CEO
Glenn Bader has been promoted to the role of president and CEO of Ralco Nutrition Inc., replacing current president and CEO Brian Knochenmus. Knochenmus will continue as owner and chairman of the board in addition to his duties as chairman of the board of The trū Shrimp Cos. Inc.
Bader steps into this role with more than 20 years of leadership and general management experience, having spent 13 years with Ralco and 17 years prior at Schwan's Co., the prepared foods company.
"It's a great honor to serve our employees and our customers in this new role," Bader says. "Ralco has amazing people dedicated to providing livestock and crop producers with a better way to raise food to meet the ever-changing demands of today's consumer. There is no greater purpose or more noble work, and I'm looking forward to leading the Ralco team as we continue to innovate and bring new solutions to an industry that faces constant challenges."
"We are fortunate to have someone like Glenn to lead Ralco into its next phase of growth," Knochenmus says. "Glenn has been a key leader in this company for many years, and placing him in this role allows me to spend more time focusing on the launch of the first full-scale commercial shrimp production facility for The trū Shrimp Cos."
Subscribe to receive top agriculture news
Be informed daily with these free e-newsletters
You May Also Like
---