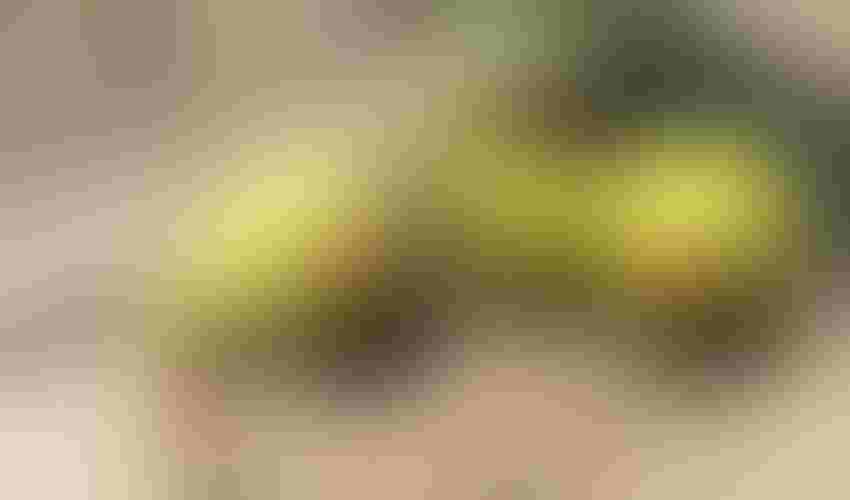 Codling moth damage is evident in pears.
Suterra
Apple growers in the Pacific Northwest and California may be taking their relative success at controlling the codling moth too lightly.
Once a particularly troublesome pest in apples and pears – and now in walnuts – growers attempting to cut costs appear to be cutting back on the mating disruption tools credited with control.
Gregory Montez, a technical manager for Suterra, said there appears to be a resurgence of the codling moth in apples and pears, which he says could be pinned on a reduction in mating disruption employment and overreliance on insecticides-only approach to insect control. In short, growers appear to be letting their guard down.
The codling moth larva makes apples and pears unmarketable through feeding damage, and in walnuts the codling moth larvae will create points of entry for a Navel orangeworm female to lay eggs at and for NOW larvae to penetrate to the nut meat and start feeding there. Where there is codling moth and NOW damage, an increase in infection by the mold that causes aflatoxin contamination can be expected. Codling moth, unlike NOW, overwinters as fifth-instar larvae under tree bark and in organic debris where winter sanitation methods are not practical.
In the Pacific Northwest, codling moth control protocols like those the U.S. cotton industry used to battle the pink bollworm were employed to some success, Montez said. Absent transgenic apples to resist pest pressure, that industry was able to employ mating disruption and sterile moth releases with very good success. The integrated pest management (IPM) approach helped growers control their moth damage.
Increased damage in fruit
Montez says he has seen increased codling moth damage in fruit, which he attributes to relaxed vigilance in proven methods of control.
While mating disruption will not control 100% of the codling moth population, it will reduce numbers to allow the remaining approved pesticide treatments an opportunity to help as well. Still, these chemistries are aging, and insects over time develop resistance and tolerance to aging technologies. Absent an integrated approach, it is only a matter of time before the chemical treatments to control codling moth no longer work. Mating disruption is effective at preventing insects that have acquired insecticide resistance from forwarding that trait to the next generation.
Timing to employ mating disruption in apples and pears is less contingent on the growing phase of the crop and more with timed flights of the codling moth. Best management practices suggest starting those programs in time to address first flight of the moth in mid-April and mid-May in the PNW. For California apple growers, those flights tend to start in late March, meaning the technology needs to be in place ahead of those flights.
Subscribe to receive top agriculture news
Be informed daily with these free e-newsletters
You May Also Like
---