Tim Gifford, a Nebraska cattleman, and his wife, Tanya, use stock dogs on their cow-calf operation to gather cows, move them from pasture to pasture and sort them in an alleyway.
The couple are members of the U.S. Border Collie Handling Association and train herding dogs to work stock. They will share their expertise during Husker Harvest Days at 9 a.m., 11 a.m., 1 p.m. and 3 p.m. in Lot 1122. In their 12th year at the show, the Giffords offer HHD visitors an up-close look at training techniques straight from their farm.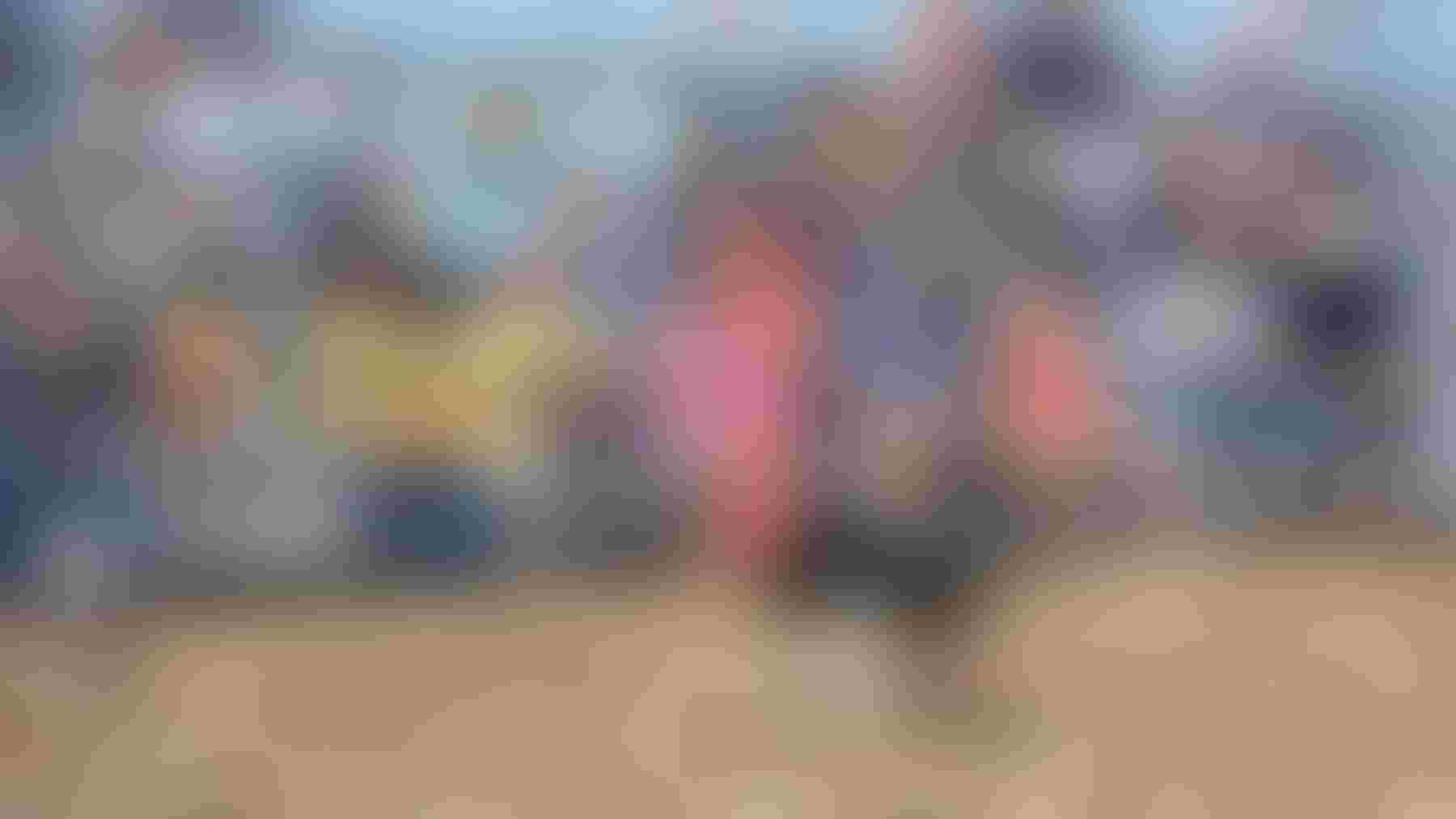 ROUND 'EM UP: A young border collie displays natural herding instincts and a laser focus despite the large crowd at Husker Harvest Days. Stock dog demos will run daily Sept. 12-14.
Here is a sneak peek at what you may learn during the stock dog demonstrations:
Start them young. If you're buying a puppy and you know they are going to work livestock, train them. Teach them basic commands. More importantly, bring young dogs around the stock, Tim Gifford says. It increases their awareness and comfort levels with the animals.
Herd small stock. No matter the size of the dog, if it is possible, begin training with small livestock like sheep or young calves. This provides safety for the dog, while also adding to its confidence. Plus, as a handler, Gifford says it is easier to maneuver the stock and the dog with smaller animals.
Get a stick. Handlers need a sorting stick to train. Sorting sticks are tall and bendable. They provide extra reach for the handler. The stick can be used to move the animals but, more importantly, to direct the dog.
Know the commands. There are five phrases every dog handler knows:
"Come by" tells the dog to move clockwise.

"Away to me" means move counterclockwise around the stock.

"Walk up" means to walk toward the livestock, whether sheep or cattle.

"Lie down" typically means stop and lie down.

"That'll do" tells the dog work has finished and it must come back to you.
Move your body. Combining words with body movement during early training will help the dog understand which way to move. When you say, "come by" and make a move to the right, the dog sees and senses the direction.
Reward often. Gifford says it is important to reward the dog for the work. It can be just a spoken word or a gentle pat on the head. "It lets the dog know they are doing good work," he says, adding that it builds a strong bond between handler and dog.
"Ultimately, I want to get to where I don't have to be in pen to tell her where to go," he says. "I don't have to sit in corral pens or on the gates. I want her to listen to me and know which way to go."
Bring your own dog for training
HHD offers a unique opportunity for you to bring your dog for the Giffords and their handlers to work. There will be a fee to work your dog, and you must sign a waiver.
If you bring your dog, remember that it must stay on a leash and in the demonstration area. No dogs are allowed on the Husker Harvest Days site.
If you are interested in allowing the Giffords to do a little training with your dog or want more information on the demonstrations, contact Tim Gifford at [email protected] or Tanya Gifford at 530-227-1340.
Subscribe to receive top agriculture news
Be informed daily with these free e-newsletters
You May Also Like
---