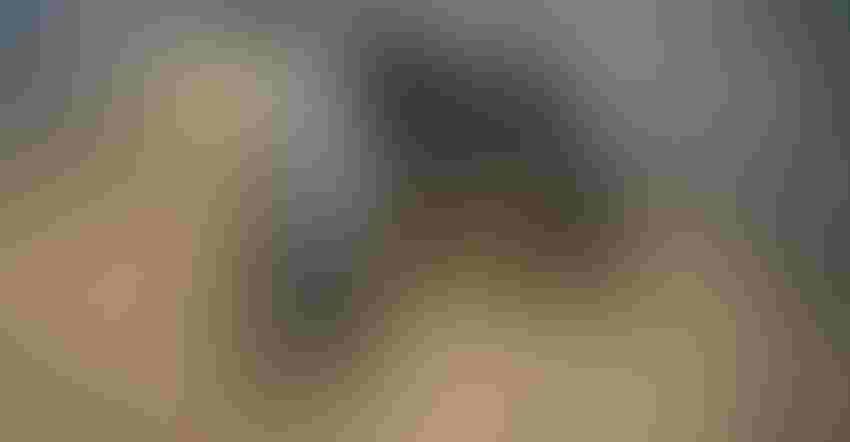 Relocation of feral swine have resulted in extensive crossbreeding, producing variations in appearance.
USDA APHIS photo by Clint Turnage
Mississippi's wild hog population causes more damage to corn and rice than any other row crops. Research in Mississippi reveals that feral swine cause between $60 million and $70 million damage each year.
"Corn is probably the biggest row crop affected, as well as rice and soybeans," says Kris Godwin, adjunct assistant professor within the Department of Wildlife, Fisheries and Aquaculture at Mississippi State University and state director for Mississippi USDA APHIS Wildlife Services.
"We've even seen them eat cotton," she said. "Peanuts also gets hit hard throughout the state. Fruit trees and blueberry bushes are also crops they'll get, but, in general, they tend to be non-discriminatory when it comes to food. If they can get to it and eat it, they're going to."
Affecting crops, wildlife
Corn and rice are the main two row crops damaged by feral swine, primarily from the wild hogs going down planted rows and eating the seed before it sprouts.
"When this happens, rows that look like they have been planted really aren't because pigs have come in. Farmers will plant the seed that day, and then the pigs come in at night and root right down the rows and get every kernel. With rice, a lot of times it's the infrastructure damage because feral swine root up levee systems along with damaging the rice itself," Godwin said.
Wild hogs affect wildlife in several ways, including competing for food.
"A 150-pound adult sow can eat up to 5 pounds of mass per day, so that is 5 pounds of acorns no longer in the environment for deer, turkeys, squirrels, or other native wildlife," she said. "Also, feral swine are aggressive and can disperse wildlife quickly. They are nest predators, so they eat any nests on the ground, such as alligator, quail, and turkey nests."
Disease transfer from the feral swine population to wildlife and domestic animals poses another threat. Not a lot is known about disease transfer, but feral swine can carry a variety of viruses and diseases, some of which are concerns to humans and wildlife because some diseases they carry, like swine brucellosis, are zoonotic.
"We have seen wild hogs around the state with swine brucellosis, which is transmissible to people," Godwin said. "They also carry pseudorabies, which affects cattle. We are starting to look at Leptospirosis; the wildlife agency is starting to see an increase in Leptospirosis in whitetail deer, which could be related to feral swine, but there is currently no research on it."
Hunting versus trapping
Ridding an area of these threats is complicated. Hog hunting is not the best solution.
"During deer hunting season, we encourage folks who see a wild hog on their land to shoot it to get it off the landscape. That's one less wild hog to create damage, but we don't promote hog hunting because that's not what we're trying to do here. We're trying to reduce and eliminate damage across the landscape," she said.
Trapping is the best method so far to get rid of feral swine, which can populate an area rapidly since they do not have any natural predation. Once property owners start seeing feral swine damage, it is time to start setting traps.
"There are several different kinds of traps. One has cellular activated doors, which are nice," Godwin said. "You just want to make sure that you've got a big enough trap in a circle, and the state requires it to have an open top. There are even drop traps where the whole trap drops down, but it just depends on what people want to use and what works best for each individual."
Pigs are smart, so landowners have to be careful to not miss a pig; the trap needs to be big enough to catch several.
"If you miss one, that's the one you educate; you can get into trouble if you don't catch the whole group at one time. If you use a cellular camera to watch for the wild hogs, you need to make sure all the pigs are in the trap before dropping the door. The one you miss might not fall for the trap if he's seen other hogs get caught in it," she said.
Baiting traps
While feral swine can be caught in traps all year long, regulations dictate baiting in chronic wasting disease zones.
"I would suggest people look at the state regulations for baiting traps or talk with a local conservation officer to make sure it is legal in your area because those regulations have recently changed," Godwin said.
"To start reducing the population and keep it from growing, you need to be getting rid of at least 70 percent or more of the swine number. Otherwise, the population will be stable or will keep growing."
You can catch a lot of animals and reduce damage fairly quickly with good trapping efforts.
"There's not just one entity that's going to solve this issue," Godwin said, "so it's going to take everybody working together to help alleviate the feral swine problem."
Subscribe to receive top agriculture news
Be informed daily with these free e-newsletters
You May Also Like
---