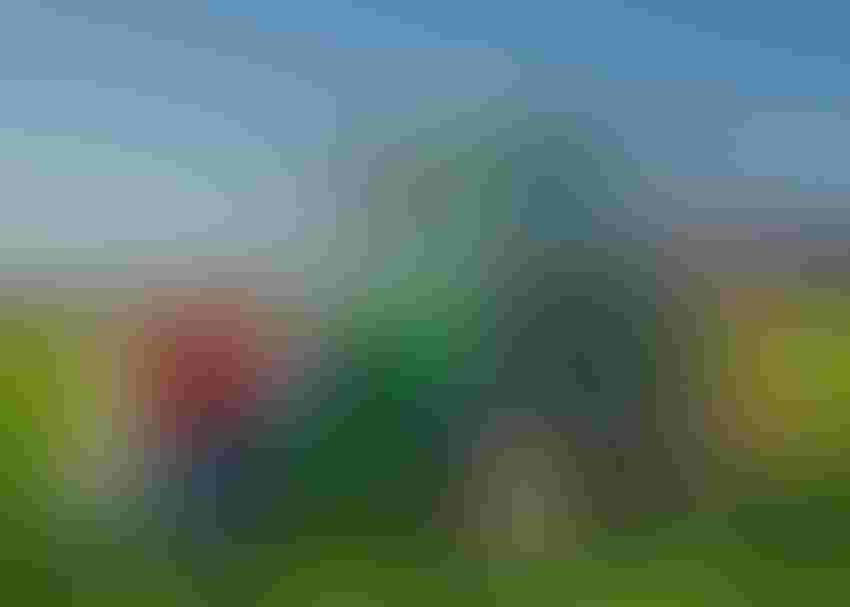 John Boelts stands with his wife, Alicia, along with their children, Andrew, Daisy and Matthew, on their Arizona farm.
Most people think of Arizona as a big dusty desert. In fact, where I farm in Yuma County, agriculture is the No. 1 industry, and Yuma is the winter vegetable capital of the world.
We also farm near the border with Mexico, so it's the land of high enforcement. There are 750 customs and border patrol agents in this county.
Yuma County is third in the nation in vegetable production, and it would never happen without a great workforce. Whether it's cherries or peaches in Michigan, apples in Washington, or hand-harvested fruit and vegetables in Georgia, none of this happens without hand labor.
The Pew Research Center says there are 11 million undocumented people in the states; I believe it's closer to 20 million. California alone, with such huge agriculture, probably has a few million undocumented people, and I'm just talking about agriculture.
With that 20 million people, you have to think of other industries, particularly hospitality or construction. You have to have skilled hands doing these jobs. A lot of those jobs have switched to immigrants — it's just a reality. American hands won't do these jobs.
Related: Why immigration reform matters to agriculture
The whole country suffers without immigration reform. But here in Yuma, where we have a good relationship with border patrol and customs officials, it's especially painful. We want the border patrol to accomplish their mission, but we also want a great workforce. We're losing that battle.
In this county alone, we have lost 15% of our fresh vegetable production, 20,000 acres, to Mexico. This whole area that is now in alfalfa used to be in vegetable production; that moved to Mexico because we just don't have the people needed for harvest. That's $300 million to $400 million worth of produce, and you can blame that loss on the lack of a good guest worker program.
H2A comes up short
We've been going to Washington, D.C., for 15 years, lobbying on this issue, and while we're begging them to give us the tools we need for fresh produce, no one across the country can get enough workers.
There are people with legal papers who can come across, but all of the labor contractor companies that perform harvesting operations have been forced into using the H2A program to have certainty of adequate available workers. H2A is a federal program that allows U.S. employers or agents who meet specific regulatory requirements to bring foreign nationals to the U.S. to fill temporary agricultural jobs.
H2A is a joke; the department of labor regulates housing and wages, and oversees the program. It's a minefield; it's horrible. H2A doesn't work because it is so slow, and most of our work isn't seasonal. Yes, there is seasonal, and for some folks, it works for them. But in California and Arizona, a lot more labor is needed for a longer run. We may train someone three years, and then they can't participate — they have to "take a break" and return to their home country.
Why is this happening?
First, it's a lack of leadership in either party. It's almost like Republicans in Congress and the Democrats in the administration are standing in front of a firing squad; sometimes someone will step forward and sometimes they will step back. No one wants to lead. In the vacuum of good political leadership, you just spin your wheels.
There are a lot of very conservative congressional districts across our country with people adamantly opposed to working with undocumented people, other than loading them up and sending them home.
If it's called amnesty, they call their representatives — the folks who campaigned on this and swore an oath to load these people up and deport them. Yet, neither party wants to do it, because they're worried about the political ramifications.
If political leaders would step back from their hard-line approach, they would see government has to enable businesses to do what we need to do to grow crops, manufacture goods and stay in business. If that means bringing folks in from outside the country, good — give us a legal framework to do it.
But don't kill businesses just because people want to be political hard-liners, because then people go underground and the problem gets worse. It's a political minefield, and no one thinks anything will get solved before this next presidential election, which is disheartening.
Enforcement, e-Verify and fraud
Before we can get a guest worker program, Republicans say they have to do enforcement, and they look at e-Verify as that tool. But if you have a completely broken system you are grasping at straws. We've had mandatory e-Verify in Arizona for a couple years now, and some folks went back to Mexico because they didn't want to deal with it.
Some folks do have questionable documents, but e-Verify only works if there is no document fraud. We're assuming someone who is undocumented won't try to find another way to continue living and working here. Who can blame them for coming here? They are trying to improve their families, and these are hard, laborious jobs.
Related: Groups: Mandatory E-Verify without broader immigration reform could hurt ag
I think with federal mandatory e-Verify, you'll see more fraud. We live in a digital age. If companies like Sony and our federal government can be hacked and have information stolen, why would we think this wouldn't happen with e-Verify? Are they going to go to every business and raid them? There is not enough enforcement.
America has always had the benefit of a strong nation of immigrants who came here to work hard and enhance their families. Whether it's a temporary guest worker program, or a path to citizenship, I don't understand why my fellow Americans don't seem to care where their food comes from, or that we need these hands to harvest it.
Each farmworker — whether native-born or immigrant — supports between two and three full-time jobs in food processing, transportation, farm equipment and marketing retail. The loss of a substantial number of farm workers could ripple through the entire ag-based economy with potentially long-term negative effects.
The fact is, some businesses don't function without quality hands, and some of those hands will not come from our own U.S. workers.
Boelts is manager at Desert Premium Farms, Yuma, Ariz.
Subscribe to receive top agriculture news
Be informed daily with these free e-newsletters
You May Also Like
---