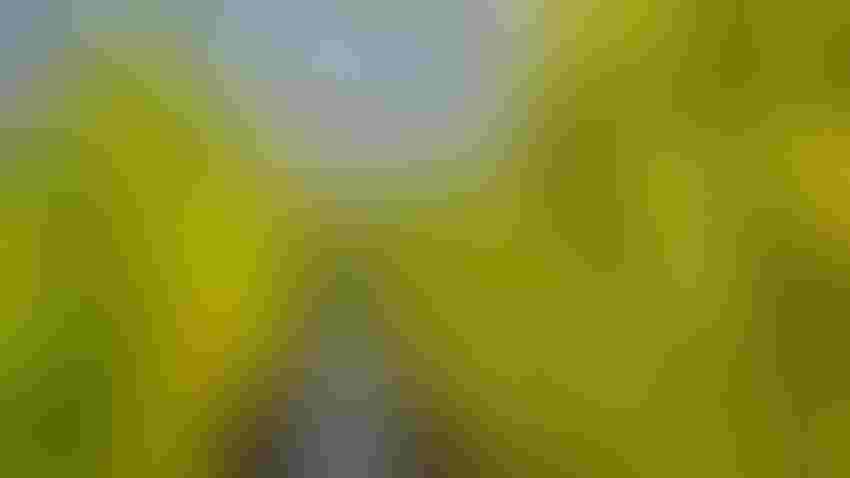 HEMP HISTORY: Since industrial hemp production was given the green light by the 2014 Farm Bill, research institutions, like Kansas State University Research and Extension, have been studying the best practices for growing and marketing the crop.
kmatija/Getty images
At a Glance
Kansas only allows industrial hemp to be grown for CBD oil or fiber.

Growers and researchers continue to learn about the best practices to grow and market the crop.

Hemp grain as livestock feed could be a new market, once FDA approval is granted.
"Hemp" was the buzz word in Kansas and surrounding states after the 2014 Farm Bill allowed states to create their own regulations and pilot programs to reintroduce industrial hemp back into the cropping mix.
After Kansas opened its pilot hemp program in 2018, under the Commercial Industrial Hemp Act, the green rush was on. Since then, there have been a lot of growing pains among hemp research and businesses, says Jason Griffin, director of the John C. Pair Horticultural Center.
The Kansas State University Extension and Research facility in Haysville serves as the applied research site for all horticultural crops, including hemp, in the state.
Growing pains
Industrial hemp in Kansas was an industry being built from the ground up. The learning curve was steep for both growers and researchers. Many who jumped on the hemp boom five years ago have fallen out of it by today.
The Kansas Department of Agriculture reports that between 2019 and 2020, 90% of hemp produced in the state was used for CBD oil production. In 2023, that dropped to less than 5%. In 2019, more than 200 farmers applied for licenses to grow hemp. In 2023, only 41 did.
Specialists in the field say the slowdown in CBD oil production in Kansas could be the result of many factors, including inexperienced growers, crop failures and legalized marijuana in surrounding states. But they say lower CBD demand doesn't mean industrial hemp doesn't have a future in the state, just that the production side of the market is finding its niche.
Many beginning hemp growers, Griffin says, sought to produce CBD in 2017 and 2018 for a better return on their investment, including licensing, seed costs and production setup.
"Then in 2019 and 2020, there were more people growing CBD hemp than there were people ready to purchase CBD," he says. The saturated market dropped the wholesale price of CBD.
"It also takes a lot of growing knowledge to grow that crop, and a lot of people don't have a whole lot of experience growing a horticultural crop," Griffin says. "Just look at the people we know that in their own personal gardens fail at growing tomatoes every year. It's not that easy.
"So, there were a lot of inexperienced growers trying to grow a horticultural crop using traditional agronomy practices, and it just didn't work out."
Learning curve
Overall, the budding hemp industry had a lot to learn in Kansas:
ensuring plants' THC levels stayed under the legal limit of 0.3%

dealing with pest and disease challenges

meeting moisture and fertility needs
To deal with these challenges, the growers who persevered and Extension researchers worked together to improve education on hemp production over the past five years, Griffin says.
"One of the things that we've learned here is that if you grow hemp in the same field for three years, you see a really drastic reduction in yield," he says. As a result, future research will cover variety trials, crop rotations with hemp, cover crops in hemp and water utilization.
Water use is a key aspect for Extension research, Griffin says, because farmers are searching for crops that can help them conserve water. "How much water does it really need, and how deeply into the soil does it extract water from? And how much water do we need to grow a reasonable crop," he asks.
Griffin says the center's variety trials will continue to be a source of information to find the varieties that will grow fiber, produce more CBD and maintain a low THC level.
Griffin is also part of a national industrial hemp research group that meets yearly to share knowledge from various states' research. "Most of the people around the country are experiencing some of the same issues that we're having," he says.
"There's nothing like experience to give you a little more confidence," Griffin says. "After the last five years, I feel a lot more comfortable putting my hemp seed in the ground next year than I did two years ago. I'm more confident that we'll get a crop, because we know the right planting depths now. We know what to look for in a weather pattern, so we don't get rained out.
"We know when the right time to fertilize, and the right time to apply irrigation. We know what pests to watch out for. And there's some herbicides now that are labeled for use in industrial hemp, and having those is a huge benefit. So yes, there's a whole lot we've learned."
But Griffen says they're still learning. "Once we know a little bit more about how this crop fits into a farming system and how it impacts the soil and how it impacts crops the following year, I think that's really going to help us complete the picture," he says. "It just takes a little time to get there."
Next 5 years: Hemp grain for livestock feed?
While demand for CBD is cooling, one market for hemp in Kansas includes fiber production, as found with the processor Sound Bend Industrial Hemp in Great Bend. And while the health food industry seeks hemp grain for humans, feeding hemp grain to livestock also may be a market for the future.
Currently, the Food and Drug Administration does not allow hemp to be fed to food animals. But "once FDA approves hemp grain for use in animal feeds, I think that will be sort of the tipping point for this industry," says horticulturist Jason Griffin. The nutrition profile of hemp grain for animal feed is high, he says, due to its fatty acids, lipids and protein content.
Last year, a Kansas State University study found feeding cattle industrial hemp could reduce their stress and inflammation, resulting in better animal welfare. Griffin was a collaborator on the study, led by Michael Kleinhenz, former assistant professor of beef production medicine in K-State's College of Veterinary Medicine.
Initially, the goal was to look at the nutrient value of harvested hemp stems, leaves and grain. The next step is to study CBD's effect on the cattle, and where the cannabinoids go once the animal eats it, Griffin says.
The initial research showed that cannabinoids in industrial hemp decreased the stress hormone called cortisol, as well as the inflammatory biomarker prostaglandin E2, according to KSRE News Service. So, hemp that contains cannabidiolic acid could be a natural way to decrease stress and inflammation after transportation or weaning. The cattle were observed to lie down more, helping their rumination.
Griffin stresses more research needs to be done to determine if CBD will be found later in the animal's harvested meat and at what levels.
"If hemp is to be utilized as an ingredient in the ration of cattle, it is prudent to know and understand the pharmacokinetics and potential biological effects of cattle exposed to repeated doses of cannabinoids present in industrial hemp," Kleinhenz says, according to the news release. "The initial data we have collected is essential if industrial hemp and its byproducts are to be considered by the U.S. Food and Drug Administration and the Association of American Feed Control Officials.
"Further work is needed to determine if cannabinoids can alter the stress response in cattle during stressful times, such as transportation and weaning, but we hope this research is a step forward in the right direction."
Funding for the study was done through a grant from the Agriculture and Food Research Initiative, part of USDA's National Institute of Food and Agriculture.
Subscribe to receive top agriculture news
Be informed daily with these free e-newsletters
You May Also Like
---